I have a slight obsession.
It started right after Christmas and it's become a daily occurrence.
I may even count down the hours until nap time.
I get comfy in my favorite oversized chair. I fix myself a Dr Pepper with extra ice (my other addiction) and I pop in the DVD.
While Jackson snoozes, I have a date with a writer and a homicide detective.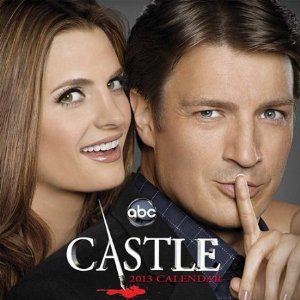 I am addicted to the show Castle.
Murder. Mystery. A growing love story.
What could be better?
Sometimes you just have to escape the dirty diapers and toddler tantrums.
Kate Beckett and Richard Castle have helped me do just that.
Watching the show takes me back to my days as a reporter.
I covered a few crazy stories.
A body found in a hotel.
A guy who blew himself up outside the OU football stadium.
A body found in a frat house.
I've always been drawn to murder mysteries.
I love watching shows like 48 Hours and 20/20.
John does not.
I think it's the journalist in me. It's still in my blood, even after all these years.
There's a little bit of me in Beckett and a little bit of me in Castle.
And sometimes I need to be reminded that I'm more than just a mother.
What little obsessions do you have? How do you escape when the laundry piles up and the dishes start to stink?