It's Friday AND it's December 1st! We can officially get in the Christmas spirit. Who am I kidding, we've been in the Christmas spirit at our house for several weeks already. It's hard to not be excited when you have a kiddo who thinks Christmas is magical! Today I decided to share some of my favorite Christmas things! I know I've shared a few of these before, but they are worth repeating!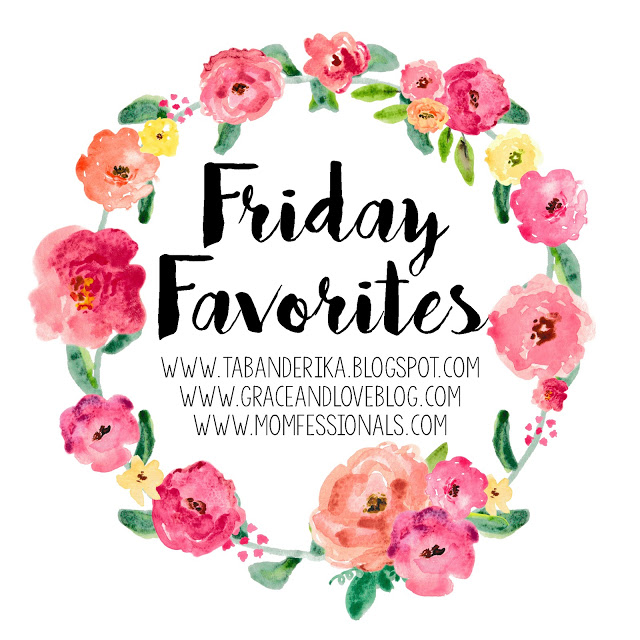 Christmas Music
I'm not going to admit how long my Christmas music has been playing. I just love it so much! If I'm not listening to my own collection of holiday tunes, my radio is set to the Holly channel on SiriusXM.  A few of my favorite Christmas albums include Garth and Trisha's Christmas Together, George Strait's Merry Christmas Strait to You and Martina McBride's White Christmas. Her cover of Oh Holy Night is my all-time favorite!
I also love the song Just a Kid by Kenny Chesney.
I was so excited to stumble across the MP3 version of Garth's first Christmas album. The one I used to own on cassette tape! I downloaded it and am currently listening to it as I type! All the feels!
A Real Tree
We got our first real tree last year and we loved it so much! This year we took Jackson to a Christmas tree farm and he got to help cut one down! It was such a fun morning and we made some great family memories. My house also smells lovely!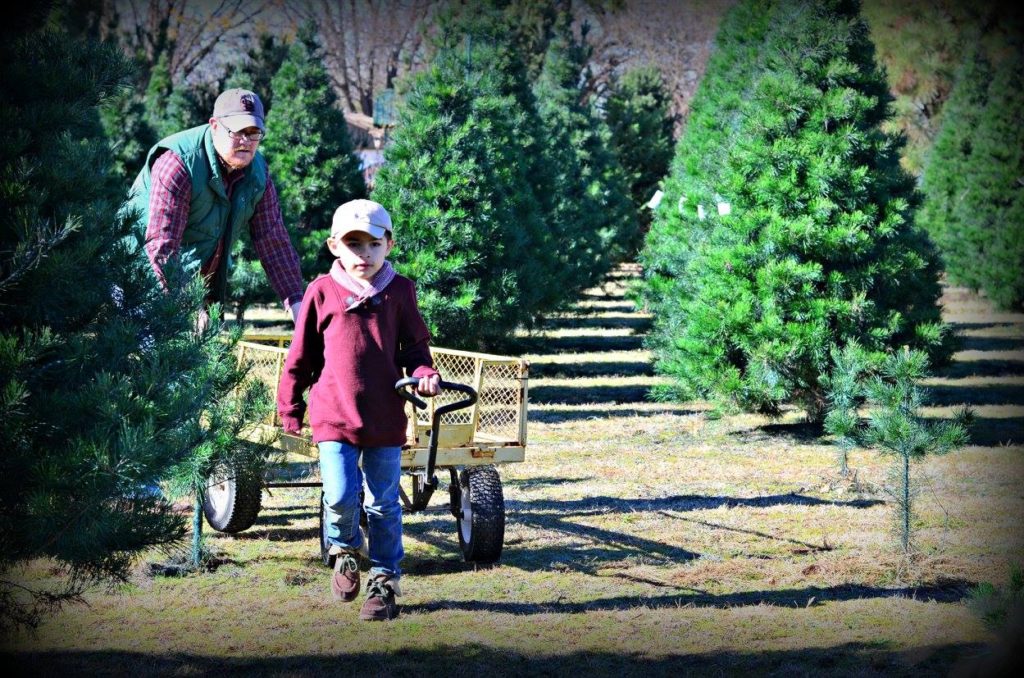 Cute Christmas Tees
I ordered several really cute Christmas t-shirts to wear during December. I'm actually wearing one today! These are the three I ordered! Aren't they cute! I can wear them with jeans and throw a cute cardigan over it if it's really cold! I ordered these from Paisley Pearl Boutique. You can check out Paige's cute stuff here.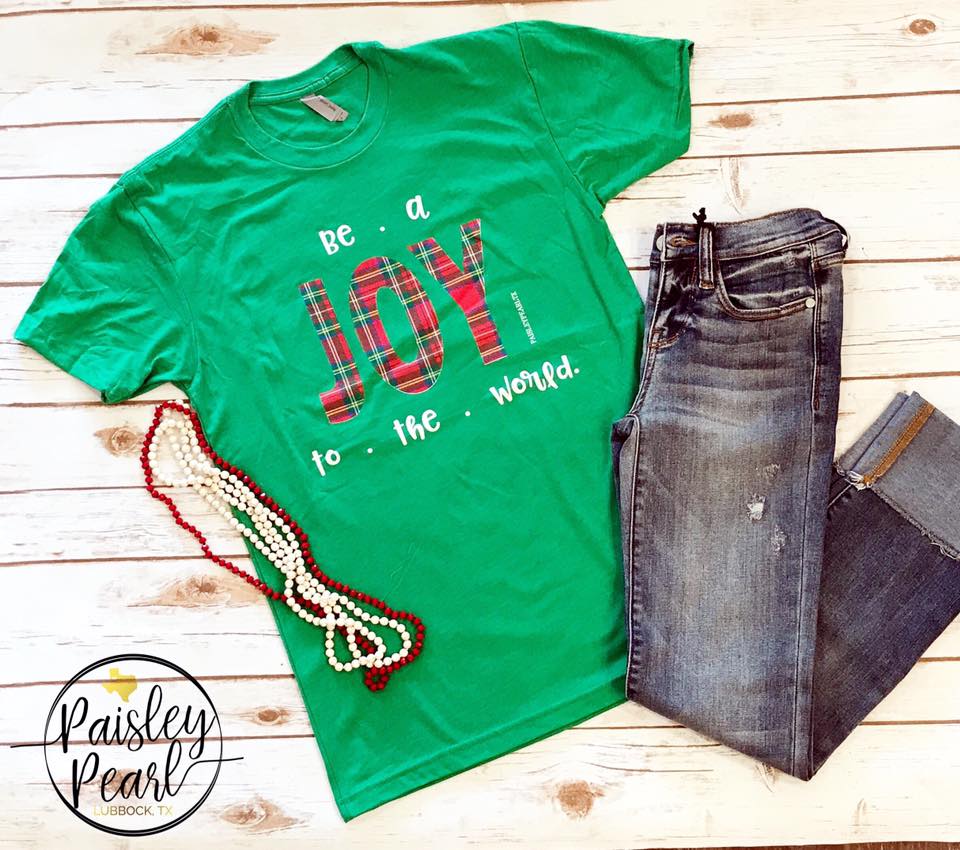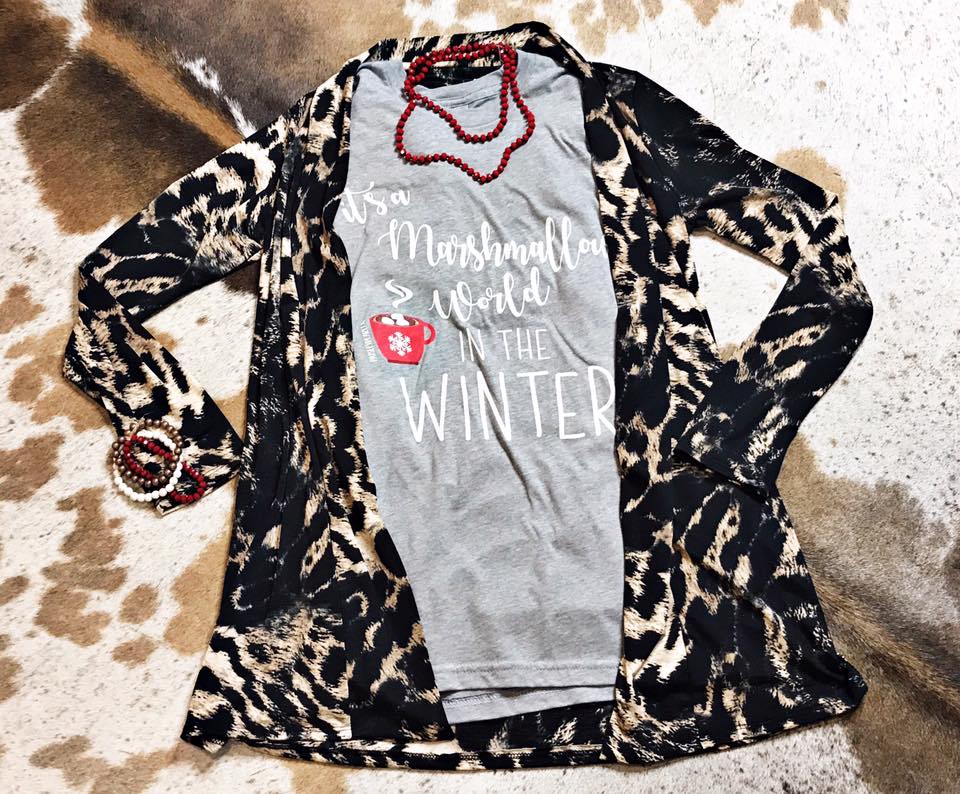 I couldn't NOT order this one! I'm a Texas girl so I just had to have a Merry Christmas Y'all Shirt! This one came from Merrick Cole Boutique. You can check out the Facebook page here.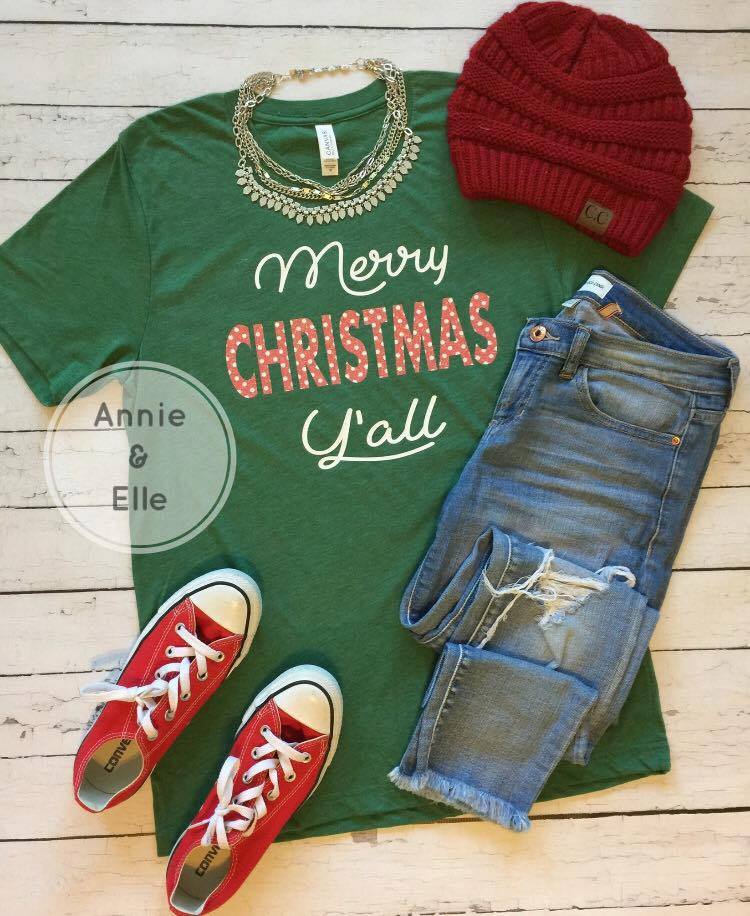 Christmas Leggings
I'm also rocking my LulaRoe Christmas leggings! So comfy and full of Christmas cheer!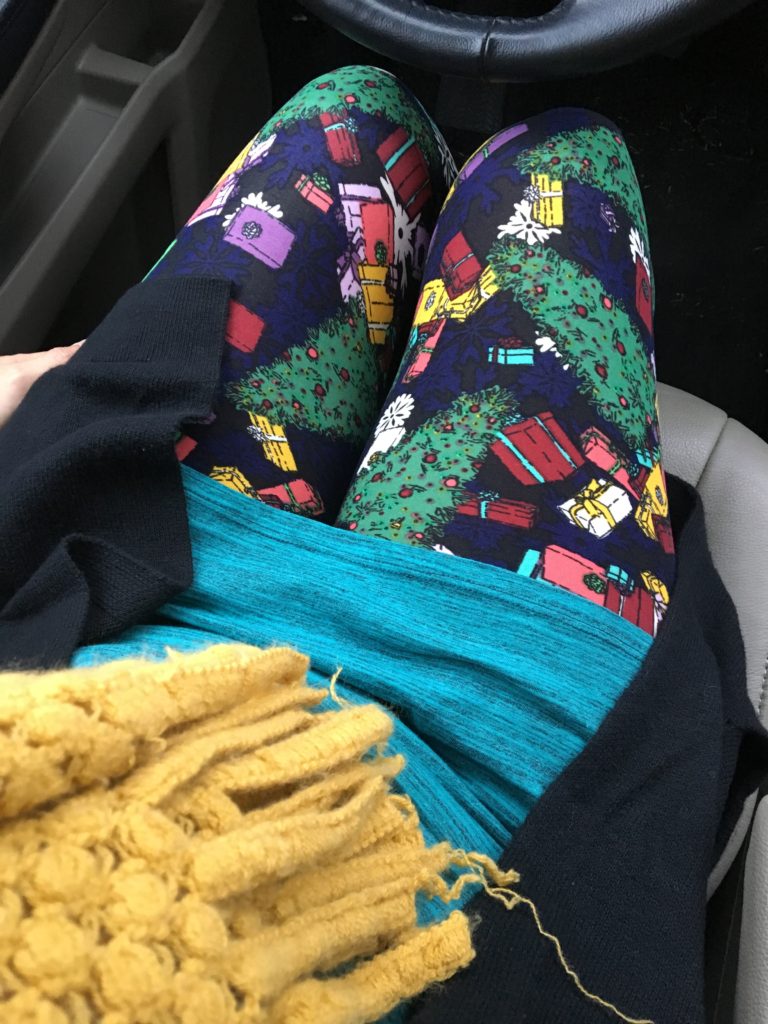 Hallmark Movies
My DVR is overflowing with Christmas Hallmark movies! I have so many to watch! I love them all. Yes, the are super cheesy, but they make me happy! I often turn on the TV and let a movie play in the background while I'm doing stuff around the house! Tis the Season for sappy movies that make me smile!
Matching Pajamas (Heck, Christmas PJs in General!)
My sister and I have a LONG standing tradition of matching pajamas at Christmas time! I love pajamas in general, but I really love them at Christmas! There's nothing cuter than Jackson in his jammies in front of a twinkling tree!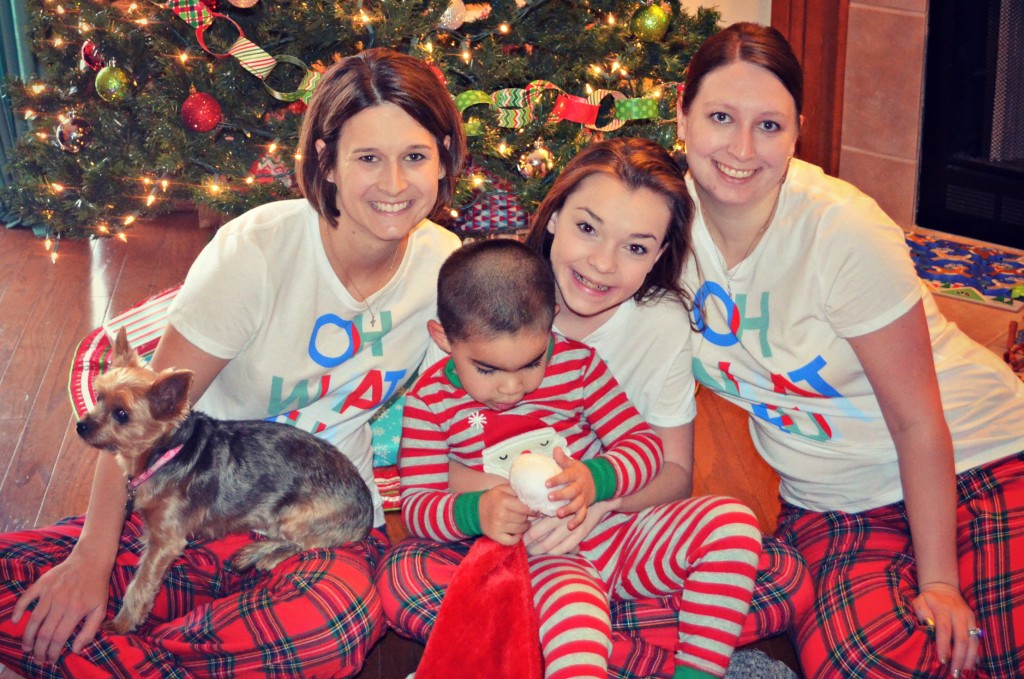 Christmas Cards
I love sending them and receiving them! Mine are addressed and stamped and will be mailed today! Checking the mail is so much fun this time of the year!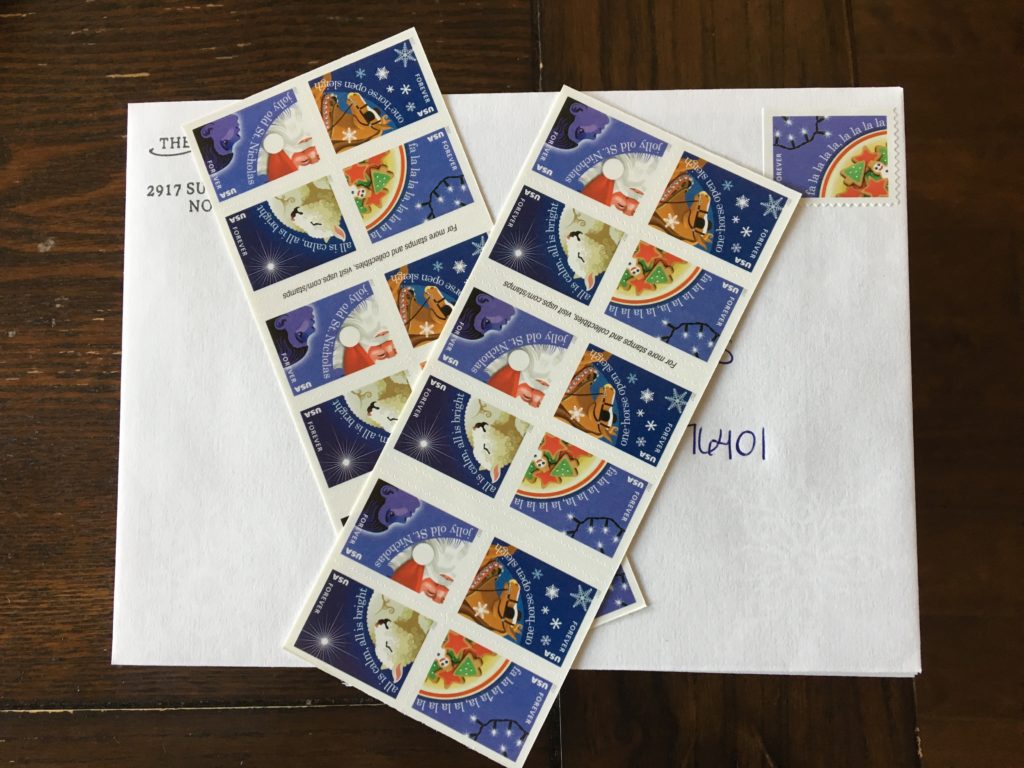 This Advent Book
I have read Ann Voskamp's book The Greatest Gift: Unwrapping the Full Love Story of Christmas multiple times. I can't recommend it enough. It's the perfect book to read as you prepare your heart for the holidays and focus on the true meaning of Christmas.