On the floor of my closet, hidden behind my clothes, is a box full of journals. They date back to my college days. They're filled with the highs and lows of life back then, memories I thought were important enough to write down, and prayers.
Lists of people and situations I was praying for during particular seasons of my life. Written beside many of those requests is a description of how I saw God answer them. There are typed-out prayers tossed in my bedside drawer, high-lighted and scribbled on – a reminder of God's faithfulness throughout the years.
Written prayers are a powerful thing. 
Last August I added a special needs mama, whose son had just been diagnosed with Apraxia, to my prayer list. She and I have never met, but we connected on Facebook through a mutual friend. I began praying for them, and in January I wrote these words beside her name: Kellen said his first word today.
The joy I felt in that moment was incredible! I rejoiced, I cried, I thanked God.
Praying for one another is a privilege we should never take for granted.
We are called to be prayer warriors.
Romans 15:30 says: Pray for me. Pray strenuously with and for me. (The Message)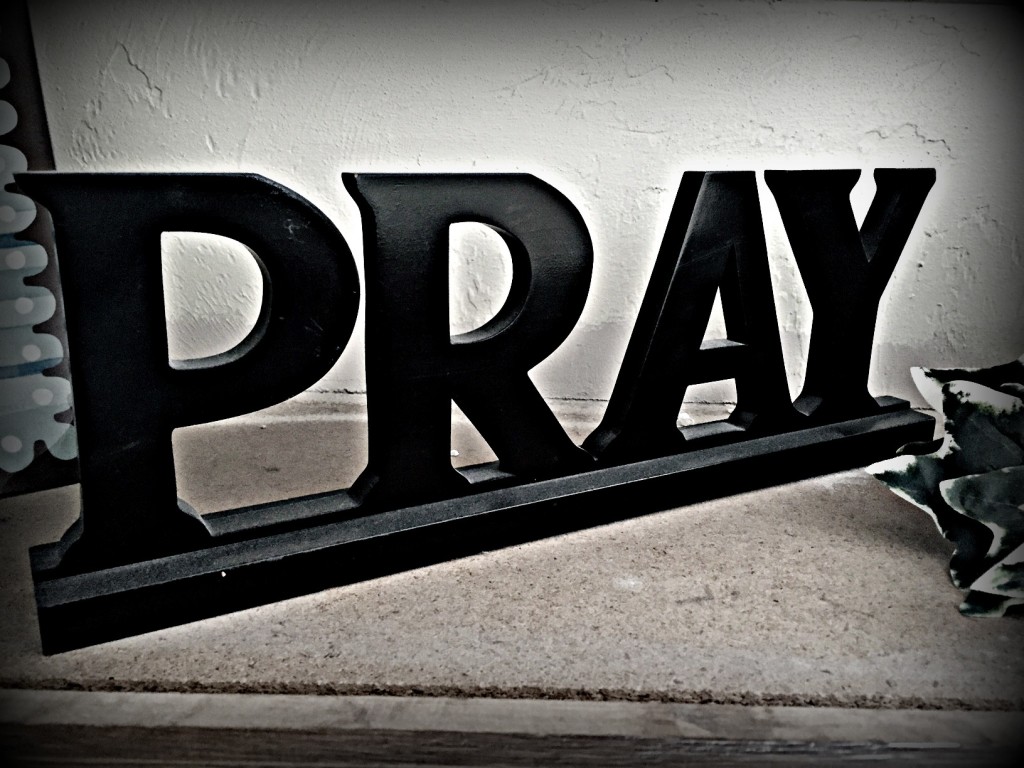 Some of my most intimate moments with God have been when I'm on my knees interceding for others.
And I know without a doubt I wouldn't be where I am today had prayers not been going up on my behalf.
There are three things I almost always pray, no matter the circumstances I'm bringing before His throne.
1. For His Peace and Presence To Be Undeniable.
Hard times threaten our peace and we often miss God moving when we're in the midst of the mess. I love Matthew 6:34 from the Message: Give your entire attention to what God is doing right now, and don't get worked up about what may or may not happen tomorrow. God will help you deal with whatever hard things come up when the time comes. 
God wants us to seek Him regardless of our circumstances. When we seek Him, we will find Him. ( Jeremiah 29:13)
Through the heartfelt mercies of our God, God's Sunrise will break in upon us, shining on those in the darkness, those sitting in the shadow of death, then showing us the way, one foot at a time, down the path of peace. (Luke 1:77-79)
2. For Wisdom
Life is made up of one tough decision after another, but God promises to give us wisdom if we ask.
If any of you lacks wisdom, you should ask God, who gives generously to all without finding fault, and it will be given to you.(James 1:5) 
1 Corinthians 2:7 in The Message says, God's wisdom is something mysterious that goes deep into the interior of his purposes. 
I love praying Isaiah 30:21 for those who need wisdom and God's guidance. It's a verse I've prayed for myself many times – especially during our adoption journey, and even now as a special needs parent.
Whether you turn to the right or to the left, your ears will hear a voice behind you, saying, "This is the way; walk in it.
3. For God To Meet Those I'm Praying For Exactly Where They Need Him That Day 
I don't always know the specific daily needs of those I'm praying for, but God does. And His word says,  God will meet all our needs according to the riches of his glory in Christ Jesus. (Philippians 4:19)
I can't think of a better verse to pray than Romans 15:13: May the God of hope fill you with all joy and peace as you trust in him, so that you may overflow with hope by the power of the Holy Spirit.

And for those who I know are facing a hard season, I love praying Colossians 1:12 from The Message: We pray that you'll have the strength to stick it out over the long haul – not the grim strength of gritting your teeth but the glory-strength God gives. It is strength that endures the unendurable and spills over into joy, thanking the Father who makes us strong enough to take part in everything bright and beautiful that He has for us.