I yelled at Jackson on his birthday.
We were trying to get out the door to make it to his speech appointment and all he wanted to do was jack around. He wasn't listening, and in a moment of anger, harsh words came out of my mouth.  And just as soon as they did I felt intense shame and guilt wash over me. And it stayed throughout much of the day.
As I buckled Jackson into this carseat, I grabbed his little face, looked into his eyes and apologized.
He smiled, squeezed my cheeks, and acted as if nothing had happened.
Why is it I can't forgive myself? Why do I hide in shame, believing God is shaking His head and rolling His eyes? Why can't I get a grip? He deserves a much better mom than me.
The next day as I waited to pick Jackson up from school, the birthday incident was still on my mind. I had twenty minutes to finish the pages of Becky Thompson's soon-to-be released book, Hope Unfolding: Grace-Filled Truth for the Momma's Heart.
As I read her words, light penetrated the dark memories of the day before.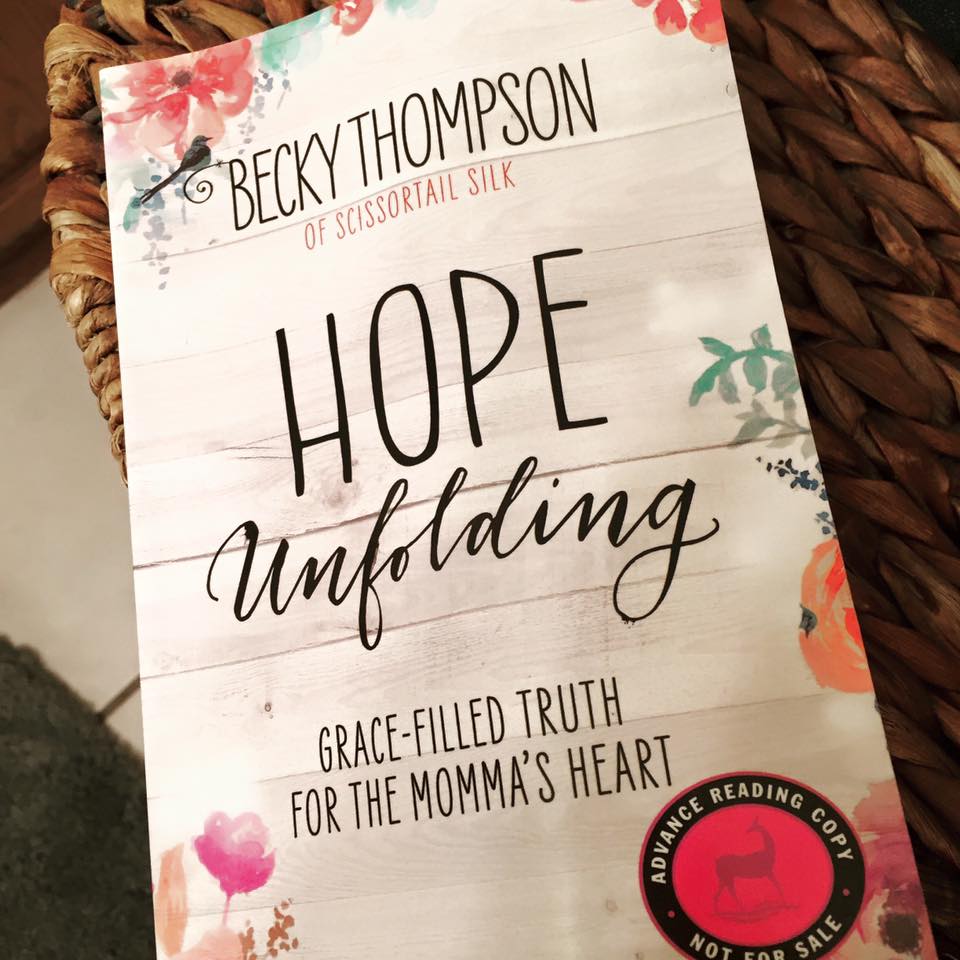 You are a good mom.
Has anyone told you that in a while? Or ever? Has anyone looked you squarely in the eyes and told you that you are doing a great job? Has anyone held your hand and reminded your heart that this whole being a mama thing is hard, and it's normal for it to feel impossible some days? Has anyone ever admitted to you that she feels like a huge failure some days too? 
The enemy wants nothing more than for me to think I'm royally screwing up my kid.
And honestly, I've bought into his lie a lot lately.
I've felt like a big. fat. failure the past week or so.
Parenting is tough.
Parenting a child with special needs is tougher.
But it's even more complicated when I try and do it in my own strength.
Becky writes, But the truth is, when we look to our kids to find security in our parenting, we will only be left feeling disappointed. Not because they are a disappointment, but because their need for a perfect Savior does not indicate our failures as a mother. It simply means that they need Jesus just as much as we do. 
The truth is, the fear of ruining our children will fade when we surrender our hearts to the Lord and say, "I cannot do this on my own. Help me be the parent that this child needs me to be." 
That has become my prayer.
I have traded in the lies for truth.
And if I listen hard, I hear Him say you are a good mom!