Recently I was reading from The Message. Right there in 2 Peter were two words that I'd never seen together, at least not in the NIV.
Complimenting your faith with…passionate patience." (2 Peter 1:6)
Passionate patience? What does that look like? Waiting with passion? What if I were passionately patience with Jackson? How could that transform motherhood?
These were just a few of the questions running through my mind.
I decided to Google passionate patience and was very glad I did.
One particular blog talked about having passionate patience in the midst of suffering.
Romans 5:3-4 says troubles can develop passionate patience. 
In Paul's day, suffering was viewed as an opportunity to grow closer to Jesus. Hard times weren't necessarily a curse, they were often seen as a blessing.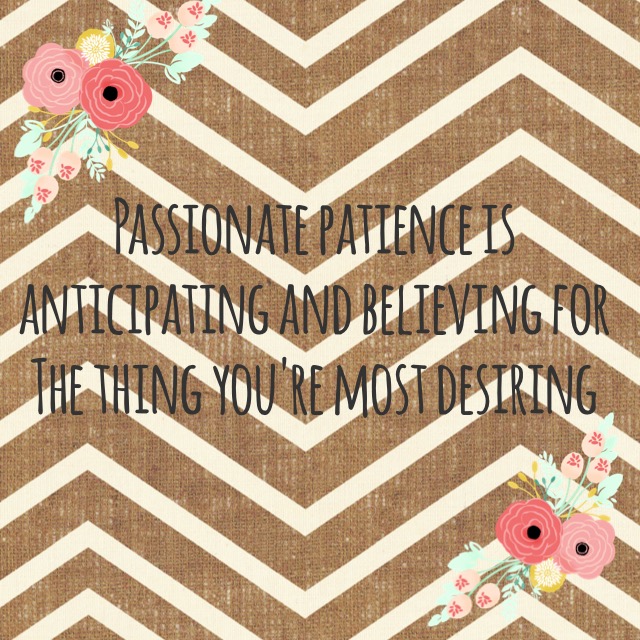 Brad Andres writes, So what is passionate patience? It is living in hard times, sometimes with a smile, realizing God still has you wrapped in His love, making you more like Jesus.
Passionate Patience is anticipating and believing for the thing you're most desiring.
I want to have passionate patience on this Apraxia journey. I will passionately wait on God – Believing Him, Trusting Him, Not Giving Up – until Jackson is talking our ears off.
On another blog I read, the author put it this way: So don't just wait around. Be passionately patient. Get consumed in it. Get consumed in the prayer and the waiting and the knowing that in passionate patience lies an ultimate end of blessing, provision, and protection that will reach far beyond what you were hoping for. 
I have to be passionate in prayer.
I have to passionately hope.
I don't want to give up in times of suffering; I want to persevere with passionate patience. 
Because I want this to be said of me…
I see what you've done. Now see what I've done…you don't have much strength, I know that; you used what you had to keep My Word. You didn't deny Me when times were rough…Because you kept My Word in passionate patience, I'll keep you safe in the time of testing. (Revelation 3:8-10)
***Today I'm linking up for Three Word Wednesday. You can join the fun here.***