The other day I read an amazing blog post written by a woman who was once non-verbal. It was a letter to her parents – all the things she wished she could have told them back then. These words made me tear up.
I want to tell you, though, to keep fighting for me and believing in me because without you both — my best advocates — I'm not going to be the person I am today. There's hope, and you both play a huge part in that. Things are going to get better, and without you that wouldn't be possible.  
God has been reminding me a lot lately that John and I are Jackson's biggest advocates.
We are the only ones who will fight for him.
The only ones who will be his voice until he finds his.
We have been entrusted with this amazing little boy. 
So that's why I'm already brainstorming ways to share Jackson's story and raise awareness for Childhood Apraxia of Speech on Apraxia Awareness Day May 14th.
So many people don't know what Apraxia is, and it's my job to change that.
This year, we are asking our family and friends to consider buying a special T-shirt to wear on May 14th to support Jackson.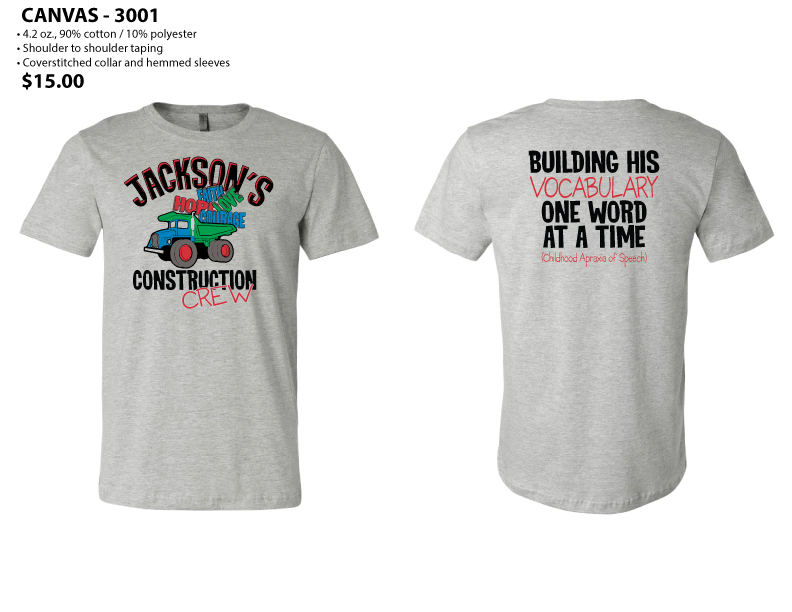 The T-shirts are $15 each ($18 shipped) and reflect Jackson's personality perfectly.
Together, we want to raise our voices until He finds his.
Will you join us? Will you wear awareness for Childhood Apraxia of Speech on May 14th?
To order a shirt, simply leave a comment with your email address or you can email me directly at jenniferjacksonlinck@gmail.com
Orders will be accepted for the next two weeks. Kids sizes are also available for $10 ($12 shipped).