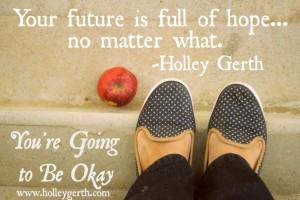 I received Holley Gerth's book, You're Going to Be Okay, as a birthday gift. I hadn't bought it because I wasn't sure it related to my current season of life. For the first time in several years, things are pretty boring. We aren't fundraising, we aren't adopting, and we aren't up all night with a colicky baby.
Things are pretty good. These days a stubborn two-year-old and his speech delays are my biggest challenge.
But as I started to read Holley's words, I realized they weren't only for individuals going through big life changes. Because you know what? Sometimes I need someone to tell me It's going to be okay!
Especially when I start to worry about Jackson's speech. I constantly have to remind myself that God is in control. That Jackson is  fearfully and wonderfully made.
Holley's words spoke hope to my heart.
Her book is a reminder that God is in control no matter what the circumstances.
If you're facing a scary diagnosis.
If you're on the verge of divorce.
If you're wondering if God hears the prayer you've uttered over and over and over.
No matter what you face today, you'll be okay.  God has a purpose for you and nobody else can fulfill it.
Holley writes, Just because your circumstances are hard doesn't mean God's purpose for you has changed….the very places and times when you feel God can use you least are when he may actually shine through you most.
She goes on to say, sometimes it's through our cracks that his light shines the brightest.
It's not always easy to understand, but God often uses the tough stuff to make us more like Him.
It really will be okay.
Suffering is temporary, and God promises He will never leave our side.
When you pass through the waters, I will be with you.
When you pass through the rives, they will not sweep over you.
When you walk through the fire, you will not be consumed;
the flames will not set you ablaze. (Isaiah 43:2)
This post was written as a response to Holley Gerth's Coffee for your Heart link up prompt: For more encouragement click here! I am also linking up for Three Word Wednesday. You can join the fun here.