Motherhood sometimes leaves me unraveled. Spinning out of control like my washing machine when it's off balance.
There's nothing pretty about it.
Two years of motherhood has exposed ugly places in my heart. I cringe at what I see –  the selfishness and lack of patience.
I question God.
"Are you sure I'm the one you wanted for this gig?"
You don't realize the extent of your sinfulnes until you become a parent.
Take last Wednesday for example. We had a great morning.
There were smiles and giggles. Hugs and kisses.
We had lunch at Chick fil A and he conquered the playground.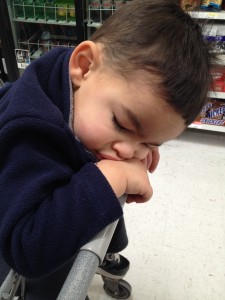 He fell asleep in the shopping cart as I quickly grabbed chocolate milk and yogurt.
He was still asleep when we got home. I laid him in his bed and spent a few minutes reading my Bible before deciding I wanted a nap, too.
He woke up screaming the moment I drifted off to sleep.
I stumbled into his room and picked him up.
I held him and tried to calm him. He wasn't completely awake.
He screamed and kicked like a bag of angry snakes.
He was drenched, so I put him on the couch to try and change his diaper.
Then he kicked me square in the jaw.
And I came unraveled.
"Stop it," I yelled.
I stomped my feet, threw the clean diaper on the floor, and had a tantrum along side my two-year-old.
Ugly spewed all over the place.
He cried louder as he reached for me. I wanted to push rewind and take it all back.
I picked him up and his arms wrapped around my neck. We collapsed onto the couch.
He held onto me and I held onto him. We both cried. My shirt was soaked with snot and tears. My face stained with mascara.
All 30 pounds of him sprawled out on top of me. I thought of all the nights he had slept on my chest when he had colic. It seemed like yesterday that he had fit so perfectly there.
I rubbed his back and our breathing synced. Our hearts found the same rhythm.
The calm after the storm.
His tears stopped, but mine continued to fall silently.
How could God love this temper throwing mama who comes unraveled?
Being his mom is the hardest thing I've ever done.
I kissed his head and whispered I'm sorry.
I apologized for being crazy.
The afternoon tantrum haunted me long after the day was over.
That night God met me on the pages of "Praying for Boys: Asking God for the Things They Need Most" by Brooke McGlothlin.
I was weary. I felt like a fraud and a failure.
These words renewed my spirit:  "Weakness is a channel that allows Christians to access grace." (Paul Miller)
I don't know about you, but there are many days of parenting that leave me feeling weak.
I find that I'm in need of grace Every. Single. Day.
If it weren't for grace, I would throw in the towel.  I'd never recover from the temper tantrums (mine or Jackson's).
Thankfully, His grace covers me.
It's a promise: "My grace is sufficient for you, for my power is made perfect in weakness." (2 Corinthians 12:9)
So the next time I feel like I'm about to come unraveled, I have to remember:
God's strength overshadows my weakness.
God redeems the mistakes I make as a mother.
What part of motherhood causes you to come unraveled? How do you recover after you've fallen short?