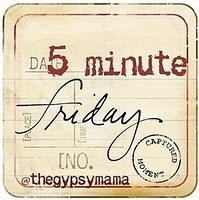 The small choices you make as a mother matter.
You may feel invisible; like nobody appreciates the things you do over and over and over.
But the choices you make, the minute-by-minute decision to put your kids first, that doesn't go unnoticed.
God sees.
He knows how hard the job can be.
When you choose to laugh at the water he spilled all over the floor (again) instead of  cry.
When you choose to watch Henry Hugglemonster with him instead of the episode of Grey's Anatomy.
When you choose to forgo reading on the iPad so he can match shapes and colors.
When you choose to snuggle with him in the middle of the night instead of coming unraveled.
When you choose to chase him in the backyard instead of tackling the stink sitting in the kitchen sink.
When you choose to set the computer down and finish the blog post later (because he's demanding your attention now!)
When you choose to be in the moment with your kids, you're making an eternal difference.
**Today I am linking up with Lisa Jo for Five Minute Friday. You can join the fun and get a dose of encouragement here.