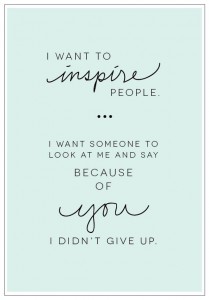 Words have always inspired me.
I cherish them. Whether written, sung, or spoken.
There's a box under my bed filled with cards. Inside each one words have been written by someone who cared. I can't bear to throw them away. Words from years gone by. Birthday wishes. Encouragement when it was needed most. Each card a reminder of moments that have passed.
Music has always stirred my soul. I could memorize song lyrics at an early age. A certain song can come on the radio and whisk me away to a place long ago. My first love. The loss of someone special. A summer spent with my best friend. No matter how many years pass, the words are still embedded in my mind and heart.
I'm bombarded by words on a daily basis.
I soak them in.
I let them out.
One of my favorite sounds has to be the clicking of the laptop keys as the words pour onto the screen.
I pray they inspire others.
Words inspire me, but so do the women in this amazing blog community who write them.
They reveal their heart and soul through their words.
They are transparent. They are raw and honest.
But most of all, they are real.
And this world needs real.
Because there are days when you feel like you are bound to be the only one, but then you click on the blog post and find that you aren't alone.
Other mothers scream at their kids, too.
Other people battle depression, too.
Other couples have to fight for their marriage, too.
Other women have God-sized dreams, too.
Other women struggle to find the balance between their family and their dream, too.
Yes, these women inspire me.
I've picked a few recent blog posts that I would like to share with you.
This is just a sample of the transparency, the encouragement, and the truth found in this amazing blog community.
I hope you'll be inspired, too.
For the Momma Who Takes On Too Much.
How to Get Through the Dark Places.
There's No Such Thing as Just a Mom.
Whose words inspire you? Has there been a recent blog post that you just love? Please share a link in the comments! 
This post was written as a response to Holley Gerth's Coffee for your Heart link up prompt: For more encouragement click here!