I woke up yesterday morning to a husband who had been up all night with food poisoning. He was in no shape to go to the donut shop for my traditional birthday breakfast. Jackson said he would take me.
I agreed to drive. So off we went in our pi's to get the birthday breakfast I've enjoyed for as long as I can remember. The tradition my mom started, the one John's continued, and I've started for Jackson.
We ordered our chocolate sprinkled donuts. Jackson got a chocolate milk and I got a Dr Pepper with extra ice.
We went home, put a candle in the donut, and sang Happy Birthday.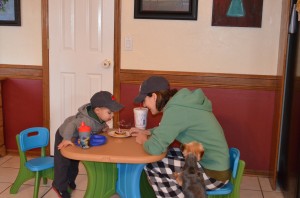 Then Jackson blew out the candle.
And clapped for himself.
Then we did it one more time just because we could.
Jackson enjoyed every sweet bite. His chocolate-covered face was proof.
The weekend was filled with gifts.
#180 Birthday Shopping
#183 Red Velvet Cupcakes
#184 A Birthday Bellini
But one of the best gifts was another birthday tradition started last year.
#186 A Favorite Things Party with my closest friends.
These friends are the answer to some of my deepest and heartfelt prayers.
After Jackson was born and I became a stay-at-home mom I yearned for friendship.
It was hard adjusting to life at home with a baby. I was used to going to work every day and interacting with adults.
I needed people.
More than just a comment or a like on Facebook.
More than a comment on a blog.
I needed friends who were in the season of life that I was (trying to figure this mothering thing out).
I needed friends who I could be myself around. Who didn't judge. Who hugged me and told me I wasn't crazy.
Friends who didn't disown me when I yelled at my kid and admitted just how hard it can be.
God answered. He answered in a BIG way.
I love that about Him.
These girls are a gift.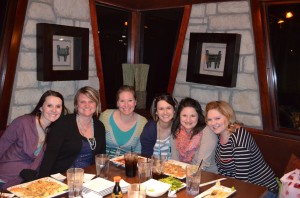 We've prayed each other through adoptions.
We have laughed. We have cried.
We've run crazy through the aisles of Target until closing time.
We've had playdates.
Last night we ate way too much and laughed way too hard.
There was a lesson on how to use chopsticks.
And first-time Sushi eaters.
Then everyone got gifts as we exchanged our Favorite Things.
It was the perfect end to my 32nd Birthday.