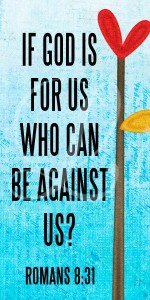 No matter what happens.
You're going to be okay.
It may not feel like it.
But believe it.
No matter what you're facing.
You're going to be okay.
How do I know?
Because….
He is for you.
What, then, shall we say in response to these things? If God is for us, who can be against us? (Romans 8:31)
He is working it all out.
And we know that in all things God works for the good of those who love him, who have been called according to his purpose. (Romans 8:28)
The trials are exhausting.
Believe me, I know.
Infertility.
Depression.
Adoption.
A colicky baby.
A marriage on the rocks.
You just want a break from the hard stuff.
But it's in the midst of the hard stuff that we really come to know Him.
We find ourselves on our knees.
There are tears.
There is surrender.
We struggle through the hard and discover the prize.
A faith that can stand against anything.
"Consider it pure joy, my brothers and sisters, whenever you face trials of many kinds,3 because you know that the testing of your faith produces perseverance. 4 Let perseverance finish its work so that you may be mature and complete, not lacking anything." (James 1:2-4)
"These trials are only to test your faith, to show that it is strong and pure. It is being tested as fire tests and purifies gold — and your faith is far more precious to God than mere gold. So if your faith remains strong after being tried by fiery trials, it will bring you much praise and glory and honor on the day when Jesus Christ is revealed to the whole world." (1 Peter 1:7)
Hope that can't be snuffed out by momentary troubles.
"Not only so, but we also glory in our sufferings, because we know that suffering produces perseverance;perseverance, character; and character, hope. And hope does not put us to shame, because God's love has been poured out into our hearts through the Holy Spirit, who has been given to us." (Romans 5:3-5)
A deep rooted trust in the One who promises it really will be okay.
This post was written as a response to Holley Gerth's Coffee for your Heart link up prompt: For more encouragement click here!