He flies across my bedroom floor. His feet out of control. He has one thing on his mind. Shutting the closet door. He's inches away from his goal when his feet fail him. He stumbles and hits the door face first.
He wails. I scoop him up and see that he's bit the inside of his lip. It takes a minute before I see the blood gushing everywhere. I run to the bathroom trying to calm him down. Thankfully his tears last only a minute (he's tough). The blood, however, lasts much longer. I wrestle with him to clean him up. He just wants to get down. I finally notice the big gash on his bottom lip that goes down to his chin.
I call John and he doesn't answer. I call again, and again, and again. It won't stop bleeding. I call my friend and she rushes over. We take photos and send them to her mother, a nurse, and my sister, also a nurse.
It's unanimous – take him to the emergency room. The bleeding has finally stopped and Jackson just wants to play. I load him in the car, call John, and tell him to meet me at Children's Hospital.
My stomach does twists and turns as I drive. I'm definitely the mother of a boy and I'm not sure my heart can take it. How will they possibly keep him still long enough to do stitches? I cringe at the thought of my Little Man being in pain.
It doesn't take long for the doctors to decide it's not possible to keep him still long enough to do the procedure. They decide it's best to put him to sleep before they stitch him up. We slip on the hospital gown and I fight back tears as we hold him down so the nurse can start an IV.
John holds Jackson as he pops bubbles to take his mind off what's to come. They put the medicine in his IV and he drifts off. He becomes a bobble head in the matter of seconds. We lay him down on the hospital bed and the doctors wrap him tight in blankets. I look away as they stitch his lip.
It's over in a flash and I'm by his side. I rub his head as his long, lush, eyelashes flutter. He tries so hard to open his eyes, but they are so heavy. His Daddy holds him and he wakes up to the red popsicle he was promised.
Not completely awake, he savors the cold, cherry, treat. Sticky liquid running down his fat lip.
Then we notice it. One of the stiches has already come out. We are given a few options but we know the best option isn't going to be fun for Jackson – or us. The doctors and nurses come back into the room to put another stitch in his lip. This time I leave.
I go around the corner and fight back tears as the sound of Jackson's cries fill my ears. John peeks his head around the corner and tells me to go into the waiting area. It's going to get worse before it gets better.
A few moments later I take Jackson in my arms. His face is stained with tears, but it's finally over. We are released to go home four hours after arriving at the emergency room. Jackson is still dopey, but refuses to sit still. I pray the stitches stay put!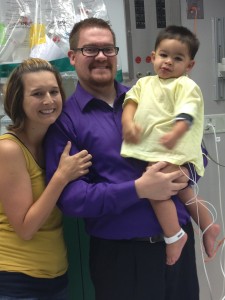 I want to wrap him in bubble wrap for the next few days. I'm anxious when he starts running in the house. I want him to sit and play with his trucks, but that's not realistic for a 20-month-old BOY!
Because when you're the mama of a boy, it's likely there will be many ER visits in your future.