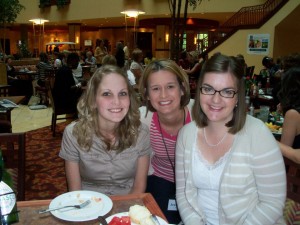 Our friendship is anything but ordinary. Our dreams brought us together. Jesus is what keeps our friendship strong, although we live miles and miles apart.
I met Jen, Kayse, and Jamie at SheSpeaks in July 2012. We immediately connected over our faith and our passion for the written word. We spent three glorious days together soaking up all we could about blogging and book publishing.
Since then our friendship has continued to grow online as we promote one another's blogs and encourage each other's dreams. We don't talk on the phone or see each other every day – but there is something about the bond I have with these three girls that isn't ordinary.
We pray for one another. They know my heart. They get me. I share things with them that I sometimes don't share with my friends in Oklahoma. They want to see my dream of writing a book fulfilled as much as I do. I have been blessed to do life with them in a not so ordinary way.
Last night the four of us stayed up super late (well, maybe not so much for Kayse who lives on the West Coast) so that we could register for Allume – a writing/blogging conference and get the early bird special.
The clock struck 11:00, I clicked on register, and rejoiced that I get to see these girls face-to-face in October when we head to the East Coast!
I can't tell you how thankful I am that God gave me these not-so-ordinary friendships!
****Today I'm linking up over at Lisa Jo Baker's blog for Five Minute Friday! You can join me here.
*****The winner of Teske Drake's book "Hope for Today, Promises for Tomorrow: Finding Light Beyond the Shadow of Miscarriage or Infant Loss " is Martha! Martha, I will be getting with you and Teske will be sending you your book! YAY!