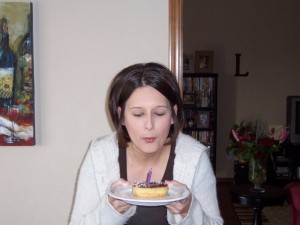 It's only fitting that I write about the chocolate sprinkled donuts. My mama did a lot of things for me and I have a lot of wonderful memories. But on the eve of my birthday, I can't help but remember the special tradition.
Every morning on my birthday there was a chocolate sprinkled donut adorned with a candle. Not just any sprinkles would do. It had to be the small bead-like sprinkles that crunch as you bite into them. Not those long, non-crunch ones. My mom would light the candle and sing Happy Birthday and send me to school excited for my special day.
Thirty-one years (tomorrow) and I still expect a chocolate sprinkled donut the morning of my birthday. Thankfully I have a husband who doesn't mind making an early morning trip to the donut shop. The poor guy also knows not to get the wrong kind of sprinkles.
My mom taught me much bigger, important life-lessons, but there's something very special about the tradtions we had as a family. It's something I want to pass down to Jackson – chocolate sprinkled donuts and Happy Birthday mornings.
My mom's coming to visit tomorrow and it wouldn't surprise me if she brings a donut all the way from Texas. I'll let you know if she does. 🙂
****Today I am linking up with Lisa Jo for Five Minute Fridays. You can join us here.