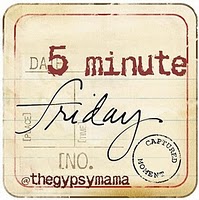 This word is pretty perfect to write about  considering yesterday I found out I'm going to have to have my gallbladder removed. My. First. Ever. Surgery. Happy 31st Birthday to me! 🙁
And did I mention that I hate needles and anything medical related for that matter?
But I will get over being afraid if it means I will never again experience the painful, painful (almost like a hear-attack kind of pain) that comes with having a gallbladder attack.
I also find it a bit ironic that I wrote about being afraid earlier this week – I just called it by its other name! FEAR! You can read more about how my fears were paralyzing me here.
So over the next few days I will remind myself of these words as I keep from becoming afraid and anxious of that little surgery that is in my near future.
Do not be anxious about anything, but in every situation, by prayer and petition, with thanksgiving, present your requests to God. (Philippians 4:6)
***Today I'm linking up over on Lisa Jo's blog for Five Minute Fridays! One word, five minutes, write! To join in the fun click here.