I'm SO excited….today I am guest posting over at my friend Kayse's blog. I met Kayse this summer at the SheSpeaks Conference and I just love her to pieces. I'm so thankful she is allowing me to share my heart for adoption and the orphan on her blog.
On Sunday, churches all over the United States, will be praying for and educating people about the 147 million orphans all across the globe.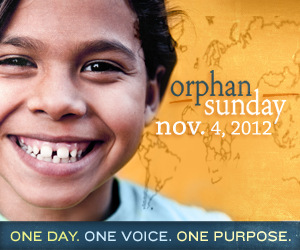 A few short years ago, I had no idea what Orphan Sunday was. I didn't know that 147 million children were abandoned, living without food and clean drinking water, and dying from preventable diseases like diarrhea.
Then God shook up my world – He called my husband and I to adopt. He opened our eyes to the need. He ignited a passion. He called us to action. I felt like He whispered to my heart: If you'll just trust me, if you'll just step out in faith, I'll take you on the ride of a lifetime.
Today I share how God rocked my world because of a prayer and a willingness to step out in faith. You can read the beautiful story He weaved together here….