I've made a promise to myself this year. I will read because I love to read! I will not make reading one more thing to mark off my to do list! Reading is for pleasure. I don't want to turn it into something stressful. After all, my One Word for 2018 is Savor! And one more thing, if I'm not loving a book, I have permission to stop reading! I can close it and move on! Life is too short to read bad books!
The good news is my January reads were all really good! I finished them all.
I also read all these books on my Kindle, which surprised me. I tend to prefer a good old-fashioned book, but I read on my Kindle and it's growing on me more and more (and it saves a little bit of money since I got one of the books free!)
Here's what I read this month…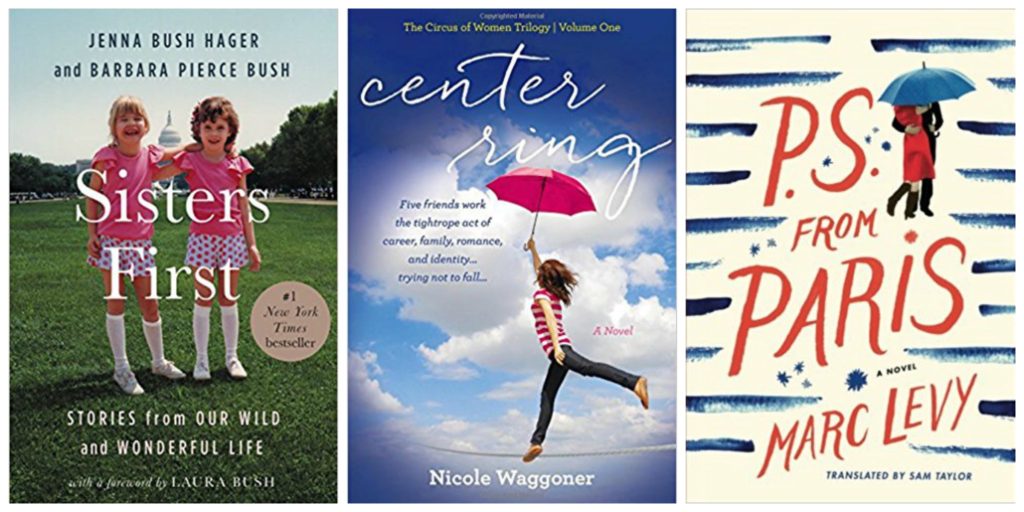 Sisters First By The Bush Twins
I'm from Texas and all politics aside, I love me some George W. Bush! He's one of those people I would love to sit down and have a conversation with. This book, written by his twin daughters, made me laugh out loud more times than I could count. It also made me tear up a time or two, too. There are so many sweet stories about their sisterhood and friendship, about the sweet relationship they have with their parents and the amazing bond they share with their grandfather. The letters George Bush Sr. sends his granddaughters are priceless. It's a sweet, sweet book! I really enjoyed it!
Center Ring By Nicole Waggoner
Nicole is my neighbor and her books had been on my "To Read List" for a while. I finally downloaded the first book and was quickly sucked in to the story of five female friends and their crazy lives. The first book in The Circus of Women Trilogy did not disappoint. The characters are well developed and the plot is fun and surprising. The topics run deep – affairs, eating disorders, infertility, suicide and much more. I downloaded book two as soon as I read the last page!
The Act By Nicole Waggoner
The second book in The Circus of Women Trilogy was just as good as the first one! I am eagerly awaiting book three, which should release this summer. I can't wait to find out how the story ends! These books are perfect for packing in your beach bag!
P.S. From Paris By Marc Levy
I downloaded this book for free on my Kindle. It probably isn't a book I would have read, but the description intrigued me. It's a quirky romance between an American author living in Paris and a British actress. It was a fun, light-hearted read.