Confession: I hate cooking! We ate out way too much this summer or simply scrounged around in the cabinets for something to eat. My kind of cooking is throwing a bunch of stuff in a CrockPot and going about my day. Well, CrockPot season is upon us and I am feeling more motivated to "cook"! Maybe it's because I have so many tried and true recipes for the Fall/Winter months.
Yesterday, after sharing a few new recipes we tried on Facebook, several friends requested a blog post of my favorite Fall meals!
So today I'm sharing the meals we make regularly from October to about February!
These meals are perfect for a crisp, Autumn night! They probably won't help you lose weight, but they will surely warm your heart!
From my table to yours, enjoy!!!!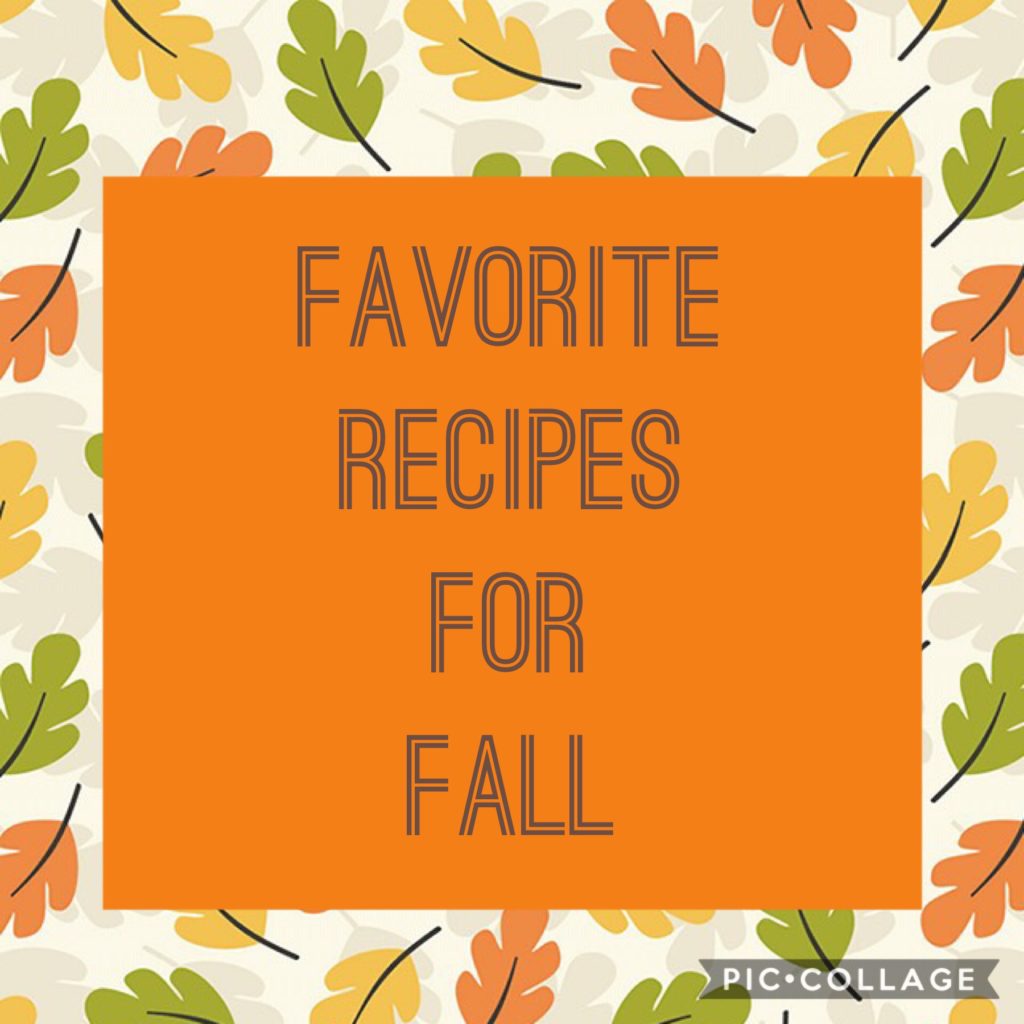 Chicken Pot Pie
This is the easiest Chicken Pot Pie you'll ever make! We eat this a lot during the Fall/Winter months! I honestly don't remember where I got this recipe, but it's one we continue to make!
1 refrigerated pie crust
1 can of mixed veggies, drained
1 1/2 cans cream of chicken soup
1 can of chicken (or you can use a rotisserie chicken if you'd like) 
salt and pepper to taste
Put one of the pie crusts in the bottom of a pie plate. Mix together the veggies, chicken, soup and salt and pepper and pour into crust. Top with remaining pie crust. Poke a few holes in the pie and bake for 45 minute at 350 degrees. ENJOY!
CrockPot Potato Soup
This is such a simple soup to make, and it's so delicious you will eat more than one bowl! Throw all the ingredients in the CrockPot and go about your day! I love serving this with Italian bread! You can find the recipe here.
Chicken and Corn Tostadas and Creamy Tomato & Chicken Pasta
I am a big fan of Mix and Match Mama's slow cooker recipes. She has several that we really love, including these Chicken and Corn Tostadas. I serve them on flour tortillas, but you can also use flat taco shells. We also love her Creamy Tomato and Chicken Pasta!
Shay (the Mix and Match Mama) is releasing a slow cooker cookbook next week! I have already preordered Simmers because we have had great success with her slow cooker recipes. They are SO easy. You just dump a bunch of stuff in your CrockPot and dinner is ready when the day is done! That's my kind of cooking. You can preorder your copy of the book here.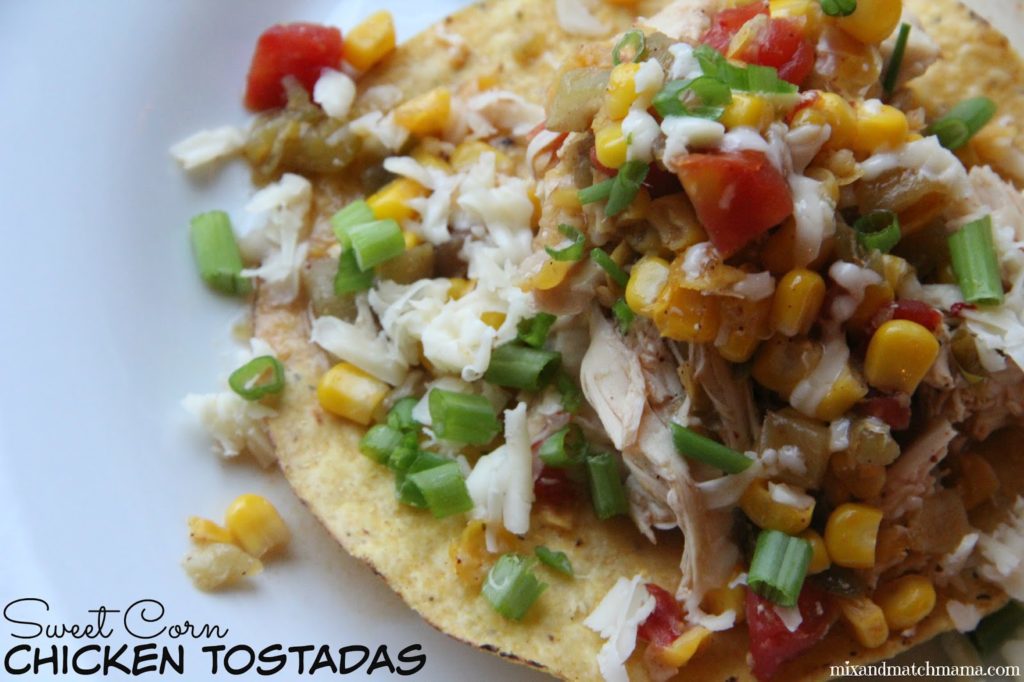 Lasagna Soup
I just came across this recipe last week on Facebook. We made it this weekend and it did not disappoint. It was so yummy! We will definitely be adding this to our Fall/Winter meal rotation. You can find the recipe here.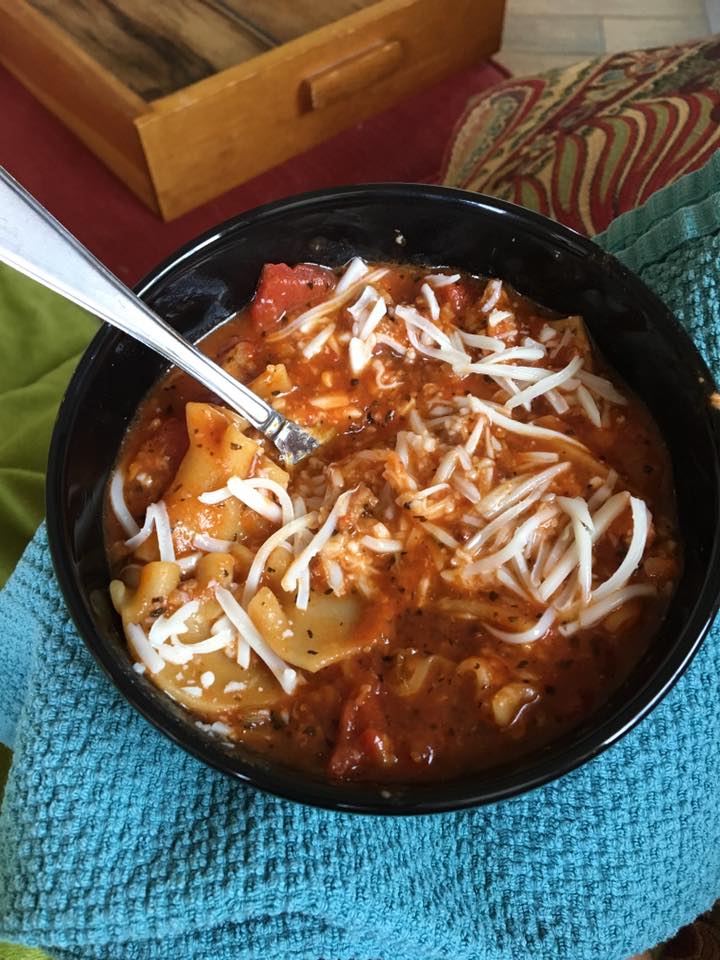 Wild Rice Hot Dish
My friend from Minnesota shared this recipe with me, and oh. my. gosh! It is comfort food with a capital C! I am actually making it this week because the temperatures are supposed to drop below 70 degrees and its' supposed to rain! It sounds crazy, but this dish is super tasty when you pair it with blueberry muffins!
1 can cream of mushroom soup
1 can chicken with rice soup
1/2 cup diced onions
1 pound ground beef
2 soup cans of water
Brown hamburger and onions. Mix everything together in a 2 qt casserole dish. Bake uncovered at 350 degrees for 1.5 to 2 hours.  Stir hotdish occasionally while baking!
Super Easy Chicken Spaghetti
Here's a quick rundown of my all-time favorite recipe: Boil a package of spaghetti noodles and drain. Return the noodles to the pot and dump the following ingredients in: a can of cream of mushroom soup, a can of cream of chicken soup, a can of Rotel, a can of (drained) black olives, a can of (drained) all white meat chicken and one cup of shredded cheddar cheese. Mix together.
Dump the mixture in a 19×13 baking dish and top with shredded cheddar cheese.
Bake for 45 minutes to one hour on 350!
One of the best comfort foods you'll ever eat!!!!
Apple Oatmeal Cookies
I've had this recipe for years! These cookies aren't very sweet, but they are really good! The dash of cinnamon makes them taste like Fall.
1/3 cup butter, softened
2/3 cup packed brown sugar
1 egg
1/2 cup unsweetened applesauce
1/2 tsp cinnamon
1/4 tsp baking soda
1 1/4 cups flour
1 1/4 cups oats
Mix the butter, brown sugar, cinnamon and baking soda until blended. Add the egg and applesauce and blend. Add flour a little at a time until mixed well. Finally, add the oats and mix well. Bake at 375 degrees for 8-10 minutes on ungreased cookie sheet. Enjoy with your favorite Fall beverage.
Peanut Butter Banana Bread
I discovered this recipe on Facebook last week and make it this past weekend. It was the perfect dessert after eating Lasagna Soup. I'll definitely be making it again, but next time I just might leave out the chocolate chips. You can find the recipe here.