I was honored to get to read an advanced copy of Katie Davis Majors new book Daring to Hope: Finding God's Goodness in the Broken and the Beautiful. Her first book, Kisses from Katie encouraged and challenged me during our adoption journey. I just happened to see a sign up for her book launch team and was thrilled when I got the email saying I had made the cut!
There's one particular verse in the Bible that has become a favorite of mine. Psalm 71:14 says, As for me I will always have hope, I will praise you more and more. 
It's easy to have hope when life is filled with happy endings, but how do you hold on to it when life turns out nothing like you had planned? How do you hold on to hope in the midst of the messy and mundane?
Katie's book challenged me to do two things:
Embrace the mundane moments of my life.
Look at hope a little differently.
Katie moved to Uganda more than a decade ago to do big things for God. She has a thriving ministry and she's the mother of fourteen children, of which thirteen are adopted. She's anything but ordinary.
But she writes, God had been teaching me the extraordinary strength it takes just to be ordinary…He has shown me the beauty of being attentive to one person, in the mundane, again and again. 
She goes on to say, Slowly I was beginning to understand, it wasn't my productivity that God desired, it was my heart. It wasn't my ministry God loved, it was me. God was glorified, is glorified, when we give Him our hearts, give Him ourselves, and faithfully do the thing right in front of us, no matter how small or seemingly trivial. 
And that's what God is reminding me of time and time again these days.  It's less about reaching the masses through social media and more about being present to the people he's placed right in front of me. 
Katie writes, I was learning that, ultimately, our hidden reach for God counts so much more than our public one.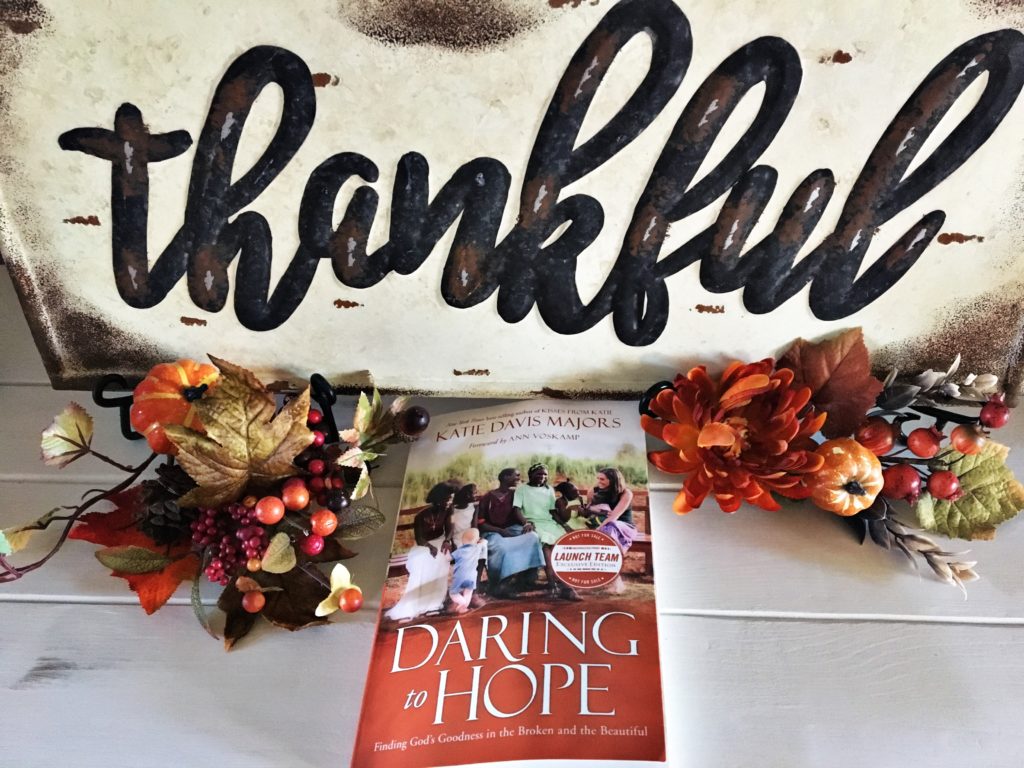 Katie's words reiterated what God has been doing in my heart for quite some time now. Her words have also made me look at hope in a whole new light.
Sometimes it's really hard to hold on to hope when the world is filled with hate, broken relationships and a lot of other yucky stuff. Some situations seem like they'll never get better – I currently have one of those situations, and if I'm being honest I have doubted God's ability to make it better.
But the reason I can continue to hope – despite not knowing how the situation will end – is because of what God promises those who love Him.
Being confident of this: that He who began a good work in you would carry it on to completion until the day of Christ Jesus. (Philippians 1:6)
And we know that in all things God works for the good of those who love him, who have been called according to his purpose. (Romans 8:28)
Katie writes, I remember how Isaiah spoke of a branch that will bear fruit, a shoot that grows forth from a dead stump. Is this hope? That we could look at a stump, long dead and lifeless, and expect a shoot where it would seem impossible? That we can look at our hopeless situation, that which seems dead, a child unable to attach, a prodigal who has lost her way, a marriage beyond repair, a jobless, homeless drug addict who craves a fix more than a Savior, and we can expect new life to shoot forth? What the world would call foolishness, to look at a stump and expect a branch, this is what the Lord has for us in Jesus. 
I can hope, regardless of my circumstances, because God can use the good, the bad and the ugly for His glory.
I can stop striving and say a simple yes to the person right in front of me because simple obedience is what He desires.
I can dare to hope because I have a Savior who is always within reach.
*** To preorder a copy of Katie's new book, which releases October 3, please click here. ***