Since we're almost half-way through 2017, I thought I'd recap what I've read this year. My reading was a little sparse in April and May but I've finished some really great books this month! I'm sure you'll find a lot of great titles to add to your reading list (or Amazon Wish List!) I'd love to hear what you've been reading; feel free to leave your favorite titles in the comments!
Happy Reading!!!
If You Only Knew By Kristan Higgins
Jenny Tate is trying to let go of her ex-husband and the life they shared, but his new wife is making it really difficult! Jenny moves back to her hometown to start a new business and wish for a life as blissful as her sister's. Her world is turned upside down when she meets mysterious Leo, her handsome neighbor who is irresistible, yet not really up for grabs.
The Things We Wish Were True By Marybeth Whalen
One neighborhood in Sycamore Glen, North Carolina holds a lot of secrets. A woman returns to her home town years after leaving her family and friends behind. Her closest friends have never known why she disappeared so suddenly. An accident at the neighborhood pool starts a ripple effect and old secrets are brought to light. Friendships are tested and it's uncertain who can be trusted.
A Million Little Things By Susan Mallery
Zoe is alone. She broke up with her boyfriend and her best friend is obsessed with her toddler who isn't talking. The day she finds herself stuck in her attic she knows she has to do something to change her circumstances. She's pathetic. As she sets out to make changes she finds her life just gets complicated – her first new friend is her best friend's mom and the latest guy to give her butterflies is her best friend's brother.
Wonder By R.J. Palacio
I hadn't even heard of this book until I saw the preview for the upcoming movie – Wonder – based on the book. The preview looked amazing and I can't wait to see the movie. I knew I had to read the book before seeing the film. The book is based on a boy named Auggie, who was born with facial deformities. It's a sweet story about being different, friendship, bravery and the power of kindness.  It's a story that will definitely tug at your heartstrings.
Faultlines By Barbara Taylor Sissel
This book was recommended by a friend who's never steered me wrong in the book department. Three teenagers are involved in a drunk driving accident, leaving one dead, one in a coma and one to face the life-shattering consequences of that fateful night. The accident divides a family as secrets are revealed and family ties unravel.
The Identicals By Elin Hilderbrand
I love summer because it means Elin Hilderbrand will release her latest beach read. Her newest novel did not disappoint. Tabitha and Harper are estranged sisters living separate lives on islands only 11 miles apart. They haven't seen each other in fourteen years; but the death of their father brings them face-to-face. The twins are each facing their own personal problems and decide to switch places like old times. Tabitha stays in Martha's Vineyard to sale her father's house and Tabitha heads to Nantucket to look after her niece. The switch is just what they need to get over their fourteen year estrangement.
The Trapped Girl By Robert Dugoni
This was the fourth book in the Tracy Crosswhite series and I think it's safe to say it was my favorite of the four. I've really enjoyed these murder mysteries based around a female homicide detective. In this book, a body is discovered in a crab pot off the harbor in Seattle. There are many twists and turns as Tracy and her team work to identify the body and catch the killer. This book will leave you guessing until the end.
Never Unfriended By Lisa Jo Baker
Lisa Jo bravely writes about the hard topics of comparison, jealousy, loneliness and betrayal. She tackles all the hard stuff while pointing her readers back to Jesus and how He views friendship. She's vulnerable and courageous with her words. If you've ever been betrayed by a friend, hurt a friend, felt lonely or desired deeper friendships, then this book is for you.
The Happiness Dare By Jennifer Dukes Lee
I heard a lot of good things about this book and finally decided to read it. While it was good; it hasn't been my favorite book of 2017. However, I will say these words caused me to stop and underline: The source of your happiness is already inside you – and it won't demand that you try harder or pretend you're someone else.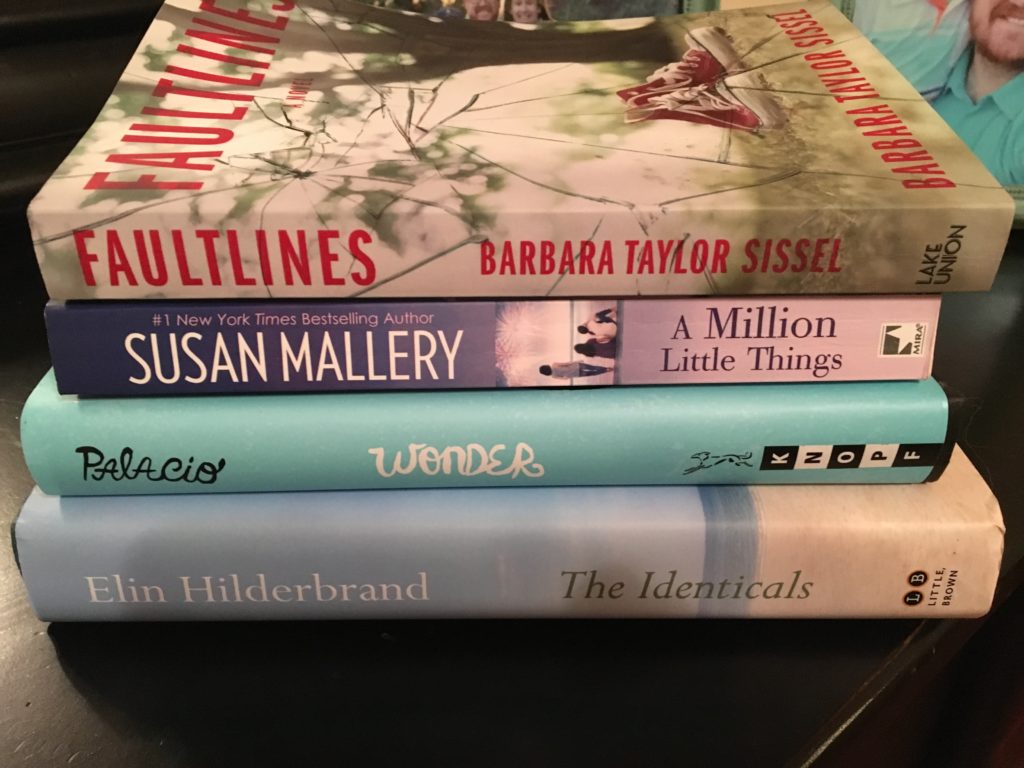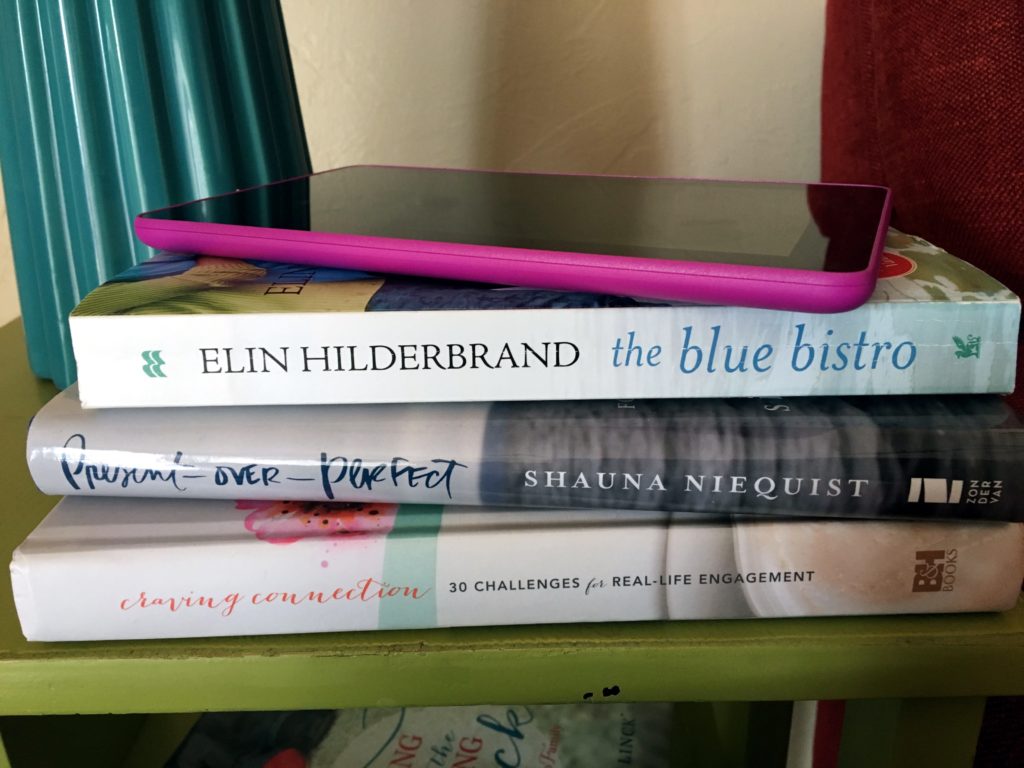 In the Clearing  By Robert Dugoni
Tracy Crosswhite agrees to help Jenny, a former police academy classmate and friend, look into a suspicious suicide from forty years ago. After digging deeper into her detective fathers files, Jenny realizes her father believed murder was more likely the cause of death for the Native American high school girl.  Tracy finds herself in a small town preparing to celebrate the anniversary of a huge football victory. Her investigation quickly reveals the devastating events leading up to the  night of the winning game.
This was the third book in the Tracy Crosswhite series.
The Idea of Love By Patti Callahan Henry
Ella is devastated after her husband leaves her for another woman and decides she'll make people believe he died in a sailing accident. Hunter (although that's not his real name) is captivated by Ella and wants to use her story for a screenplay. The two quickly get tangled up in each other's lies, but the harder they try to be honest and untangle the mess, the more they are drawn together.
Triggers: Exchanging Parents' Angry Reactions for Gentle Biblical Responses By Amber Lia and Wendy Speake
I never knew I had an anger problem until I became a mom. Ouch! That's a hard thing to admit. I often react in anger because I'm impatient, stressed, placing too high of expectations on my kid or feeling like the situation is completely out of my control. When I came across this book I knew I had to read it! It's broken into 31 sections – different areas that might trigger angry responses from mothers. I used this book as a Bible Study/Daily Devotion.
Present Over Perfect By Shauna Niequist
This book was just what my heart needed at the start of a new year. I have no doubt I'll go back and reread it. I scribbled a thousand notes upon the pages. Shauna's words were good for my soul; I could have written them myself. They opened my eyes to what I want my life to look like in 2017. I saw my heart on the pages of this book. It was a reminder that my worth and value are not found in the words I write. It gave me permission to stop striving and simply be still.
A Sugar Creek Christmas By Jenny B. Jones
I had never read anything by Jenny B. Jones and this was definitely a fun read. A romance set at Christmas. Does it get any better? Emma Sutton left her hometown and the love of her life to pursue a career in television news. After declaring  she hated Christmas on national television, she's forced to return to Sugar Creek to find a heart-felt Christmas story worthy of saving her job. She takes a job as the city event planner, only to discover her boss is the man she walked out on. As she tries to find her Christmas spirit, Emma realizes her feelings for Noah are far from gone.
My Sister's Grave By Robert Dugoni
Seattle homicide detective, Tracy Crosswhite, has spent twenty years questioning what happened the night her sister disappeared. Something about the investigation of her murder has never added up. When Tracy learns her sisters remains have been discovered, she returns to her hometown and the questions resurface. As she sets out to find justice for her sister, Tracy ends up facing a very dangerous situation of her own.
The Blue Bistro By Elin Hiderbrand
I'm a huge Elin Hilderbrand fan, so I was shocked when I realized I hadn't read The Blue Bistro. Since I've read all her other books I thought I better mark this one off my list. I'm so glad I did! This book ranks as one of my favorites.
Adrienne is flat broke and decides to make Nantucket her summer home. Without any restaurant experience, she lands a job at the Blue Bistro, which will close at the end of summer. Adrienne is intrigued by owners, Thatcher and Fiona, and can't quite figure out their complex relationship. She's also doesn't understand why they would shut down the island's hottest and swankiest restaurant. As the summer heats up, Adrienne finds herself falling in love with the face-paced restaurant life and Thatcher, too.
Her Final Breath By Robert Dugoni
Tracy Crosswhite is back in Seattle doing what she loves; solving murders. A serial killer is on the loose and she's determined to stop him before another exotic dancer looses her life. As she investigates, she discovers both her career and life are in jeopardy.
Craving Connection: 30 Challenges for Real-Life Engagement By the (in)courage community
In a world where we are instantly connected via social media; we can find our hearts longing for real-life connection. This book is full of real-life stories, challenges for real-life connection and reminders to connect daily with God. I'm using it as a daily devotion.
 Different: The Story of an Outside-the-Box Kid and the Mom Who Loved Him By Sally and Nathan Clarkson
I read this book in two days! As I read Sally's words, I was reminded that I'm not the only mama who has questioned if she's equipped to raise a child with special needs. I soaked in every word of wisdom Sally wrote. Nathan's words gave me a better understanding of Jackson's struggles, which I hope will make me a more understanding, compassionate and equipped mama. I highly recommend this book to all special needs mamas!