When I learned Lisa Jo was writing a book on friendship, I immediately preordered it. Thankfully, I didn't have to wait until today to read it! As a member of the launch team, I got to read Never Unfriended last month and I couldn't put it down. This book is gut-wrenchingly honest when it comes to friendship. Because let's face it, friendship is all sorts of messy and glorious.
If you've ever been betrayed by a friend, hurt a friend, felt lonely or desired deeper friendships, then this book is for you. Today I'll be giving away my preordered copy to one lucky reader!
But before we get to that part, here's three lessons Lisa Jo taught me about friendship…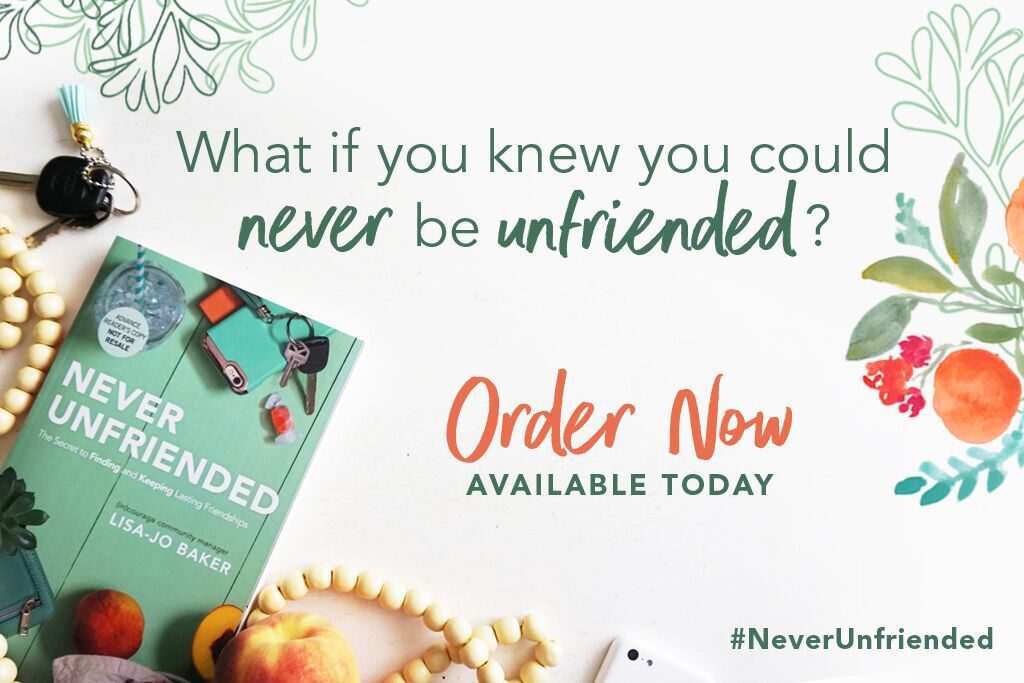 Comparison Corrupts Friendship 
Social media makes it really easy to compare our life with with lives of our friends.
It makes it really easy for jealousy and bitterness to take root.
Lisa Jo writes,  Comparison will eat at the heart of everything you love the most…This ugly weed of hatred grows out of the seed of jealousy and chokes the life out of the hater as much as out of the person it hates. And so without a single confrontation, without raised voices or even a conscience acknowledgment of what's happening, a friendship can be decimated by the simple buildup of a toxic and insurmountable wall of jealousy. 
But there's a way to kill comparison and save our friendships.
Lisa Jo says it's through encouragement.
Choosing to encourage instead of compare is a powerful defensive play, she writes.
It's Not Unchristian to Walk Away from Toxic
It's taken a lot of prayer, seeking God and talks with my counselor to realize I can love God and still set boundaries for myself in relationships.
Lisa Jo writes, As Christians we're taught that it's a good thing to be willing to 'bear one another's burdens' (Gal. 6:2 ESV). If we aren't careful, that can guilt us into putting up with a lot of behavior that is harmful to us. Being willing to 'bear one another's burdens is not the same as being willing to bear one another's dysfunction, rage, inappropriate behavior, manipulation, passive aggression, cruelty, control, and a whole host of other traits that we can inhale like secondhand smoke in in some friendships without even being aware of it. 
She goes on to say that forgiveness doesn't require friendship in order to be genuine. Forgiveness does not equal allowing unsafe people into our safe, inner circles. 
The Facebook Definition of Friendship Isn't Realistic
While I love connecting with other writers and special needs moms through social media, I think the one-click-away from a friend has affected our real life ones.
We believe somethings wrong with us if we don't have a thousand good friends.
We have a thousand Facebook friends, yet we are lonelier than we've ever been.
Lisa Jo writes, I think another part of the problem might be that we judge the state of our friendships by how many friends we have…we can fall prey to thinking that it's the number of women we know or connect with that will fill up our loneliness. Truthfully, I think that, 'the more friends the better' is the Facebook definition of friendship. 
Lisa Jo bravely writes about the hard topics of comparison, jealousy, loneliness and betrayal. She tackles all the hard stuff while pointing her readers back to Jesus and how He views friendship. She's vulnerable and courageous with her words.
For your chance to win a copy of Never Unfriended,  simply share why you'd love to read the book in the comments below! I will choose a winner Friday!