The best way to kick off a new year? Reading good books! After being in a reading rut at the end of 2015, it felt so good getting back to what I love. I read a variety of books and discovered a new author!
As a young girl, I loved reading Nancy Drew books. In college I read a lot of Mary Higgins Clark. I really do love a good mystery! So I was pumped when a fabulous friend (and avid reader) recommended the Tracy Crosswhite series by Robert Dugoni. I read the first two books this month and look forward to reading the final two in February.
Here are the books that got me out of my reading rut…
Present Over Perfect By Shauna Niequist
This book was just what my heart needed at the start of a new year. I have no doubt I'll go back and reread it. I scribbled a thousand notes upon the pages. Shauna's words were good for my soul; I could have written them myself. They opened my eyes to what I want my life to look like in 2017. I saw my heart on the pages of this book. It was a reminder that my worth and value are not found in the words I write. It gave me permission to stop striving and simply be still.
A Sugar Creek Christmas By Jenny B. Jones
I had never read anything by Jenny B. Jones and this was definitely a fun read. A romance set at Christmas. Does it get any better? Emma Sutton left her hometown and the love of her life to pursue a career in television news. After declaring  she hated Christmas on national television, she's forced to return to Sugar Creek to find a heart-felt Christmas story worthy of saving her job. She takes a job as the city event planner, only to discover her boss is the man she walked out on. As she tries to find her Christmas spirit, Emma realizes her feelings for Noah are far from gone.
My Sister's Grave By Robert Dugoni
Seattle homicide detective, Tracy Crosswhite, has spent twenty years questioning what happened the night her sister disappeared. Something about the investigation of her murder has never added up. When Tracy learns her sisters remains have been discovered, she returns to her hometown and the questions resurface. As she sets out to find justice for her sister, Tracy ends up facing a very dangerous situation of her own.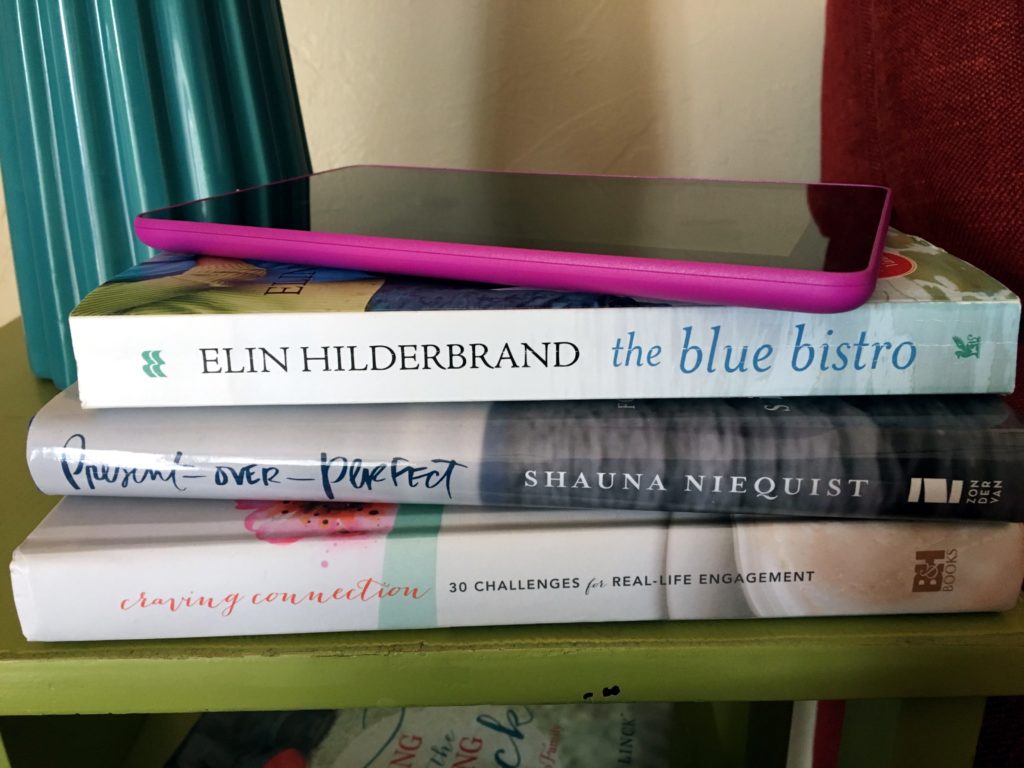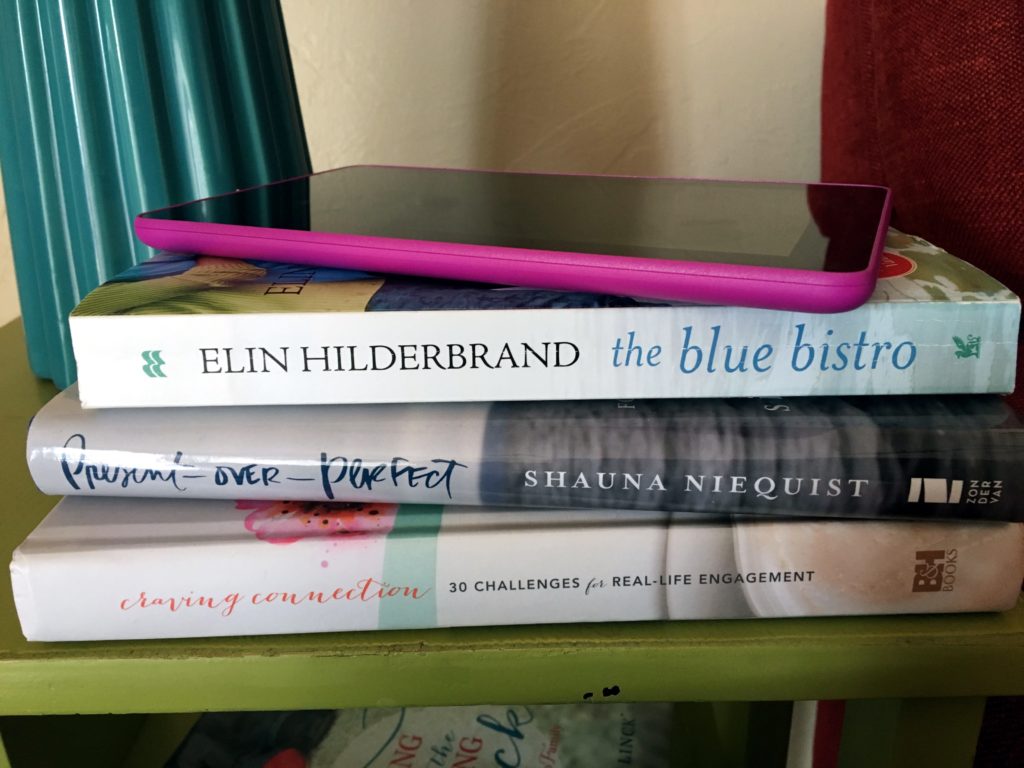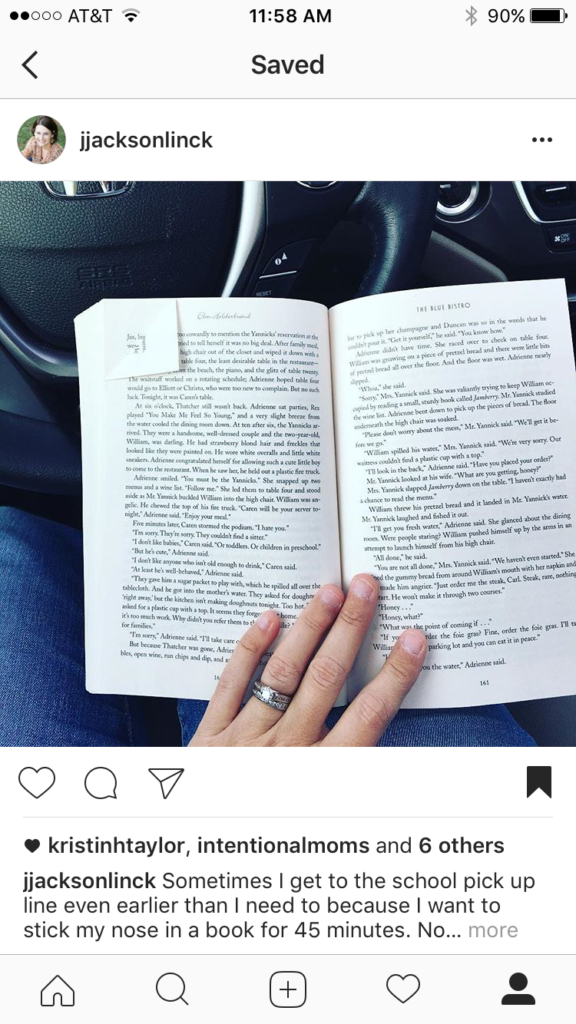 The Blue Bistro By Elin Hiderbrand
I'm a huge Elin Hilderbrand fan, so I was shocked when I realized I hadn't read The Blue Bistro. Since I've read all her other books (and she doesn't have a new one coming out until the summer) I thought I better mark this one off my list. I'm so glad I did! This book ranks as one of my favorites.
Adrienne is flat broke and decides to make Nantucket her summer home. Without any restaurant experience, she lands a job at the Blue Bistro, which will close at the end of summer. Adrienne is intrigued by owners, Thatcher and Fiona, and can't quite figure out their complex relationship. She's also doesn't understand why they would shut down the island's hottest and swankiest restaurant. As the summer heats up, Adrienne finds herself falling in love with the face-paced restaurant life and Thatcher, too.
Her Final Breath By Robert Dugoni
Tracy Crosswhite is back in Seattle doing what she loves; solving murders. A serial killer is on the loose and she's determined to stop him before another exotic dancer looses her life. As she investigates, she discovers both her career and life are in jeopardy.
Craving Connection: 30 Challenges for Real-Life Engagement By the (in)courage community
In a world where we are instantly connected via social media; we can find our hearts longing for real-life connection. This book is full of real-life stories, challenges for real-life connection and reminders to connect daily with God. I'm using it as a daily devotion.
 Different: The Story of an Outside-the-Box Kid and the Mom Who Loved Him By Sally and Nathan Clarkson
I was anxiously awaiting the arrival of this book, so when it arrived in my mailbox last week I started reading it right away. This story is going to do big things! As I read Sally's words, I'm reminded that I'm not the only mama who has questioned if she's equipped to raise a child with special needs. I'm soaking in every word of wisdom Sally writes. Nathan's words are giving me a better understanding of Jackson's struggles, which I hope will make me a more understanding, compassionate and equipped mama.