Each year I host a Favorite Things party in celebration of my birthday. I also host a virtual party and send a box of fun stuff to one lucky reader! It's seriously the most fun! This year will be the fifth year my friends and I have gathered together to swap favorite things. I'll also host another giveaway here on the blog (watch for details in February!)
When my friend Kayse shared her favorite things from 2016 on her blog, I knew I had to do the same! It took a while to narrow down my list, but here are a few (not all) of my Favorite Things from 2016….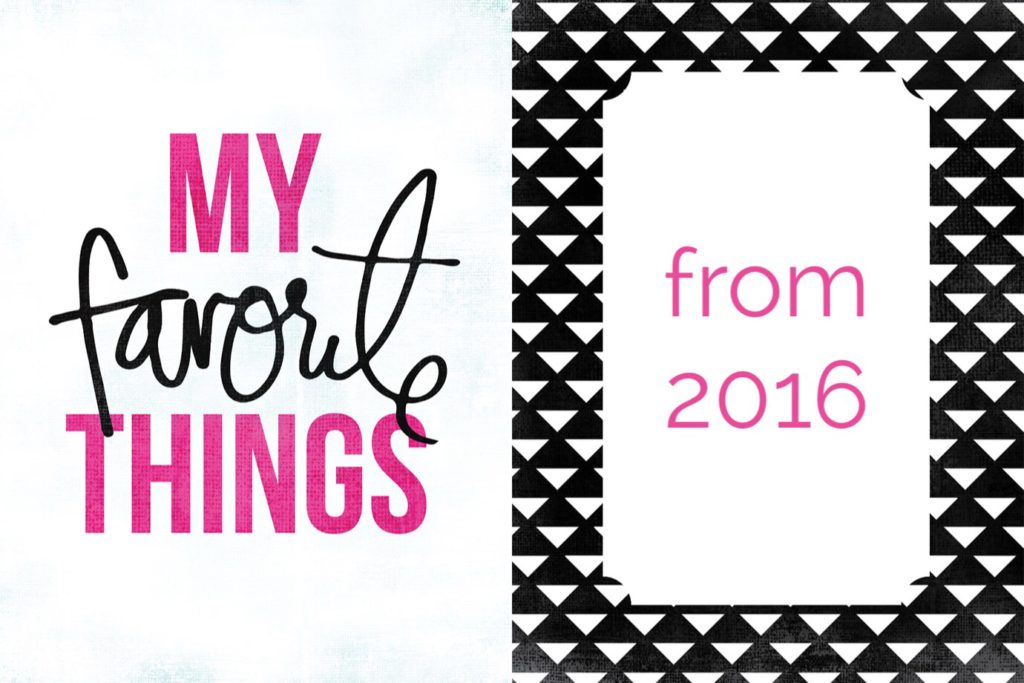 The Project Life App
I've been an avid scrapbooker for years and this little app has changed my world! Like seriously! Because of this app, I am 100% caught up on scrapbooking our 2016 memories! This year I decided to scrapbook week-to-week and I loved it! The app makes it so easy to incorporate all the photos I take with my phone. I would make sure and finish my weekly pages each Sunday night in order to stay caught up. I'd scrapbook in bed or while I waited for Jackson at speech therapy. We went on several trips this year and I completed the pages for each trip before we even got home! I have one more page order to place for the year and then I'll slip the finished pages in an album and put my 2016 scrapbooks on the shelf!
Persnickety Prints
I don't remember how I learned about Persnickety Prints, but it's been my go-to this year for printing photos and all my Project Life pages. This is the place I recommend all my photography clients use to print their photos. Your photos will look top-notch! Besides being professional quality, Persnickety Prints are very reasonably priced and you get your prints fast!
McDonald's Dr Pepper
I broke up with Sonic this year! I was tired of getting nasty Dr Peppers. I'm a girl who's serious about her Dr Pepper and I needed a place that wouldn't let me down. McDonald's has been that place! Not only do the drinks taste better, but I'm saving money! Instead of $2 at each stop, I'm only spending a buck! It's been a win win situation!
My Honda Pilot
After driving my little silver Kia for 10 years and racking up more than 180,000 miles on it, I was ecstatic to get a new car! We test drove a bunch of SUV's and the Honda Pilot was hands-down the best! My exact words to John as I test drove one was, this drives smooth as butter. I am so thankful for a reliable vehicle with lots of space. I'm also pretty pumped about the heated seats and the ability to play the music from my phone.
Notorious and This Is Us
When I discovered Castle was ending, I told myself I wouldn't get addicted to anymore prime time T.V. I would watch Grey's Anatomy and nothing else. But then everyone started talking about This Is Us and how it was the new Parenthood and I couldn't help but watch. It still hasn't filled the Parenthood hole in my heart, but the show gets better and better every week. I'm definitely hooked. I also decided to give Notorious a try and it seems I'm hooked on that one, too.