This weekend we celebrated Jackson's fifth birthday with family and friends. Several months ago I decided we'd have a Favorite Things party because Jackson couldn't decide between having a red firetruck or Lightening McQueen cake.
Why should I make him choose? He loves them both. I decided on a Favorite Things Party because there's a good chance some of them will change between now and his next birthday.
Obviously my idea was a little out-of-the-box, so I had to find someone who could design a cute invitation. I used Moodz Online and she did a great job!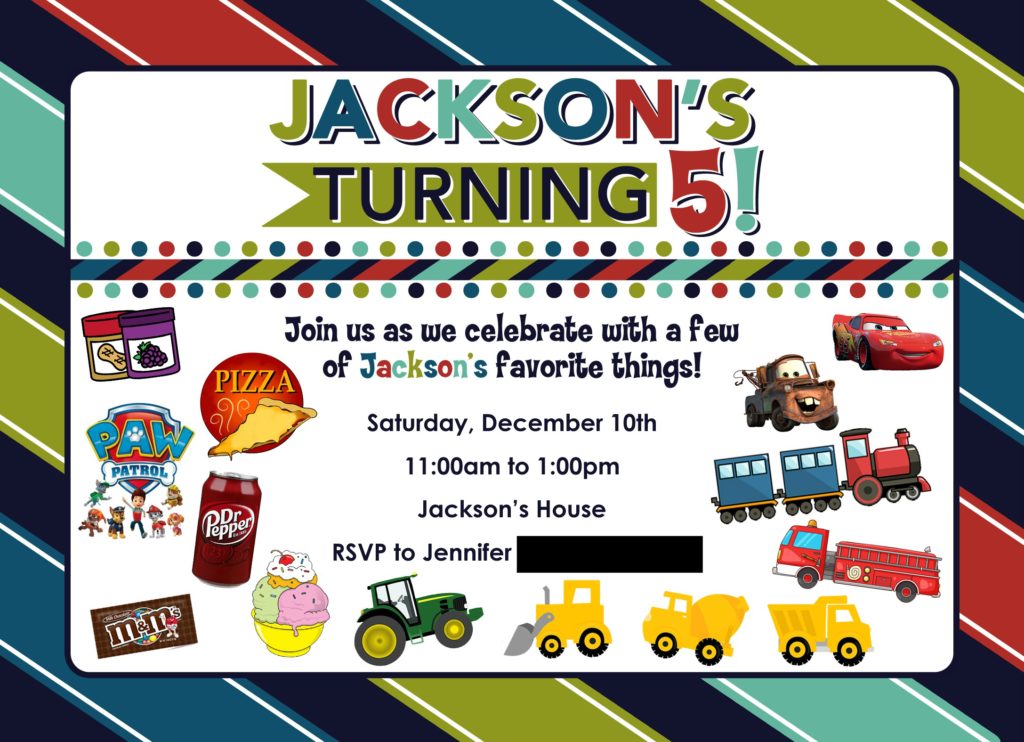 I chose a cake that looked like a racetrack and shaped as a number five. When I went to pick it up it was NOTHING like the photo I had shown the girl. It was more like a big, gray, blob! So off to SAMs Club we went and they whipped up a Cars cake in 10 minutes and saved the day! We still put Lightening McQueen and Red the Firetruck on the #5! It made a good centerpiece I guess?  And Jackson got to have both the cakes he wanted.
I also found this super cute shirt on Zulily and it was perfect party attire! This shirt describes Jackson to a T! He's all about PB&J!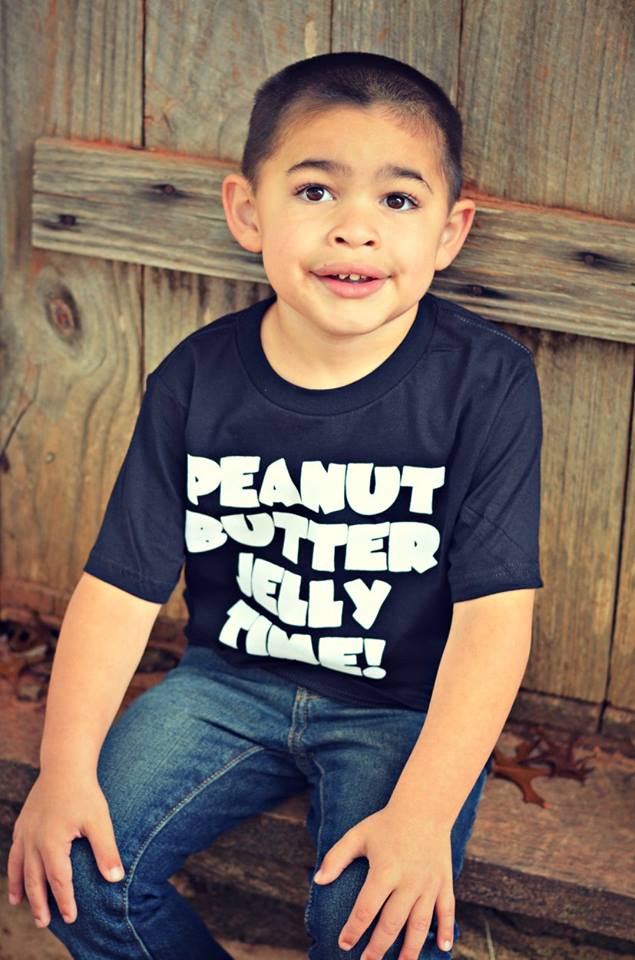 We served all of Jackson's favorite foods – cheese pizza, peanut butter and jelly sandwiches, cheeseballs, ice-cream, fruit snacks, donut holes, M&M's and popcorn. I know, I know…not exactly healthy, but that's what you get when your kiddo has food issues.
We had the Paw Patrol Pizza Bar and a table of Duke & Max's Dog Treats. We also had McQueen and Mater's Fueling Station. We served Dr Pepper, chocolate milk and Sprittles, another one of Jackson's favorite treats!  Sprite + Skittles = yumminess!!!
Decorations were easy. I used Jackson's favorite toys – Buzz, Woody, trains, Dusty, Lightening McQueen and friends, Matchbox cars and construction vehicles. I also set up two areas for the kids to take silly photos – A Lightening McQueen photo spot and a Paw Patrol one.
We tend to keep our parties pretty simple: snacks, cake and presents – otherwise I end up with an overwhelmed and sensory-overloaded kid! Honestly, he was a little out of sorts when the party began, but overall he seemed to have a great time.
He was adamant that his friends have turns opening presents and blowing out the candles. It was actually pretty sweet. He also was obsessed with one present in particular – Hungry, Hungry Hippos! Once he opened it, he wanted nothing to do with finishing the unopened gifts. We had to promise him we'd play the game after cake and we did! There were some intense rounds of Hungry, Hungry Hippos between friends!
Here are some photos from Jackson's Favorite Things Party….