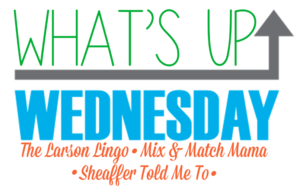 1. What We're Eating This Week…
I'm cooking two of my favorites meals this week. The temperatures are finally cooling off in Oklahoma so it's time to enjoy some of our Fall favorites. This potato soup is a huge hit at our house and super easy to make. Just throw it all in the crock pot and go about your day! You won't stop at one bowl!
I'm also making Wild Rice Hotdish, which is a delicious recipe my friend from Minnesota gave me! Pair it with blueberry muffins. I know it sounds weird, but it's amazing. I promise you'll thank me! Here's the recipe…
1 can cream of mushroom soup
1 can chicken with rice soup
1/2 cup diced onions
1 pound ground beef
2 soup cans of water
Brown hamburger and onions. Mix everything together in a 2 qt casserole dish. Bake uncovered at 350 degrees for 1.5 to 2 hours.  Stir hotdish occasionally while baking!
2. What I'm Reminiscing About…
A great weekend at the Apraxia Walk! Despite the challenges we're currently facing, it was a morning to celebrate how far Jackson has come! He has found his voice! I was reminded we've made it through many hard things and we will make it through many more.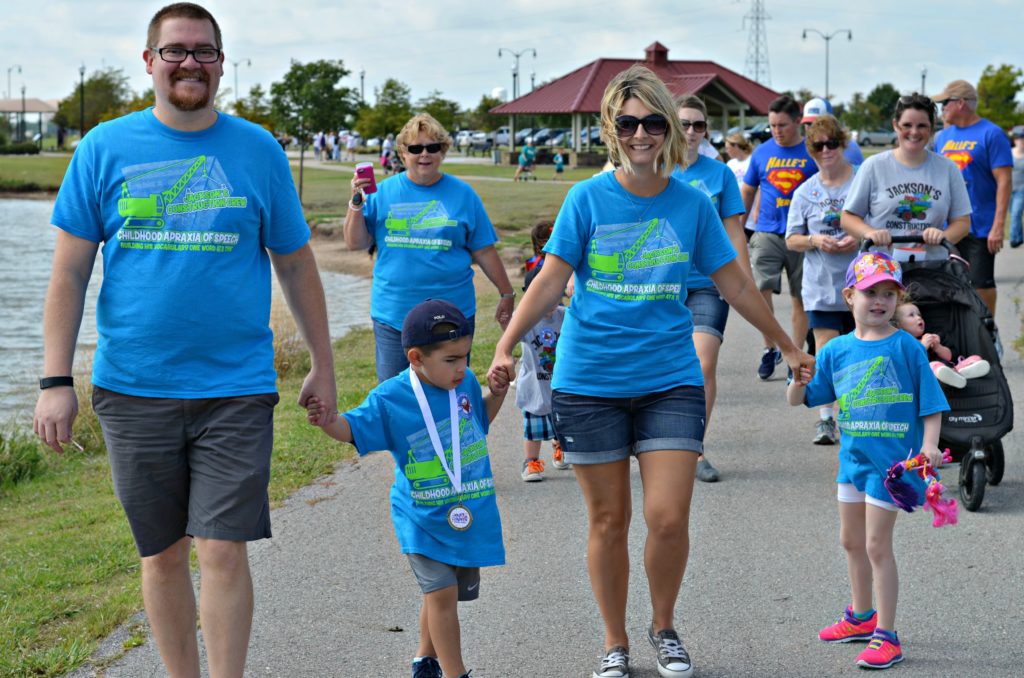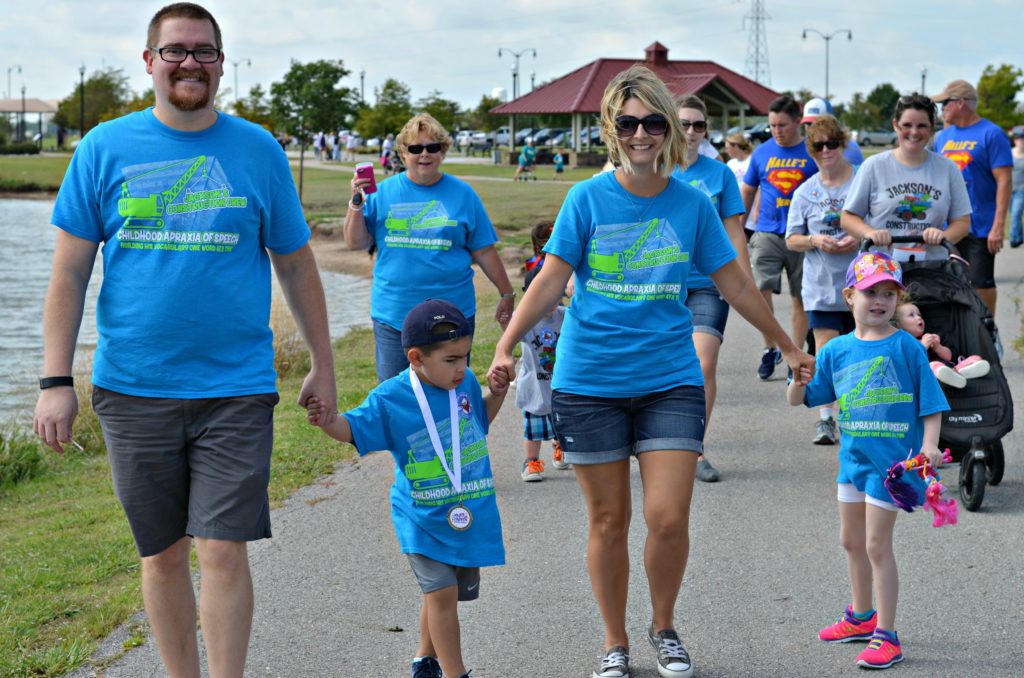 3. What' I'm Loving…
His peace.
The Bible tells us that God's peace is beyond anything we can comprehend. I believe that because I've experienced it like never before the past few weeks. As we face uncertainty and challenges on this special needs journey, I do not feel frazzled or afraid. I do not have the answers. I do not know if tomorrow will be better. I just know God is faithful. When I turn my worries over to him and express gratitude for who He is, I experience His peace.
4. What We've Been Up To…
Dealing with the school district and doctors. Scheduling appointments and having meetings. Trying to get in to specialists. Working on the right diagnosis. We're just trying to get our amazing kiddo the help he needs so he can succeed in the classroom! It's exhausting but he's worth it! This mama will not give up!
5. What I'm Dreading…
School drop off and pick up. The big decisions we have to make about Jackson's education!
6. What I'm Working On…
Scheduling appointments and meetings. Filling out assessments. Advocating for Jackson. Making sure he receives the services he needs so he can succeed at school. Being a mama is a full-time job. Being the mama of a child with special needs is another full-time job. So while that's keeping me beyond busy, I'm also trying hard to make a daily quiet time a priority again. I got out of the habit this summer and I definitely noticed. When I'm not intentional in my relationship with God I worry more. Anger, bitterness and jealousy are more likely to take root in my heart. But when I'm in His word daily, when I'm praying, I sense His peace, even when the world around me is in turmoil. I'm quicker to forgive. I'm a better wife, mama and friend.
7. What I'm Excited About…
Being part of the launch team for Ann Voskamp's new book The Broken Way: A Daring Path to Abundant Life I can't wait to read this book and share my thoughts with you here on the blog! I have no doubt it will challenge me and change. Ann's words have a way of doing that. Her writing makes you stop and think. I read her words and I have to stop and let them sink deep within. I have seen God turn the brokenness in my own life into something abundant so I have no doubt this book will speak directly to my heart.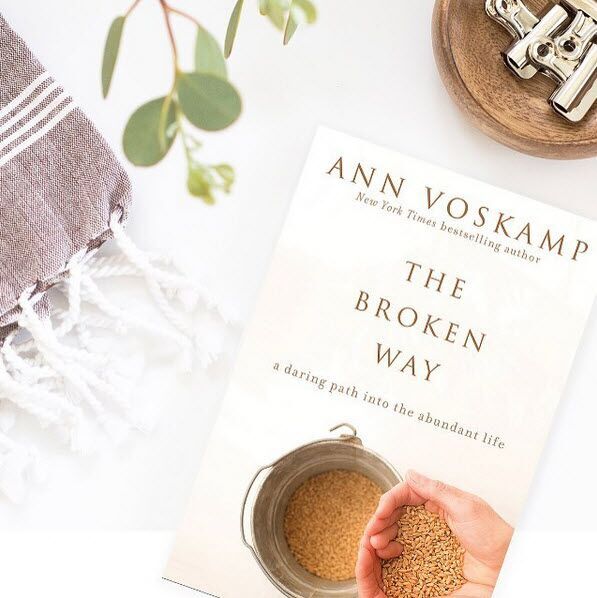 8. What I'm Watching/Reading…
Grey's Anatomy! I've been a fan since day one and I still look forward to Thursday nights. I watched the first episode of This is Us and while I didn't not like it, I wasn't as crazy about it as everyone on Facebook seemed to be. Yes, the ending was amazing and I loved the twist. But no, it doesn't rank up there with Parenthood in my eyes. I'm not going to give up on it. I'll watch a few more episodes before making my final decision.
I will tell you that I loved the new sitcom Speechless. I laughed so hard during the first episode. Sometimes laughter is just what you need when you're deep in the trenches of special needs parenting. I could easily be compared to Minnie Driver's character. I am totally that mom. When you're in the middle of the fight, it feels good to laugh. I'm going to look forward to Wednesday nights.
I'm starting Ann Voskamp's new book this week! I'll share more about that soon.
9. What I'm Listening To…
The Garth Channel on SiriusXM! It's includes a wide variety of music – everything from Michael Jackson to George Strait. Some of the music isn't my normal listening material, but I'm loving it. But I'd really love it if they'd play more Garth and not repeat the same songs over and over and over.
10. What I'm Wearing…
Shorts. Still. Ugh!
Hurry up Fall. I need jeans, boots, scarves and sweater weather.
11. What I'm Doing this Weekend…
Hosting a baby shower for some dear friends who are expecting their first baby in December. Actually, there's a good chance the baby could arrive on Jackson's birthday. The shower theme is "A Little Pumpkin" because our friends decided not to find out the sex of the baby. They have way more will power than me!
We are so incredibly excited for our friends. These two are more like family. I can't tell you how many nights they kept us sane when Jackson was a newborn – screaming and inconsolable. I wish we didn't live so far away so we could return the favor on those long, sleepless nights they'll soon be facing.
12. What I'm Looking Forward to Next Month…
Our family trip to Broken Bow! I've lived in Oklahoma for 14 years and have always wanted to go to the southeast part of the state to see the fall colors. This year I'm marking that adventure off my bucket list! We rented a cabin and will spend a few days exploring the area. I can't wait for falling leaves and chilly air!
13. What Else Is New?
I found out one of my favorite authors will be holding a book signing at a local book store and I'm ecstatic! I cannot wait to stand in line to have Elin Hilderbrand sign my copy of Winter Storms. It's the final book in her Winter Street series. I've been waiting to read it since I finished the second book last October.
14. What Is Your Favorite Fall Recipe? 
What we're eating this week are two of my favorites! See question #1 🙂