Five years ago I had a bad case of butterflies. The day I had been waiting for had finally arrived. I would find out if I would have a son or a daughter. This day still goes down as one of the best days of my life. The following is an excerpt from my book, Bringing Home the Missing Linck: A Journey of Faith to Family. It's a beautiful picture of two mothers sharing an incredible moment. A moment that I'm thankful I will be able to share with Jackson some day.
*****
"You know I'm probably going to cry when we find out the sex of the baby," I said.
"I kind of figured you would," Allison said as we drove to her appointment.
We arrived at the doctor's office a few minutes early and found a seat. I was a bundle of nerves. I had promised John and our families that I would call the moment we received the news. There was no way I could keep the secret long enough to plan a gender-reveal party!
My phone buzzed. I looked down to see a text message from John. "I have butterflies," he wrote. "I'm ready to know." I smiled. I had butterflies too. I couldn't help but wonder if I'd be shopping for pink or blue.
Friends constantly asked if I wanted a boy or a girl. I had no preference. I knew I would be excited no matter the gender. I had waited such a long time for this moment.
"The baby just kicked," Allison said. "Do you want to feel?"
I nodded. She took my hand and placed it on her belly. "The baby doesn't move much during the day," she said. "But it's a wiggle worm at night. Sometimes it keeps me awake."
I sat with my hand on her round belly and watched it move with each kick.
"Did I tell you the baby likes music?" she asked. "I put headphones on my stomach and crank up K-LOVE, and it squirms like crazy."
I laughed at the thought of Allison with headphones on her belly. I liked knowing she let the baby listen to Christian music and that it responded.
About that time, the nurse called us back. I shot a quick text to John. "Heading back now."
Allison got situated on the exam table, and I took her hand in mine. The nurse squirted a big glob of warm jelly on her belly and began to maneuver the wand. Within seconds, we were staring at the baby's features on the huge flat-screen TV in front of us. I wiped away tears as the nurse pointed out ten tiny fingers and ten tiny toes.
"You're already crying," Allison said with a laugh. "She hasn't even told us if it's a boy or a girl."
Then I heard the words I had been waiting to hear since July.
"It's a boy," the nurse said. "And he's definitely not shy!"
I squealed with delight and squeezed Allison's hand a little too tight. I was going to have a son. "He's perfect! I have to call John." Without letting go of Allison's hand I pushed John's number on speed dial. He picked up on the first ring. "It's a boy!"
John was ecstatic. "I have a son!"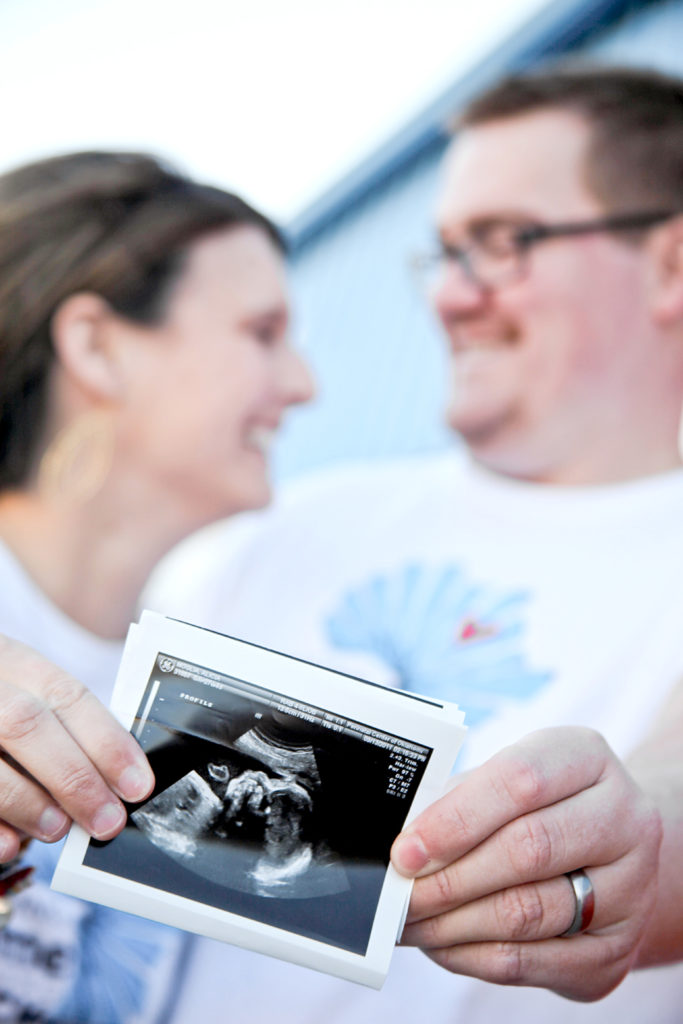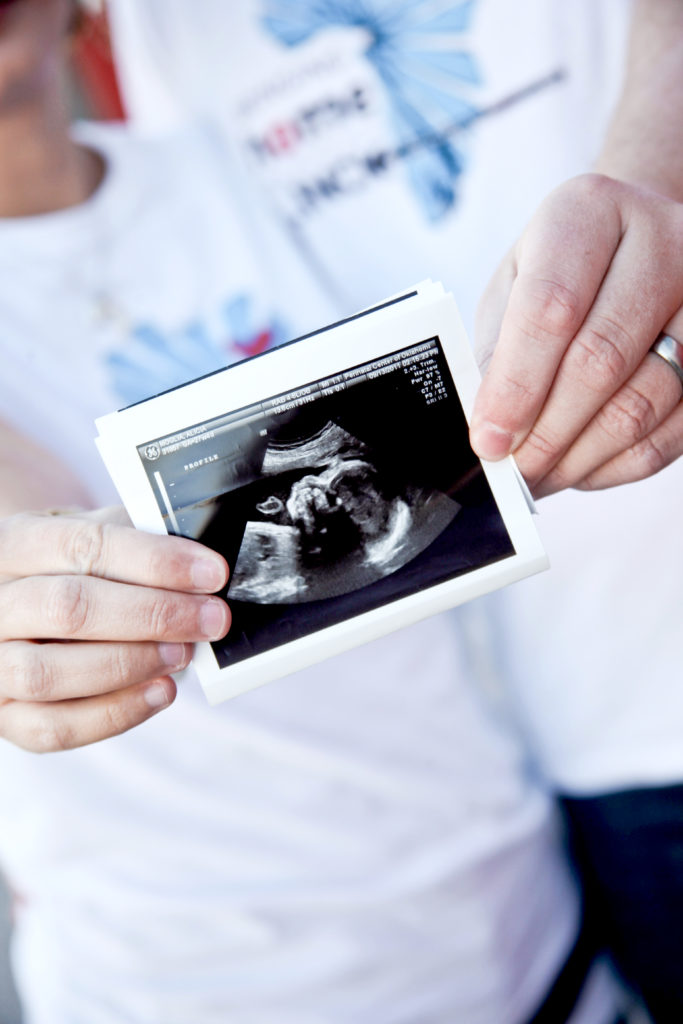 The nurse continued moving the wand across Allison's belly. He was stubborn. He didn't mind showing us he was a boy, but he didn't want us to see his face. A bit of peach fuzz covered his head, and he weighed a whopping two pounds, two ounces. The doctor said he was healthy and on track for a December 9 due date.
I looked down at Allison's hand in mine and wondered what was going through her mind. It was the first time she had seen the baby although she had carried him for six months. Did seeing his tiny features make her question her decision to place him for adoption? Was there any part of her that wanted to try and raise him on her own?
"Can we get two sets of sonogram photos?" I asked the nurse.
"She's adopting the baby," Allison said. "But I'd like to have a few photos, too, if it's okay."
The nurse handed photos to each of us—a picture of his profile, his tiny hand, and one that revealed he was definitely a boy.
As we got into the elevator to head back to the mission, I wanted to make sure Allison was okay. "How are you feeling after seeing the baby?"
"I'm fine," she said.
"It would be completely normal if you felt more attached to the baby now that you've seen his face. Now that you know it's a boy. I'd even understand if you were having second thoughts about the adoption."
"I'm not," she said. "I've made my decision. This baby is yours and John's."
"Okay," I whispered. "Do you like the name Jackson?"