I flipped through my Bible to read a few familiar and comforting verses this week. These verses are highlighted and underlined. There are notes written beside them. I've read them over and over and over again. They bring hope when I feel hopeless. They remind me that God is in control. They shift my focus from my circumstances to Christ.
This Special Needs journey is hard.
Some weeks are smooth as butter.
Some weeks crap just hits the fan.
The past few weeks crap just keeps hitting the fan.
We're weary.
We're wondering what's best for Jackson.
We're praying for wisdom.
And the best way to prepare for battle? Getting in God's word and letting it get in you!
These verses bring me comfort when we're in the midst of the mess.
These verses, from The Message, bring hope when the journey gets hard.
I've learned I can handle the hard stuff with the holy.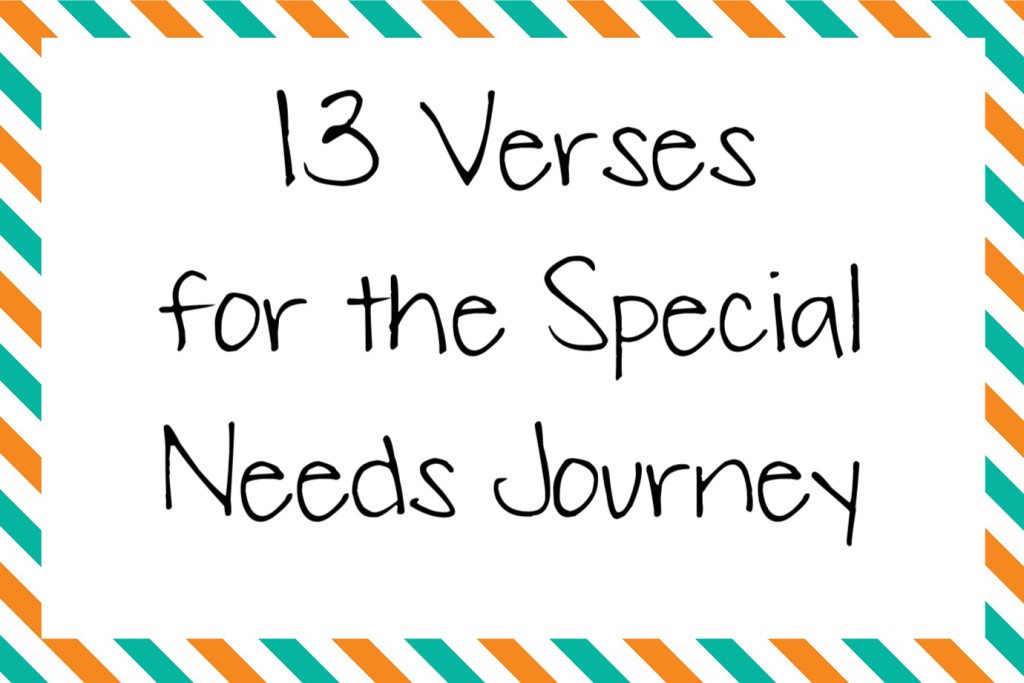 Give your entire attention to what God is doing right now, and don't get worked up about what may or may not happen tomorrow. God will help you deal with whatever hard things come up when the time comes. (Matthew 6:34)
Don't burn out; keep yourselves fueled and aflame. Be alert servants of the Master, cheerfully expectant. Don't quit in hard times; pray all the harder. (Romans 12:11-13)
All you need to remember is that God will never let you down; he'll never let you be pushed past your limit; he'll always be there to help you come through it. (1 Corinthians 10:13)
We pray that you'll have the strength the stick it out over the long haul – not the grim strength of gritting teeth but the glory-strength God gives. It is a strength that endures the unendurable and spills over into joy, thanking the Father who makes us strong enough to take part in everything bright and beautiful that he has for us. (Colossians 1:10-12)
Don't shuffle along, eyes to the ground, absorbed with the things right in front of you. Look up and be alert to what is going on around Christ – that's where the action is. See things from his perspective. (Colossians 3:1-2)
But we're not quitters who lose out! Oh, no! We'll stay with it and survive, trusting all the way. (Hebrews 10:39)
If you don't know what you're doing, pray to the Father, He loves to help. (James 1:5)
That's because God cares, cares right down to the last detail. (James 5:11)
When life gets difficult, don't jump to the conclusion that God isn't on the job. Instead, be glad that you are in the very thick of what Christ experienced. This is a spiritual refining process, with glory just around the corner. (1 Peter 4:12-13)
True to your word, you let me catch my breath and send me in the right direction. (Psalm 23:3)
Trust God from the bottom of your heart; don't try to figure out everything on your own. Listen for God's voice in everything you do, everywhere you go, he's the one who will keep you on track. (Proverbs 3:5-7)
Your strength will come from settling down in complete dependence on me. (Isaiah 30:16)
 I've picked you. I haven't dropped you. Don't panic. I'm with you. There's no need to fear for I'm your God. I'll give you strength. I'll help you. I'll hold you steady, keep a firm grip on you. (Isaiah 41:9-10)