1. Love Walked In By Marisa De Los Santos
On several occasions, I've passed by this book and picked it up, only to leave it sitting on the shelf of the local bookstore. I just wasn't that intrigued until I saw it on several must read lists as 2015 was coming to an end. I found a copy at a used book store and immediately started reading.
Honestly, I wasn't hooked at page 1. It took several chapters before I became invested in the story. Actually, I wasn't fully invested until Cornelia and Clare meet. That's where the story really begins – and it was a beautiful, unexpected love story between two unlikely people.
Will I rush out and buy another one of De Los Santos books? Probably not. Will I read them eventually? I can't make any promises.
2. The Last Anniversary By  Liane Moriarty
I have found a new favorite author in Liane Moriarty. I had heard so many good things about her books and was not disappointed reading this one. Single Sophie moves to Scribbly Gum Island – home of the famous Munro Baby Murder – after she inherits a house from her ex-boyfriend's aunt. Her new life consists of many secrets as she becomes part of a very unconventional family. This book kept me guessing with each turn of the page and was full of well developed characters and a few good plot twists.  I look forward to reading all of Moriarty's books in 2016!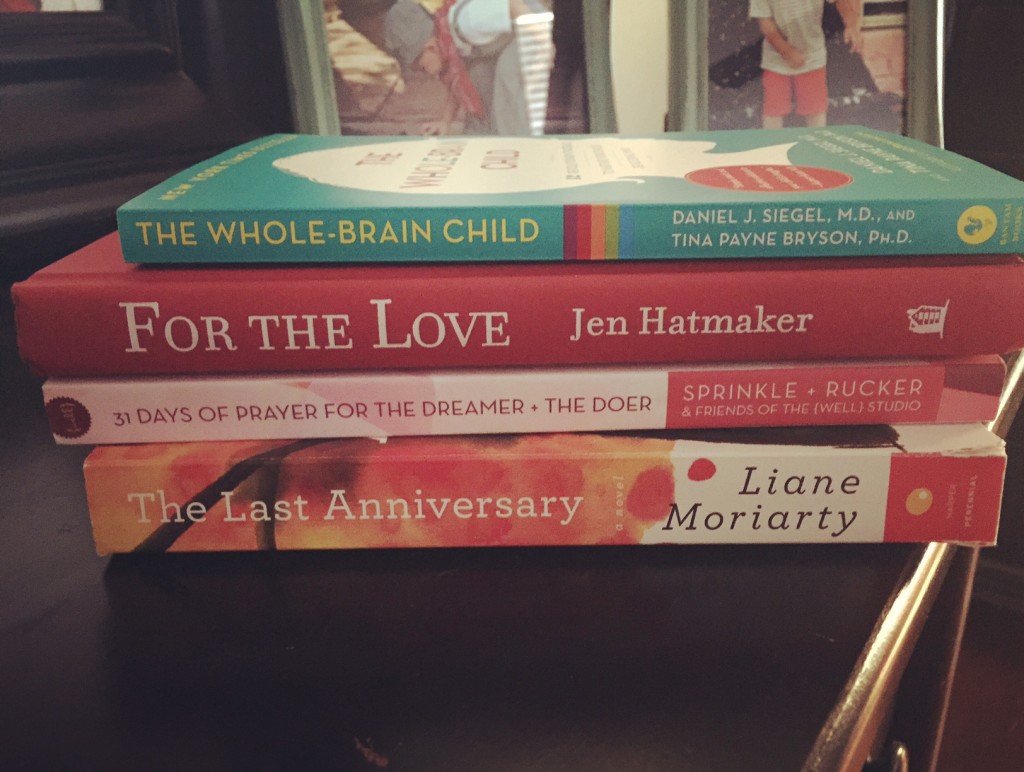 3. For The Love: Fighting For Grace in a World of Impossible Standards By Jen Hatmaker
I wasn't intending to read this book, but I'd heard it was hilarious and couldn't pass up the good deal when I found it on the bargain shelf at the local Christian bookstore. It is indeed hilarious. I laughed out loud. I even shared a few of the funny moments with John, although he didn't seem to care that much.
But what really spoke to my heart were Jen's thoughts on community, because community is something I'm longing for in 2016.
She writes, When we impose unrealistic expectations on ourselves, it's natural to force them on everyone else. 
Um, hello! I think I could have written that sentence.
This book encouraged me to be intentional about finding community this year.
Instead of waiting for community, provide it, and you'll end up with it anyway. 
I was also reminded of the most important thing and it's what I want my focus to be in 2016.
Jesus and people.
There is a clear correlation between how we treat each other and how a watching world will feel about Jesus. 
4. Tales of a Fourth Grade Nothing By Judy Blume
This year I've decided to read some of my favorite books from childhood because, why not? I have so many found memories of reading as a child. I loved the Super Fudge series, The Boxcar Children and Nancy Drew just to name a few. I started with the first book of the Super Fudge series and giggled my way through it. It's fun to open a book and relive childhood memories.
5. And Then I Found You By Patti Callahan Henry
It's been years since I've read one of Henry's books, but I won't wait that long to read the next one. Her descriptive writing had me hooked from page one. Take her description of a puddle for instance: a disgusting soup made of mud and the lime-green slime of newly mowed grass. 
She describes sunlight as spilled lemonade. Does it get any better?
Actually, it does. And Then I Found You is an adoption story and I couldn't put it down. A must-read for any adoptive mama.
(You might notice a few books from the photo that aren't listed here. Well, I'm still working on those. I'll share my thoughts next month. Until then, what are you reading?)