1. Put a Ring On It By Beth Kendrick
I've been waiting for this book to come out for months! I pre-ordered it from Amazon and was counting down the days for it to show up in my mailbox. I ignored my to-do-list and finished it in two days! I have read and loved all of Beth's books – perfect chick flicks to take your mind off the everyday stresses of life.
Put a Ring on It is part of her Black Dog Bay series. It's a great love story between an unlikely pair – Type-A Brighten and chick magnet, go-with-the-flow, Jake Sorenson. I finished the book and wanted more. I will be stalking Amazon for details of Beth's next release, and you can bet I'll pre-order it months in advance, too!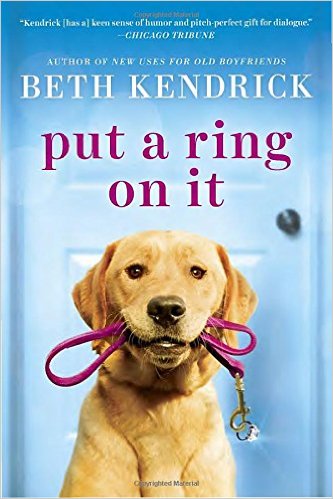 2. Christmas Bliss By Mary Kay Andrews
Sometimes I'm hesitant to try a new author because I really want to love a book. I feel so guilty not finishing a book that I often force myself to read even when I don't love it. I have my list of favorite authors (like Beth Kendrick) and unfortunately I've read everything they've written at the moment. So I'm forced to broaden my horizons and check out other authors.
The title and cover of this book caught my eye and I happened to be on the lookout for a good holiday chick flick. Because I like corny stuff like that. I was immediately drawn to the books Southern charm. The sweet Southern accents oozed off the pages and that's perfectly okay for this Texas girl.
Best friends BeBe and Weezie have both found themselves in a relational mess and they don't have a lot of time to get themselves untangled from the tinsel before Christmas.
I enjoyed this book – and since BeBe and Weezie are characters from Andrews' previous books – I'll look forward to their other crazy adventures when I read the other novels.