1. Simply Tuesday By Emily P. Freeman
From the very first pages, this book captivated me. The idea of living small and simple goes against everything the world screams. But it's what I continually hear God whispering to my heart. This book reminded me that small and simple does not mean insignificant and invisible. 
A month later, I'm still chewing on the words Emily penned. I have notes scratched within my journal about what it means to live a simple, yet impactful life. I'm praying daily for a simple yet impactful life, and God reminds me that in His eyes I am neither insignificant or invisible.
Simply Tuesday was a reminder to be content right where I'm at. And I wrote a littler more about that here.
2. Wild in the Hollow By Amber C. Haines
For me, this book was a continuation of what God was revealing to me through Simply Tuesday. Reminders to live small and simply. Reminders that fame and a bigger platform will never satisfy.
Haines took the words right out of my mouth and dropped them on the page. They were words I've mumbled many times: I wrote a blog post and wanted to be understood. I checked back in ten minutes. Did anyone care? Is my platform growing? How can I make my platform grow so I can know that my words matter? I wanted the gift of powerful words to be known. 
She wrote what I currently want; what I'm seeking: we need to see the small…I decided to love my life and to be satisfied in Jesus…I wanted to live small.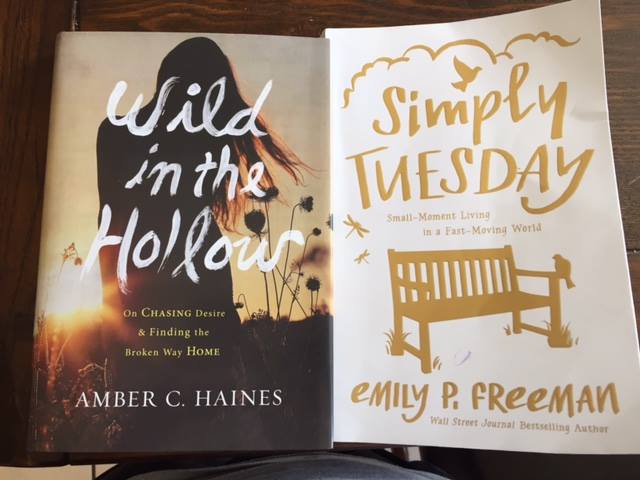 3. The Book of Galatians 
It's been a while since I've participated in a SheReadsTruth study, but I decided to jump in again for the series they are doing on Galatians, Ephesians, Colossians and Philippians. I want to be more intentional in my prayer life and my time in the Word.
These studies are perfect for getting into the Word and letting the Word get into me.
4. Audacious By Beth Moore
I had the amazing opportunity to seeBeth Moore speak in Kansas earlier this month. I just love her Texas twang and her heart for Jesus. I bought her newest book Audacious and finished it within a couple of days. Beth's message the day I saw her speak was based on her book, so I'm thinking that's why I didn't get into the book as much as I had hoped.
Don't get me wrong; it's a good book and a powerful message. I just think I was spoiled to hearing the message in person. After hearing from Beth, I want my faith to catch fire in a way it never has before. I want to be bold in prayer and face first in His word.
5. Own Your Life: Living with Deep Intention, Bold Faith, and Generous Love By Sally Clarkson
Yet another book where God's reminding me that I am seen by Him even in the most mundane of circumstances. And a book that's all about being intentional, which just happens to be my One Word for 2015.
I am loving this book. I'm only a few chapters in but I'm feeling the impact of Sally's words.
She writes: And to all who need to know that they are not invisible to God. He has designed your days and moments to be filled with significance, and He has created you to tell a story…God has prepared a story for you to live…those you meet who are filled with fear and despair will need your hope and faith. 
What did you read this month? I'd love for you to share your book recommendations in the comments.