1. Lean On Me: Finding Intentional, Vulnerable, and Consistent Community By Anne Marie Miller
I was captivated by the title of this book because 1. I'm being intentional this year and 2. I so deeply desire community. And although I took away nuggets of wisdom from this book; overall it left me feeling a tad bit defeated about community and relationships.
As I read I thought, "I'm so glad she has this amazing group of people she can depend on; but I've never had that type of community and I doubt I ever will."
The community that Miller is a part of seems so far out of reach for me. Because in my experience, people are just too busy these days for intentional relationships that go beyond a comment on Facebook or a quick text message. So, although I didn't finish the book hopeful of finding intentional community, I did find nuggets of hope tucked within the pages. I especially liked these words:
God does not demand progress or perfection from us. He simply calls us to believe! When we believe, he will give us strength, even when we don't know it or how it will come. 
Or I could simply sit and let the waters of grace slowly, moment by moment, smooth my heart out. I could persevere! 
2. The Rumor By Elin Hilderbrand
I had every intention of reading this book while sitting on the beach; but that's pretty much impossible when you have a 3.5 year old running into the waves and throwing sand all over you.
I didn't even crack the book open while we were in Florida. But once we were home, I got lost in the story and I have to say it's probably on of the best books Hilderbrand has written. I finished it within 24 hours.
It's an intriguing story about the rumors circling Nantucket; threatening the happiness of two friends – Grace and Madeline. Will they set the record straight? Will their friendship and families survive the gossip? Or is the truth even juicier than the trash people are talking?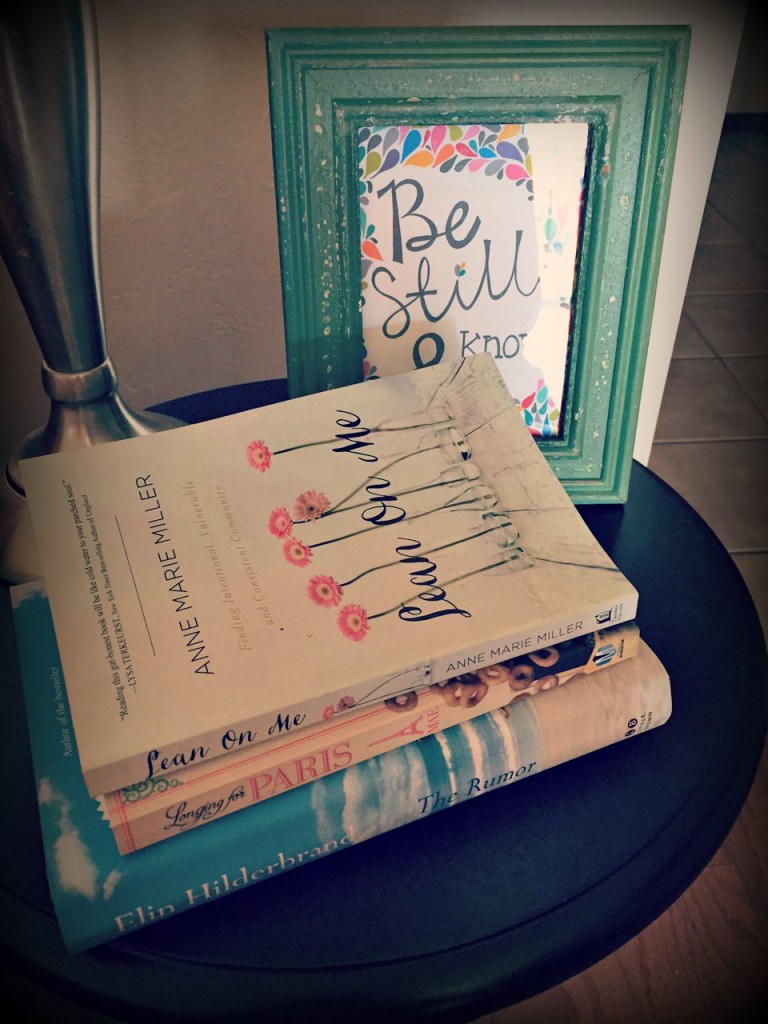 3. Longing For Paris By Sarah Mae
I needed to read this book, if for no other reason than the words written on page 167:
He took a dark part of my  story and gave it light so that others could see and hear and put their trust in the Lord. Our stories aren't just for us – they are for those who are hurting and are in need of hope. We get to partner with God in being light-bearers for His kingdom. 
Those 58 words, towards the end of the book, were exactly what I needed to read.
A reminder to keep sharing our story; because there are many days when I question if it matters at all.
A reminder to be His light in this dark world.