***Today I'm honored to have Shawna share a little bit of her story in order to raise awareness for Childhood Apraxia of Speech. Shawna and I were connected by a mutual friend on Facebook after we received Jackson's Apraxia diagnosis. She has been such an encouragement to me and I hope we can meet face-to-face soon. ***
We knew something was wrong. Alex wasn't talking, but it was more than that. He wasn't really making any sounds at all. He wasn't doing things other children his age were doing. His smile was even different. People made comments and asked questions, but we had no answers. It felt as if we were stumbling around in the dark. It only seemed to get more difficult as Alex grew.
Alex started speech therapy when he was three and eventually started occupational therapy as well. It wasn't until he was in school that we heard the word "Apraxia" for the first time. It seemed foreign to us and we had no idea what it meant. We were handed a packet filled with information on Apraxia. We took it home and read it. It was as if the information packet was describing Alex. I remember feeling a sense of relief fall over me as I read it. At that moment I felt that we knew what was going on with our son and not only that, we were now equipped to deal with it in a much better way. It was as if someone had given us flash lights to navigate through the darkness.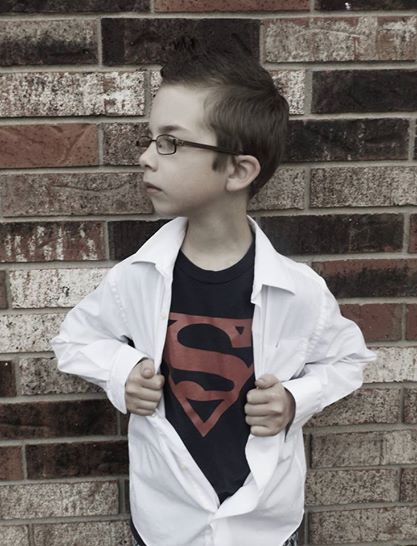 Alex is now 10. He's happy, positive, strong, and has learned to be persistent. He knows that he has to work twice as hard as other children his age to do half as much. He has accepted that. He still has a severe speech delay, but he's talking! He speaks in complete sentences and it is rare for us to not be able to understand him.
He no longer needs occupational therapy because he is overcoming all of the obstacles set before him. This isn't to say that he no longer struggles. He struggles daily. He is a bright spot in a world filled with darkness, doubt, and negativity. He is a living example that while Apraxia is exhausting, heartbreaking, and overwhelming, it is not as strong as our children.
Alex once compared himself to a super hero and Apraxia to a villain. What a perfect image! Our little superheroes are out there battling their villain each and every day. The important thing for parents to remember, especially on those difficult days, is that our children are winning!