On Sunday we will celebrate a Risen Savior.
The miracle of an empty tomb.
At the crack of dawn on Sunday, the women came to the tomb carrying the burial spices they had prepared. They found the entrance stone rolled back from the tomb, so they walked in. But once inside, they couldn't find the body of the Master Jesus. They were puzzled, wondering what to make of this. Then, out of nowhere it seemed, two men, light cascading over them, stood there. The women were awestruck and bowed down in worship. The men said, "Why are you looking for the Living One in a cemetery? He is not here, but raised up. Remember how he told you when you were still back in Galilee that he had to be handed over to sinners, be killed on a cross, and in three days rise up?" Then they remembered Jesus' words. (Luke 24:1-8)
Not long ago I sat in my oversized red chair praying and something occurred to me. Almost every person I prayed for was in need of a miracle – in their marriage, for their health, for their salvation. I was overcome with a sense of urgency. So many needs waiting to be met.
As I finished praying, I looked down in my journal and saw these words: He does great things too marvelous to understand. He performs countless miracles. (Job 5:9)
Easter might be the greatest miracle of all.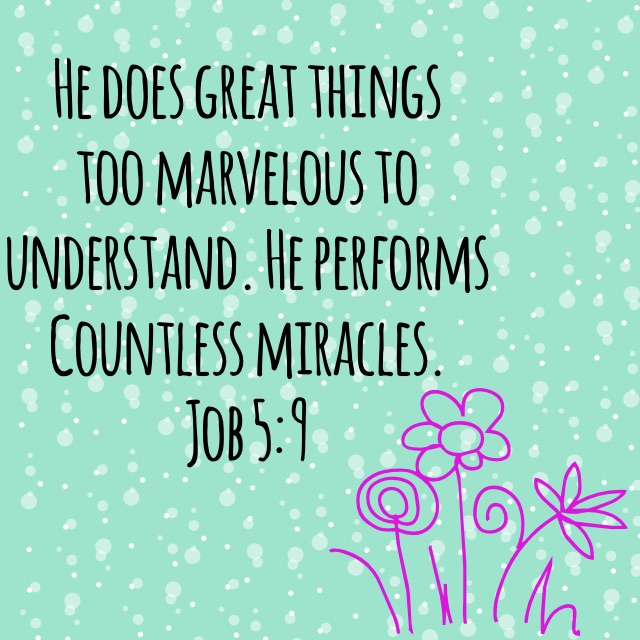 God who raised Jesus from the dead, is still the same God today.
So why do we put limits on what He can do?
Later that same day, I found myself thinking of the verse in Job and praying for a loved one who desperately wants to be a mother. Like me, she's facing a wait longer than she had hoped.
I began thanking God for how He answered my heart's cry to be a mother. I thanked Him for using my infertility and our adoption to bring Him glory. I started thanking Him for how He would answer my loved ones pleas. I thanked Him for the incredible story I knew He was writing for her – the same way He wrote one for me.
And in that moment I felt the spirit move in my heart in a way that I've only felt a handful of times in my life.
He does great things too marvelous to understand. He performs countless miracles. (Job 5:9)
I was reminded of the many miracles He's performed in my life.
I felt hope for the miracles He's yet to make known.
There was an overwhelming sense of gratitude.
God – who raised Jesus from the dead – is still making miracles happen.
He can redeem your marriage.
He can answer the deepest desire of your heart.
He can heal the deadliest disease.
He can make a positive sign appear on the pregnancy test.
He can place a baby boy in a mother's arms.
He can soften the hardest heart.
He did.
He can.
He will.
You just have to believe.