On Sunday morning I stayed in bed a little longer and lingered over God's word.
I took advantage of John's offer. We'd lost an hour of sleep due to Daylight Savings Time and I was a big groggy.
I know there are a lot of people who dislike Daylight Savings Time, but I love it (aside from loosing an hour of sleep).
I love that it's still light out at 8:30 p.m. I love that Jackson can run and play up until bath time. It's essential that the kid get all his energy out and it's much easier to do this time of the year. And he sleeps better, too. It's a win-win.
Anyway, back to the point of this post 🙂
I got to spend some glorious, uninterrupted time lingering in God's word.
John somehow managed to keep Jackson from beating on the bedroom door with his Matchbox cars.
Lately I've been looking up and reading several translations of the verses listed in my Jesus Calling devotion. The impact has  been incredible.
The Message version of the Bible is just powerful. Verses I've known for years and have memorized from the NIV are coming to life in an entire new way.
One particular verse really hit home Sunday morning.
Matthew 6:34 says, Give your entire attention to what God is doing right now, and don't get worked up about what may or may not happen tomorrow. God will help you deal with whatever hard things come up when the time comes.
Maybe, like me, you're facing hard stuff and you aren't sure you have the strength to face what the future holds. I hope these words encourage you like they did me.
The truth is I'm constantly tempted to worry about tomorrow instead of focusing on today.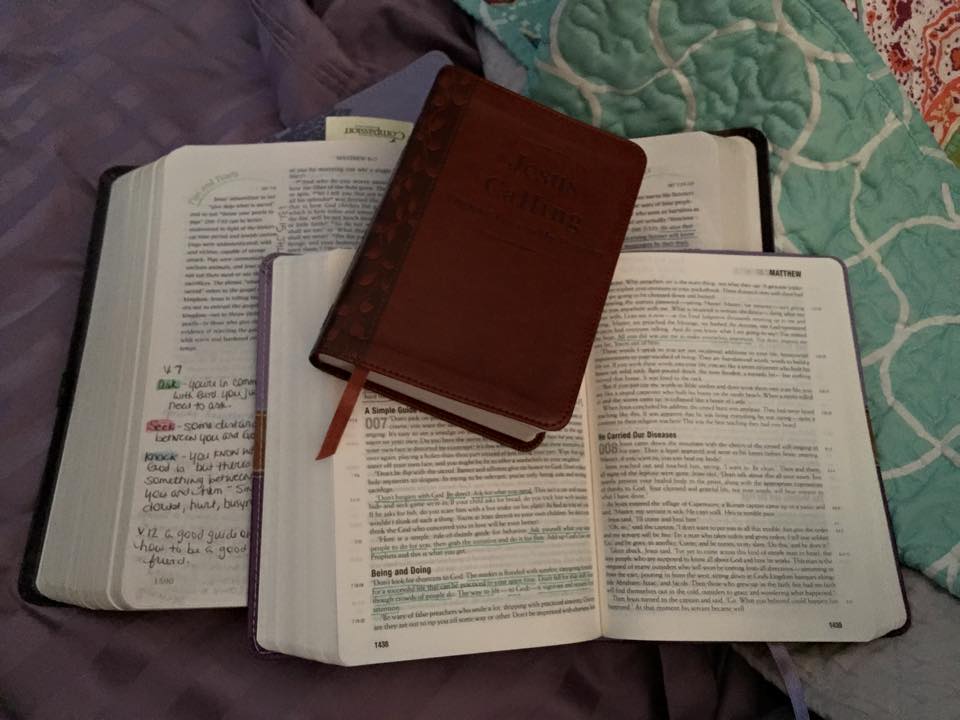 I worry about potty training Jackson (I've been reading that it's even more difficult for kids with Apraxia).
I worry that he's behind on learning what other kids his age are working on . But the truth is, every ounce of our energy is focused on learning to talk.
Getting milk out of the fridge is a speech lesson.
Getting dressed is a speech lesson.
We are trying to get Jackson to say sounds and words ALL. DAY. LONG. And that's exhausting for all of us.
I even find myself worrying about the day Jackson does start talking – because there's a chance we won't be able to understand him and that will bring another set of frustrations.
But on Sunday morning God gave me permission to focus on the now. 
So I took Him up on it.
I'll focus on the fact that Jackson can finally say his p sound.
I will not focus on the many p words he can't yet say.
I'll focus on the the fact that his trucks no longer say Deet Deet  but finally Beep Beep! 
God has brought us so far on this journey and we continue to see daily improvement in Jackson's speech.
I'm choosing to focus on the now and trust God with what's next. Will you?