I didn't read as much as I did in January and I'm blaming it on February being a short month. 🙂 And maybe the fact that Jackson no longer naps every day. I squeeze in as much reading as I can in the waiting room of the speech therapy clinic, in the bathtub, and before I fall asleep each night.  Here's the books you would have found on my nightstand this month.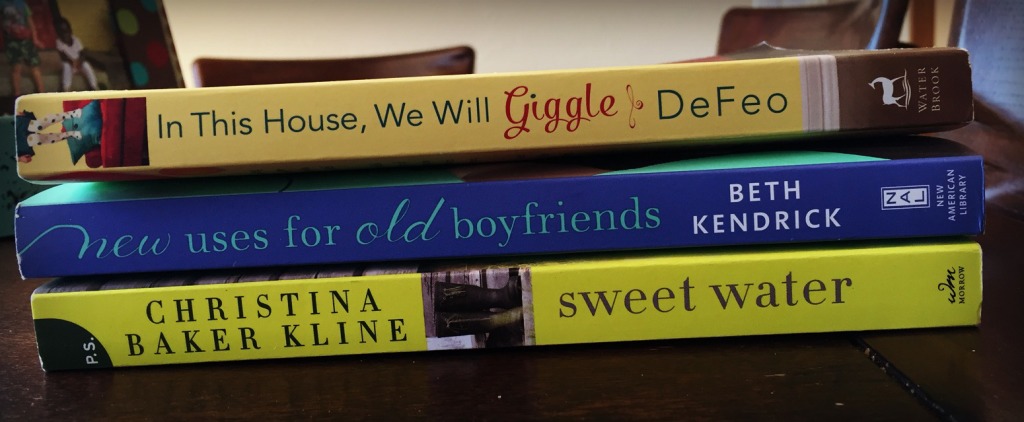 1. The Way Life Should Be 
A book about a single woman finding her place in the world. Angela learns that sometimes life turns out differently than the image painted in your mind. And sometimes the life you discover is better than the one you had anticipated.
Sweet Water by Christina Baker Kline
A young woman leaves fast-paced New York City for the small-town of Sweet Water.  Cassie soon discovers secrets associate with her mother's death and tries to determine her place in the family she's never known. A mystery and chick flick rolled into one.
I've now read all of Kline's novels and though I enjoyed them all, my favorite is still Orphan Train. It's a must read.
3. In This House We Will Giggle: Making Virtues, Love & Laughter a Daily Part of Your Family Life by Courtney DeFeo
A book for any mama wanting to teach her kids about joy, love, respect, and gratitude in a fun and meaningful way. DeFeo covers 12 virtues in the book. At the end of each chapter she's included a detailed plan (full of fun ideas) to instill these virtues in our children's heart. I took a ton of notes in my journal as I read through this book.  There are definitely ideas I can start incorporating now, but I think I will get this book back out when Jackson is a little older (and talking more) and work through each virtue and the corresponding activities.
4. New Use for Old Boyfriends by Beth Kendrick
I have loved all of Beth's books. They are great girly reads. When Lila Alders' husband leaves her high and dry, she's forced to move back home with her recently widowed mother. Life as always been easy for the mother and daughter duo until now. Broke and desperate they come up with a plan to pay off the bills and find purpose in life. Lila comes face-to-face with several old boyfriends and soon finds that love is where you least expect it.
What did you read this month? I'd love some book recommendations….