*** Each Friday in November, in honor of National Adoption Month, I will highlight a fundraising family on my blog!  James 1:27 says, Religion that God our Father accepts as pure and faultless is this: to look after orphans and widows in their distress and to keep oneself from being polluted by the world. Maybe He hasn't specifically called you to adopt, but as Christians we should help bear the financial burden faced by families adopting.  Our family was blessed by many financial gifts as we stepped out in faith to grow our family through adoption. This month, let's bless the socks off these adopting families! No amount is too small. Let's help them become Forever Families! 
This week I'd love to introduce you to the Meyer Family…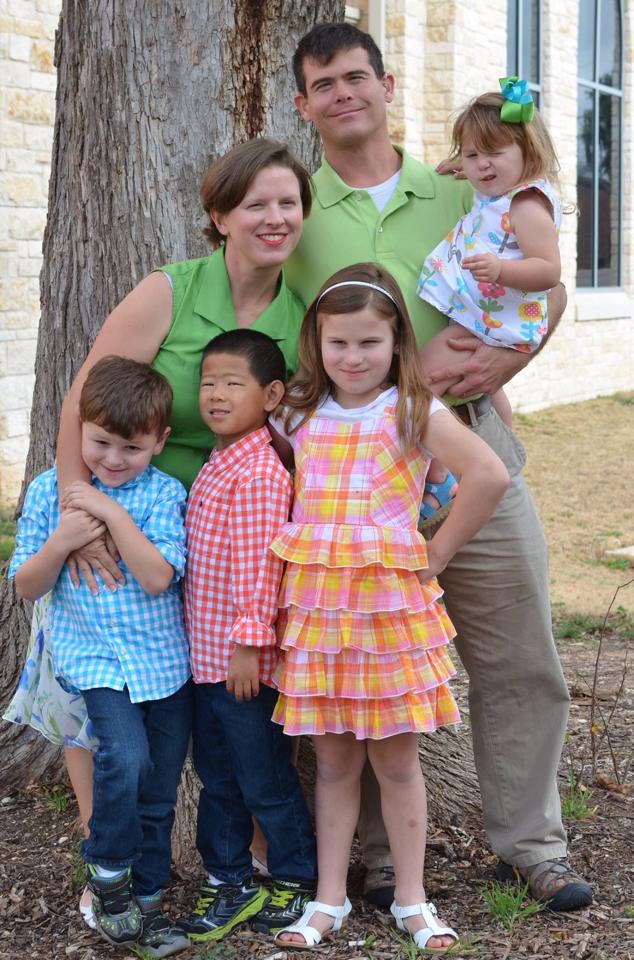 Tell me a little bit about your family…
We are the Meyer family. We live in a large city in Texas. I am a stay at home mom who works very part time at our church, and makes hair bows after my kids go to bed. My husband, Scott, works for a large state agency that helps adults who are blind or have low vision to gain employment or independent living skills. We are both legally bind, and all three of our biological children are as well. Last year we adopted a son from China who also has a visual impairment. We really didn't plan on going back to China, but God has other plans for our family.  We have prior approval for one tweenage girl, and have our home study approved for two daughters. We would like to bring home two, but at this moment we are still praying for and searching for a second daughter.
Why did you decide to adopt?
We really thought we were done with two boys and two girls. However, we had been feeling increasingly dissatisfied with our "American Dream" lifestyle. Once you see a Chinese orphanage, and the faces of the kids you left behind, there is no going back to normal. The fact that we had a completely empty room devoted to a computer when there are children in other countries sleeping on wall to wall cots suddenly seemed very selfish. We know we cannot change the lives of every orphan, but we for sure have room in our hearts, our family, and our home for one more.  We started out looking for a younger girl with visual impairments. (We have  a joke in our house about  "no drivers allowed") Again God had other plans. We are now enthusiastically adopting a daughter who is 11 with special needs requiring a wheel chair. What????
Where are you adopting from? Where are you currently in the process?
The People's Republic of China. Our home study is complete and we are in the process of authenticating all of our dossier documents, and waiting on our i800 notice from immigration.
How can people support your adoption? What current fundraisers are you doing?
Purchasing bows through THE HAIR BOW LAB. 100% of your purchase will go towards our adoption. If you don't have a little girl in your life you can still order a bow to be donated to a Chinese orphanage. We will take the bows with us when we travel.
https://www.facebook.com/TheHairBowLab
You can also purchase one of our adoption T-shirts here. They would make great Christmas gifts!
Do you have a blog?