I love going to the bookstore to write and study God's word.
It's quiet.
I'm surrounded by words.
I'm inspired.
And although I've written a book and held it in my hands,  I still dream of one day seeing something I've written displayed on those shelves.
I sat in the coffee shop of the book store one Saturday night with plans to work on a talk I was giving the following Monday. I had brought along my Bible study in hopes of catching up and decided to work on it before diving into my speaking notes.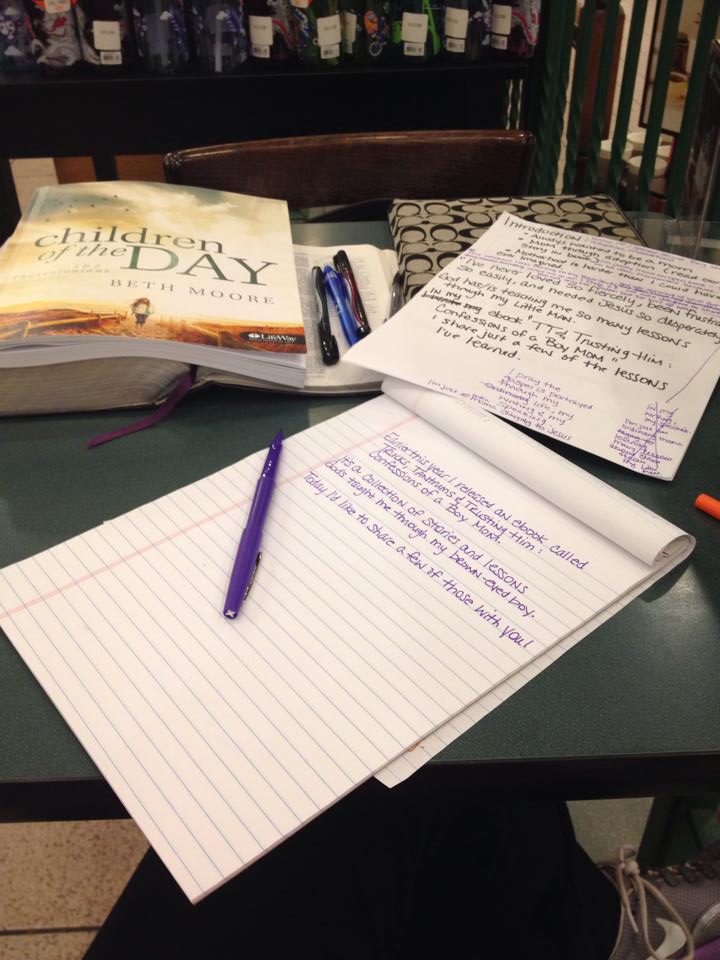 I opened the study and plastered on the page was a glorious word from God.
We were delighted to share with you not only the gospel of God but our lives as well. (1st Thessalonians 2:8)
The glory of God's word sank into my soul that ordinary Saturday night.
The verse summed up my ministry.
The words in 1st Thessalonians were exactly what I needed to read as I prepared for my speaking event the following week.
As a writer and speaker I strive to be transparent.
I want to be authentic.
I've written about infertility and depression; adoption and the difficult transition into motherhood. I've shared about marriage struggles and throwing tantrums alongside my toddler. I share my life with you – the good, the bad, and the ugly – to show you I'm an imperfect person in desperate need of God's grace.
And sometimes I'm merely hanging onto His grace by a thread.
But I keep writing about the joys and the struggles. I keep sharing my life and praying this:
May my imperfections point you to the One who is perfect.
May my mess make you believe in His majesty.
May my failures ignite your faith.
May my ordinary, imperfect life bring Him glory.
That's why I'm delighted to share not only the gospel with you, but my life as well.
My ordinary and imperfect life + the glory of His word = A powerful testimony.