The headlines tell you to worry – that the world is nothing but darkness and death.
When a young mother dies of cancer leaving behind two children under the age of five, hope seems lost. Suicide and depression make the headlines, and racial riots escalate in Missouri. And those horrid realities are on American soil. Across the ocean Christians are being persecuted and children are being murdered – dying cruel, unimaginable, deaths.
It would be easy to throw up our hands and close our eyes to the nightmares we're hoping to wake up from.
Fear snuffs out any remaining hope within our hearts.
But we can't let it. We must stare the ugliness in the eye. We must pray like we've never prayed before.  Fellow blogger Lindsy said it best:
"What else can we do?"
The implied else is "instead of or in addition to" praying.
Western Church, I dare say we are asking the wrong question.
In comparison, there is nothing else. Nothing else calms a raging storm, nothing else parts a sea, nothing else tames hungry lions, nothing else shakes jail cell doors wide open, nothing else brings the dead to life. Nothing. Else.
It seems the horrors taking place in Iraq have revealed a blind spot in our faith. Let's be real friends, we often don't have to pray do we? There was food in my fridge this morning, my car started, my kids are all healthy, and my husband has a great job. I didn't have to pray for any of those things, let alone pray for protection from persecution, rape, murder and beheading for my family today.
The enemy has used the affluence and pride of our country to trick us into living as if we don't need our Father. This is where the faith of our brothers and sisters in the Middle East and in Nigeria and in Guatemala is so appealing to me. They are in constant communication with the Father, relying on Himfor their daily bread. I do not mean to romanticize their very real, unfathomable heartbreak. But I am jealous for the relationship they have with their Father and their deep abiding love for prayer. I want that.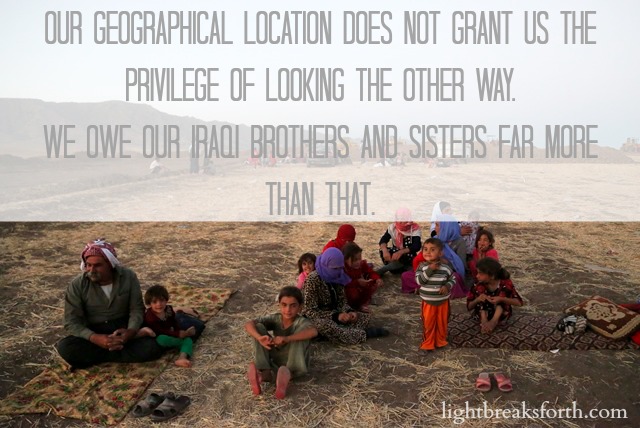 Whether cancer, persecution, riots, or suicide, there is only one place to turn – Jesus.
There's one thing – better than any other – that can be done – Pray.
And though our hearts are aching and the questions swirl, we must hold tight to hope, because it's our life-line.
What He tells us is worth listening to:
We have this hope as an anchor for the soul, firm and secure. (Hebrews 6:19)
As for me, I will always have hope; I will praise you more and more. (Psalm 71:14)
 ***Today I'm linking up for Five Minute Friday. You can join all the fun here.