I've been lying to myself.
Pretending that book sales don't matter.
Since writing my books, my motto has been to reach one person.  If my words stir the heart of one person, than I have succeeded.
But I got tangled in the mess that is book publishing and big platforms and lost sight of the one.
And yesterday as I checked my book sales on Amazon, I found myself crying over the laundry pile.
I felt like a failure. I questioned why I wrote the books in the first place.
Are my words just sitting on a page making no difference at all? 
And in that moment as the tears fell onto the clean socks and shirts, I wanted to quit.
I wanted to delete this blog.
I wanted to throw away the ebook outline I've been working on.
I wanted to call myself anything but a writer.
But I can't.
Writing is ingrained in me – this love for words and the need to encourage through them.
There's a box of books that have been mocking me since May.
As a self-published author I have to order books and pay for them out of pocket before speaking events. I struggled with how many to order before a particular event. I ordered too many.
The event wasn't as successful as I had hoped and now I have a box of books and nowhere to sale them.
I've prayed, I've tried to put myself out there (which is really hard for me to do), but the speaking events aren't coming my way.
You've gotta speak to sell books. 
God's been sort of silent and I'm questioning my purpose and my place in the book and blog world.
I've asked Him what's next and there's been no clear answer.
Doors aren't opening and books aren't selling and that's a hard pill to swallow when you're vulnerable and when you believe with every once of your being that writing is your calling.
Writing is what God created me to do.
Writing brings Him glory.
Writing gives a glimpse of the Kingdom.
Writing draws others near to Him.
Writing is the gift He's given and I'm scared to death of squandering it and letting Him down. 
And admitting that to you and to myself brings a flood of emotion and also a sense of relief.
Tears fall fierce.
This limbo is harder than writing 43,000 words, laid bare and transparent on the page.
Because what if I let Him down? What if I miss His plan for my writing, my books, my story?
It's what I fear most – not living up to my full potential and accomplishing all God has for me.
Even though I know His love for me is not tied to anything I do or accomplish.
Even though I know His promises are true: being confident of this, that he who began a good work in you will carry it on to completion until the day of Christ Jesus. (Philippians 1:6)
But I want those 43,000 words to matter, I want them to make a difference, I want others to get a glimpse of Jesus when they read them.
I also want to sale the 28 books sitting in my closet.
So I've decided to have a Summer Book Bundle sale.
I'm offering a signed copy of my book Bringing Home the Missing Linck: A Journey of Faith to Family and a copy of my ebook Trucks, Tantrums & Trusting Him: Confessions of a Boy Mom  for $15 (includes shipping). To order a book bundle click here.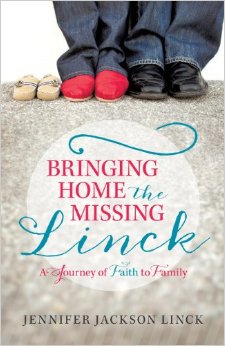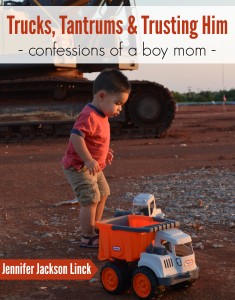 ***** Today I'm linking up for Coffee for the Heart here, for Three Word Wednesday here, and for Tell His Story.