My friend Beth, over at Simply Beth, is doing something super fun on Mondays. So fun, that I had to go against my blog break to participate today. Each week she is asking her readers a get-to-know-you question.
Today's question What's your favorite flavor of ice cream?
Ice cream is kind of a big deal in my family. We don't take it lightly.
For instance, I stopped at the Dairy Queen three times while we were in Texas this past weekend to enjoy the sweet treat.
Because in my opinion, DQ has some of the best ice cream EVER.
My first stop was for an Oreo Blizzard. My second stop for an ice cream cone. The third, a banana split that I happily shared with my sister.
Jackson enjoyed a DQ cone for lunch after church. It's summer, why not?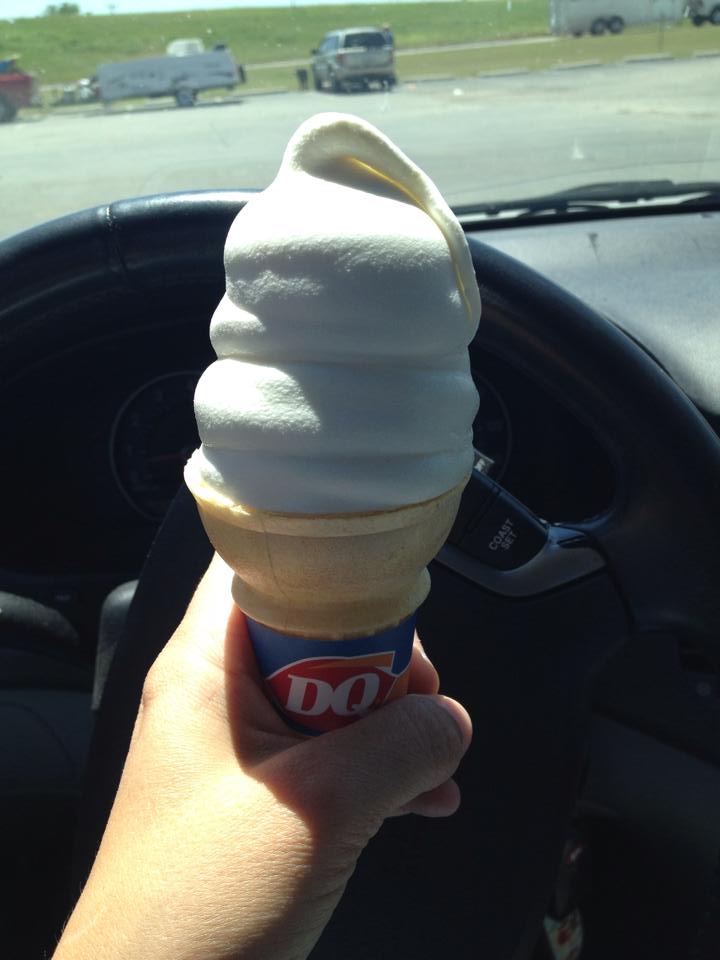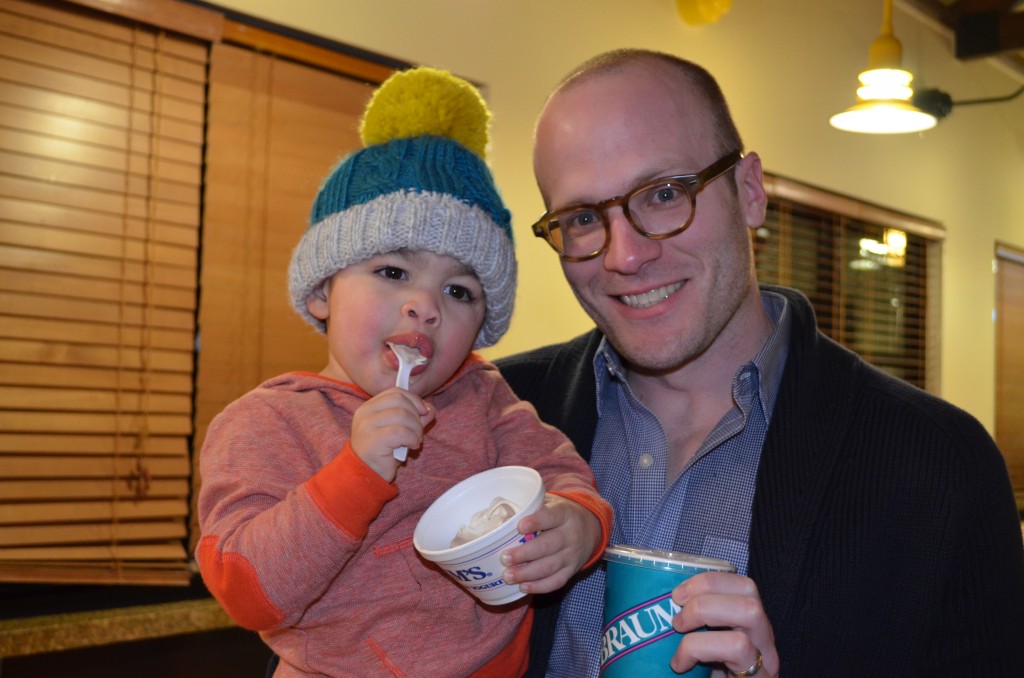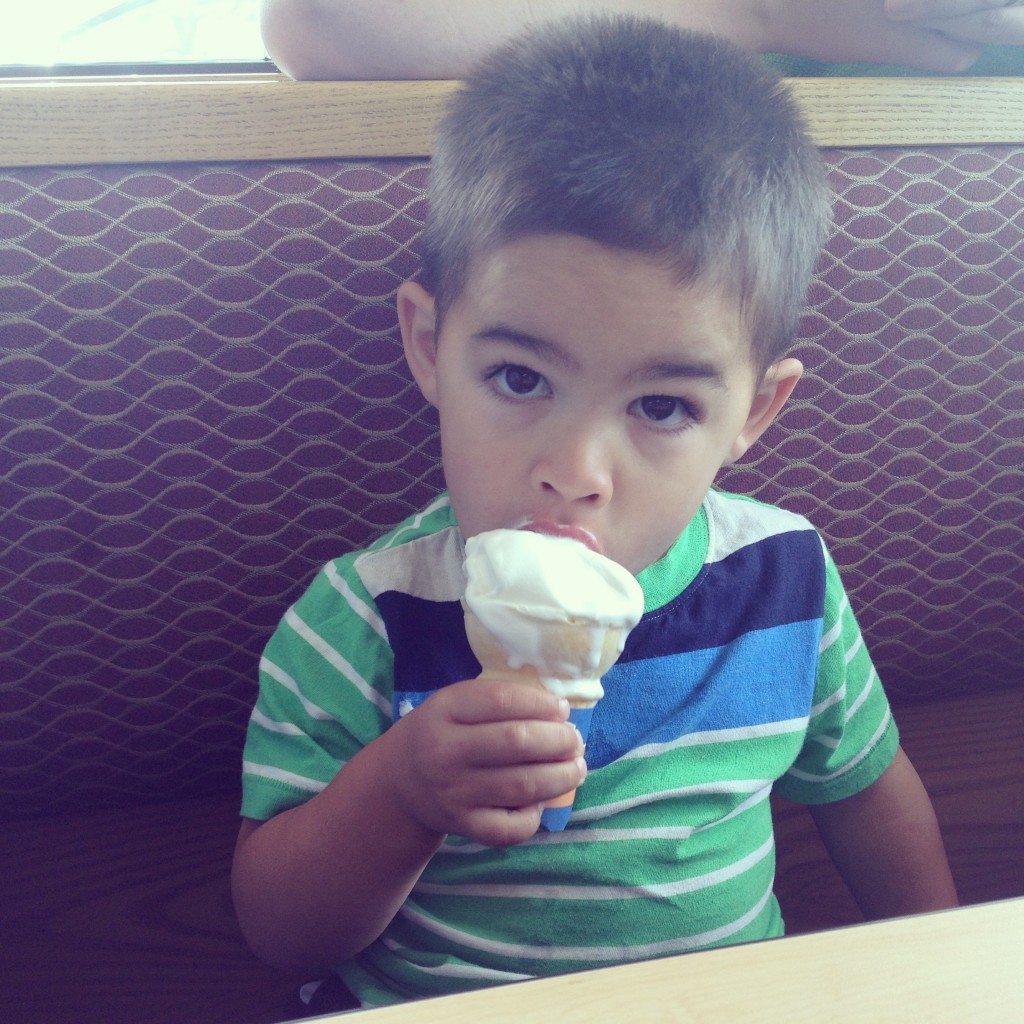 Ice cream is a family tradition.
My mom tells the story of how she and and her dad (my G-Dad) would sit together almost every evening, and between the two of them, finish off a gallon of Blue Bell.
They would walk to a nearby ice cream shop and my G-Dad would get a cone piled high with different flavors. He would have his finished before they returned home, while my G-Mom savored each bite.
My mom is a fast ice cream eater, too. She must get that from her dad.
For as long as  I can remember there's been a  batch of homemade ice cream at family get togethers. Most of the time it's vanilla, but there was the one time we tried to make cookies and cream and it turned out black. It still tasted good, though.
My great-grandmother, Meme, always had Blue Bell in her freezer. Her favorite was vanilla, but every now and then she would have buttered pecan. She always stocked up when they had it on sale – 2 gallons for $6 – at the Piggly Wiggly.
These days Blue Bell is about $6 a gallon. I almost croaked at the price when I picked up a carton the other day.
I found my new favorite flavor….Banana Pudding.
And just like my Dad, I leave the carton sitting on the cabinet until the ice cream is good and soft before scooping it out into a bowl.
If I don't want to wait, I zap it in the microwave a few seconds.
Like father, like daughter.
My grandmother, Granny Buns, preferred Braum's frozen yogurt – pineapple almond and chocolate pecan.
Braum's also holds a special place in my heart because it reminds me of great times spent with our dear friends Justin and Jessica. There weren't many nights we didn't end up making a Braum's run when we were together.
Justin and I never really budged from our favorites.
I would order a banana split, extra nuts, and no whip cream.
Justin wanted an Oreo shake made from vanilla ice cream and Oreos, NOT cookies and cream ice cream.
Biology aside, Jackson inherited the ice cream gene from my family.
It's rare that he turns down ice cream, but these days he prefers his in a cone.
Just the other day Jackson stole John's cone from him. He turned his back on John and dug in.
He says "mmmmm" with every sticky bite, his chin containing evidence of just how good he thinks it is.
Braums, Blue Bell, or DQ – it really makes no difference to Jackson or his mama.
Ice cream is ice cream and we would be happy to eat it!
What's your favorite ice cream? Have you enjoyed a big scoop this summer?