We all have a story.
There are hard parts and wonderful parts – each intertwining for a purpose.
Jesus wants us to share them.
It is through our  joy and our sorrow that His light breaks forth.
We are His messengers.
2 Corinthians 5:20 says, We are therefore Christ's ambassadors, as though God were making his appeal through us.
The message is ultimately the same.
Jesus is love.
We are in desperate need of a Savior.
In Christ alone, our hope is found.
It's all about faith.
Consequently, faith comes from hearing the message, and the message is heard through the word of Christ. (Romans 10:17)
My story really isn't mine, it's His.
He tugged at my heart and I obeyed.
Bringing Home the Missing Linck: A Journey of Faith to Family is the message God wanted me to deliver.
A story of His love and faithfulness.
His word and promises weaved throughout our adoption story.
A reminder that in love he predestined us to be adopted as his sons through Jesus Christ, in accordance with his pleasure and will – to the praise of his glorious grace, which he has freely given us in the One he loves.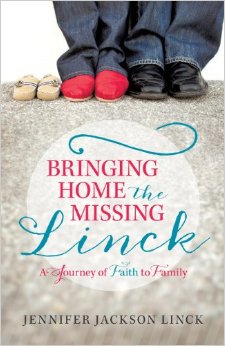 ****Today I'm linking up with Lisa Jo for Five Minute Friday! You can join the fun here.