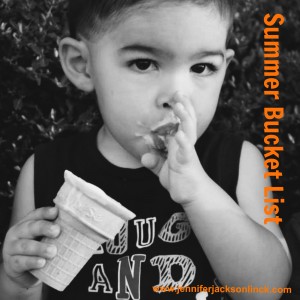 I don't know about you, but I love summer. Even Oklahoma summers with their scorching temps and no relief in sight.
Summer is for making memories. It's for sticky snow cones and the smell of sunscreen.
Summer is for playing outside until the sky turns black and crickets chirp.
Here's a few of the memory making activities I hope our family can enjoy this summer.
What are your favorite summer activities?
1. Swimming
2. Running through the sprinkler
3. Walking barefoot in the grass
4. Eat a snow cone
5. Lick an ice cream cone
6. Watch fireworks
7. Eat a juicy watermelon and let the juice drip down our chins
8. Blow bubbles
9. Get artistic with sidewalk chalk
10. Go to the aqarium
11. Visit the children's museum
12. Make ice cream sundaes
13. Go to a water park
14. Have a picnic
15. Go to the Kiddie Park in Tulsa
16. Have a hamburger and cobbler at Meers
17. Visit the fire station
18. Go to the Dinosaur Park in Tulsa
19. Go to the George W Bush library in Texas
20. Ride the train in Grapevine
21. Have a water balloon fight
22. Family silly string fight
23. Explore the Myriad Gardens in Oklahoma City
24. Invite friends over for a cookout
25. Take an evening walk
26. Eat a popsicle
27. Play in the rain during a sudden summer shower
28. Slurp a Happy Hour slush
29. Sip a Classic 50's Sprittle
30. Play with the water hose
31. Send a post card to someone
32. Play with Play Dough
33. Color the driveway with sidewalk paint
34. Soak each other with water guns
35. Feed ducks at the duck pond
36. Make a bird feeder
37. Paint a flower pot
38. Plant a flower in the flower pot
39. Take a nap in a hammock
40. Paint a bird house
41. Visit the Splash Pad
42. Slip and Slide
43. Make lemonade
44. Have a rubber duck race
45. Have a PJ day when it's 100+ degrees
46. Take a road trip to a new place
47. Go to Grant's Farm in St. Louis
48. Roast hotdogs and make S'mores
49. Explore the Magic House in St. Louis
50. Send a little bit of Summer to someone
This post was written as a response to Holley Gerth's Coffee for your Heart link up prompt: For more encouragement click here! I am also linking up for Three Word Wednesday. You can join the fun here.