As I look at my blog calendar the month of June is mocking me. Blank white squares screaming to be filled in. As hard as I've tried, many of those spaces remain empty.
When I really stop and think about writing and my blog and social media, my heart is saying I need a break.
After all, it's summer!
I've been blogging hard-core since January. Posting three days a week (sometimes more). Updating social media. Building a platform. Trying to spread the word about my books.
I'm tired. I'm drained. My tank is empty.
But it's really hard for me to step away and take a break. I feel like I have to keep up with the blogging world (which never really sleeps).
But I'm no good to anyone reading this blog, if I don't have anything good to say.
I need to take a step back and just have some fun.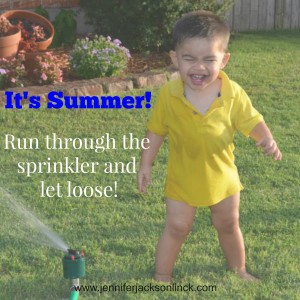 Ice cream cones. Running through the sprinkler. Soaking up the sun.
I want to fill the white space of my calendar with memories instead of blog post ideas.
I want to kick back and get lost in a good book.
I want to list the gifts that summer is sure to bring.
I want to watch a good chick flick during nap time instead of catching up on blog posts (like I'm doing now!)
Heck, I want to take a long, summer nap!
I want to be fully present for Jackson this summer and not be distracted by tweets, comments, and likes. 
So I'm officially declaring it summer break!
I'm not making any rules, except for one: I will not write a bunch of blog posts in advance and schedule myself silly.
I will write when I feel like writing.
I will let the words come as they may.
And I will probably participate in Five Minute Friday because it's just so much fun!
I hope y'all have a fabulous summer!