There's nothing quite like connecting with a like-minded writer, mama, and woman.
Stephanie and I first connected online. She had used the same publisher I was considering, and I wanted to hear about her experience. Imagine my surprise when I found out she lived just minutes from my in-laws outside of St. Louis.
We arranged to meet at a Starbucks and I bombarded her with questions.
A few weeks ago I reached out to Stephanie once again to get her advice on growing my speaking ministry. She invited me to take part in an exciting project that she is currently working on.
Yesterday I met her at that same Starbucks on the outskirts of St. Louis and we headed to a recording studio where we had an absolute blast. We recorded a podcast for a new series she is launching this fall.
Did I mention we had a blast? I'm pretty sure we could host a radio show!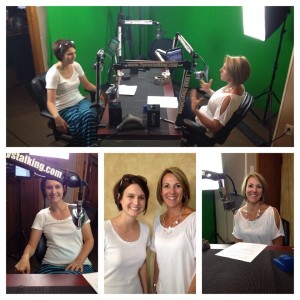 The podcast – A Call to Courage – will feature stories of people who have stepped out in faith and said yes to God. Stories highlighting messy attempts at courageous faith.
I am so honored to be a small part of this podcast.
After sharing how God created our family,  Stephanie and I discussed how nothing could have prepared me for motherhood.
The little girl who rocked her Cabbage Patch dolls in a white cradle and dreamed of being a mama has had quite the wake up call.
Motherhood has been a difficult transition for me in so many ways.
Motherhood is messy and can feel like quicksand.
So often I get stuck in the muck and start to sink.
I share the mess because I know I'm not alone.
It's my prayer that this podcast will reach the hearts of women who need to be reminded that nothing is impossible with God – not even the messy motherhood moments that leave us stuck.
***For more encouragement, check out Peace of Mind Ministries,  founded by Stephanie. Her blog is full of stories of messy attempts at courages faith. The podcasts will go live this fall! 
***Today I'm linking up with Lisa Jo for Five Minute Friday. You can join the fun and get a dose of encouragement here.