I remember it like it was yesterday. The sickening feeling in the pit of my stomach. A mixture of longing, grief, and pain.
I stood in church, tears streaming down my face. It was almost impossible to breath.
Mother's Day is torture when you aren't a mother, but want so desperately to be. 
I begged God to answer my prayer for a child. I promised I would never take motherhood for granted no matter how many dirty diapers I changed or snotty noses I wiped. I'm sure God laughed.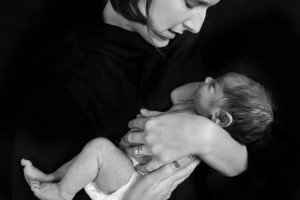 God answered my prayers seven months later when I held the son my heart had longed for.
Within the first week of motherhood, I broke the promises I had made to Him during that emotional Mother's Day church service. God wasn't surprised.
If I'm honest, I do take motherhood for granted. It's the hardest thing I've ever done. But no matter how challenging it is, I've never forgotten the emptiness and longing my heart felt that Mother's Day.
Today isn't filled with flowers and cards for the women longing for or missing a child.
Mother's Day can be depressing for the woman who's been told she can't conceive.
It can bring doubt to the woman wondering when she'll bring her child home – the one waiting alone in an orphanage across the world.
It can be torture for the mother who lost her child to cancer.
It can be lonely for the  woman who's grieving the death of her own mother.
Mother's Day is full of messy emotions.
Today, take a moment to consider how this day really affects the women in your life.
Pray for the one longing to be a mother.
Encourage the one waiting to hop on the plane to bring her child home.
Send a card to those grieving the loss of a child or mother.
Today, wherever you find yourself, I pray the God of hope will fill you with all joy and peace as you trust in him, so that you may overflow with hope by the power of the Holy Spirit. (Romans 15:13)
Happy Mother's Day!