I'm amazed at how many lessons God has taught me through trucks and tantrums – my son's and my own.
This Mother's Day I wanted to offer up a little encouragement to mamas who aren't quite sure what they've gotten themselves into.
Today, my ebook Trucks, Tantrums & Trusting Him: Confessions of a Boy Mom releases on Amazon. Don't let the title fool you. This book isn't just for boy moms, but for any mama who's heart is weary. For the mother who needs to be reminded that there's magic hidden in the mundane of motherhood.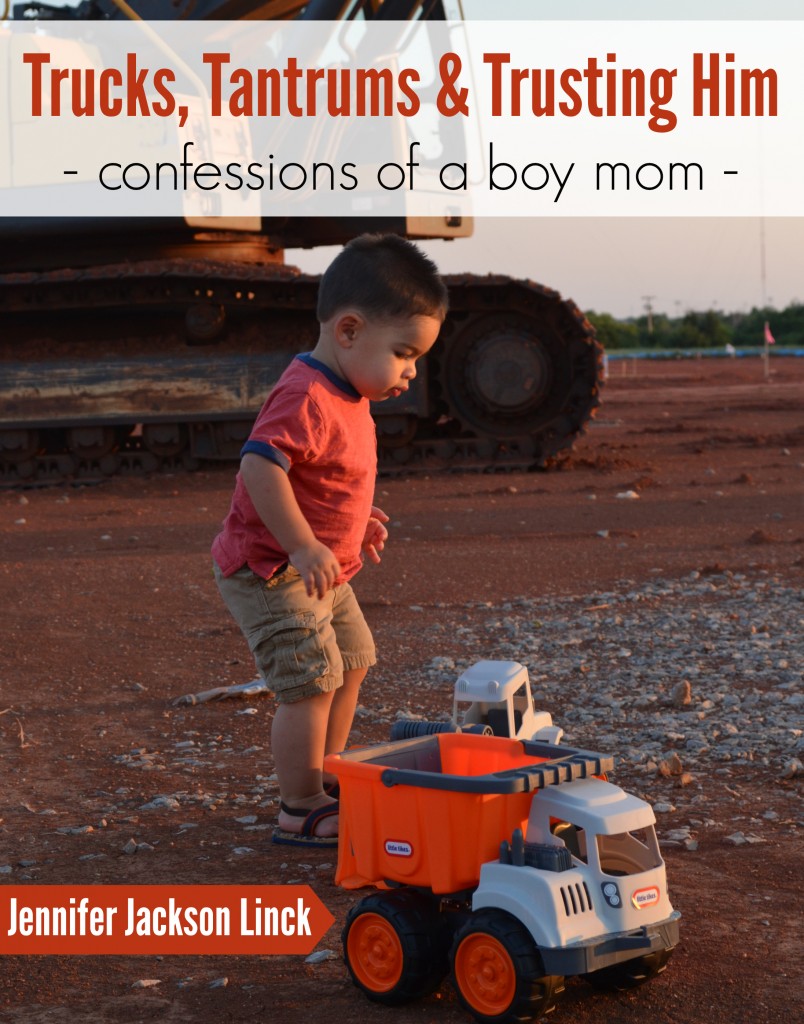 This book is a reminder that with Jesus we really can be the mothers we yearn to be. When we feel like we're unraveling, there's a Savior who holds us together. You can get your copy here.
Here's what others are saying about Trucks, Tantrums & Trusting Him: Confessions of a Boy Mom:
An insightful book written from a mom in the trenches of raising a rambunctious toddler. Short enough to be finished in a day, it was jam-packed with nuggets of wisdom to glean. I especially loved the points the author made about how "small deposits matter" and "Your son or daughter is your Joshua".  As a mother of two toddlers myself, I enjoyed this book's honesty and hope. And I can think of a couple mommas I know that would probably enjoy it as well. (Jessiqua Wittman)
A very honest and candid look into what many of us are afraid to voice….the mundane and seemingly "smallness" of toiling as a mother, but in reality it is the biggest and most important job this side of heaven. You did a great job conveying your message and I was encouraged by your words. (Lori Dunham)
This is a dose of real-life encouragement. Jennifer's words will remind you of the glory that can come from the mundane. Mothering is a powerful method of sanctification – both for the momma's heart and for those she's raising. This book captures that. Jennifer has found hope and truth in the midst of parenting a toddler boy. Yes, these are her faith confessions as a boy mom, but you girl moms can be just as encouraged through her stories. (Kristin Taylor)
This post was written as a response to Holley Gerth's Coffee for your Heart link up prompt: For more encouragement click here! I am also linking up for Three Word Wednesday. You can join the fun here.