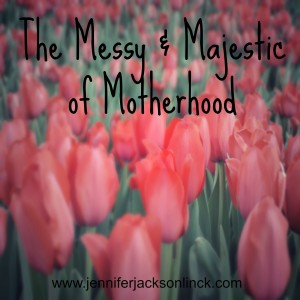 Today we continue our series The Messy & Majestic of Motherhood. Emily is a new mama and I'm so excited to have her guest posting on the blog today! I know her words will encourage you! 
Winter had finally decided to grace us with its presence about the same time James arrived. Snow fell when we brought him home from the hospital and fell heavily on every scheduled doctors appointment we had over the following months. Our first trip to the doctor's office was an experience most parents would find familiar.
I stood peering into my closet wondering if maybe I looked long enough some non-maternity clothing would appear that actually fit my postpartum physique. Tim was off figuring out how to adjust the straps of our new carseat. I gave up on my closet and pulled on the jeans I had been wearing almost every day for the past six months. An old button down  of Tim's and my heavy coat completed my frazzled new mom look and I turned my attention to the little person we needed to transport.
James had been peacefully sleeping until I bent down to pick him up. His screeches alerted me that I would need to feed him before we left for the doctor's office. We had left a decent buffer of time, we thought, so I pulled off my coat and settled back onto our bed to nurse James. Between several diaper changes, voluminous spit up, and de-icing the car, our nice buffer of time was gone. We arrived at the doctor's office snow-flecked and out of breath.
No matter how much extra time we left ourselves, we spent the first couple of months being perpetually late to church, subsequent doctor's appointments, dinner engagements, and our small group. Initially I was embarrassed, scolding myself for not planning better. But as I continue to journey, sometimes fumble, through life with a little one, I am realizing that maybe motherhood is less about planning and more about pacing.
Having James opened my eyes to the break neck speed at which I had been living. I wasn't traveling often or active in multiple groups with something going on every night of the week, mind you, but my life was a well-oiled machine with a forward trajectory that would obliterate anything that got in the way. My input and output of information was non-stop, leaving little else for anything unexpected or new. My habits weren't really conducive to the life of a new mom.
I wasn't able to plan my day out ahead of time. I wan't able to be as productive as I was previously. I wasn't able to participate in all of my normal activities. All those "wasn'ts" were because my pacing was off balance. As a mother, I'm not my own pace setter anymore.
The things that I viewed as interruptions to my day or little annoyances – fussiness, feeding, diaper changes – are really perfectly designed speed bumps. It's too easy to loose myself in laundry, cleaning, reading a good book, but when it's hard to ignore the cries of an upset little boy who just needs to be snuggled. I don't want to miss the minutia of motherhood because I sped past it with my own agenda.
Everything seems to take longer with a baby in tow. And for that I am grateful.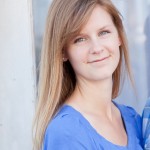 BIO: Emily is a Southern California native starting a new adventure in Northern Idaho with her youth pastor husband, Tim. They became a family of three in January! She loves partnering with Tim in ministry and spends her free time snuggling with her son, baking, reading, and crafting. You can find her blogging about marriage, motherhood, and ministry atemilycgardner.com
***Don't forget to leave a comment below for your chance to win the Mother's Day giveaway! A winner will be chosen at the end of this series! The Mother's Day Prize Pack includes a copy of the following books: Bringing Home the Missing Linck: A Journey of Faith to Family, Trucks, Tantrums, & Trusting Him: Confessions of a Boy Mom (ebook), Undivided Mom (ebook), a motherhood journal, and a gift card for Shutterfly.