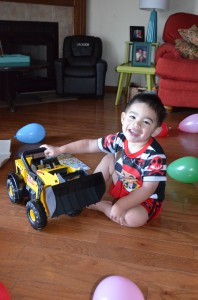 I'm learning to embrace the mess.
It's a challenge, but I'm finding there are unexpected gifts hidden beneath the crumbs and crayons.
This week my floors were sticky, but a closer look revealed tiny footprints made with melted ice cream. The chocolate treat had dripped down his chin onto the floor. He'd walked right through the mess and left his mark.
There was spaghetti stuck to the hard wood, but my attention was turned towards the little boy slurping the noodles.
There are puddles on the bathroom floor after a toddler tidal wave. Everything is wet, but he is wild and full of wonder.
Markers and crayons and stickers litter his little table, but he's deep in thought as he creates a collage of color. His chubby fingers stained a rainbow.
Balloons (slowly deflating) cover the living room floor. A vibrant reminder of the celebration earlier in the week.
Our house may be a mess, but it's a home full of memories.
*Today I'm linking up with Lisa Jo for Five Minute Friday. You can join the fun and get a dose of encouragement here.