A few weeks ago I shared a list of some of Jackson's favorite books. You know, the ones about trucks, baseball, and all things boy! They are the ones we read over and over and over. You can find the list here.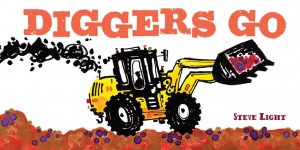 The other night we were reading and I realized I had left a couple of great titles off the list. These are worth mentioning and adding to your home library if you are a boy mom.
Roadwork – We wore out our first copy of this book. The cover had completely fallen off. I had to snag another copy on a recent trip to Target. It's a great board book about a construction crew building a road. It's a sing song read with great words like ping, bang, boom, and splat!
Demolition – This book is written by the same author as Roadwork. I just stumbled across it at Target. It's about a crew doing demolition in order to build a new playground. It's the same great sing song read as Roadwork with the same great descriptive words.
I'm Mighty – This book is written by the same author who wrote I Stink and I'm Dirty (two of our ALL time favorites). It's about a tug boat and  his adventures.
I'm Fast – Jackson is loving trains right now! I hear Woo Woo constantly! This book is about a train that races a red car to Chicago. "Chooka Chooka Chooka Chooka….."
Diggers Go – I found this book at a gift shop in the DFW airport. It's bright and colorful illustrations are fun. Each page tells about a certain piece of construction equipment and the sound it makes. It's easy to get tongue-tied reading this one!
All of these books can be found on Amazon. I actually just discovered two new books – Trucks Go and Trains Go! I think I'll go order them now….They'll be the perfect addition to Jackson's Easter basket!